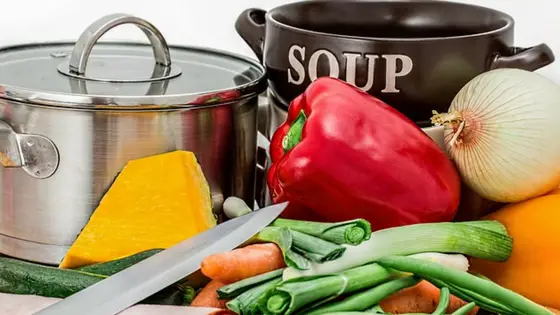 The 3 tier stainless steel steamer is fantastic to use in the kitchen, it saves time, space and money and is easy to use and a good price to buy.  If you cook on the hob a lot then you cannot really do without one.  It is perfect for singles and families alike.
They come in several sizes from 18 cm up. They are quite stylish wish their polished stainless steel mirrored finish and will fit into your kitchen well.
They are easy to store as they stack on tip of each other so are very space saving which makes them ideal for a small kitchen.  They are also great for the frugal kitchen as well as you get 3 in one and they are not very expensive to buy.
The 3 Tier Stainless Steel Steamer Set
As I have been cooking on the hob more lately I have been using my 3 tier steamer more. I like using the steamer because it maximizes the use of one ring. It is also compact and easy to store.
Below I have given 3 good examples of steamers and also listed the things that I think a great steamer needs to do and why it is worth getting one.
Good Speed of Cooking
The hob steamer sets are often faster to cook with than the electric ones and they steam better as well.
Is the Steamer Easy to Clean?
An important thing to check is whether your proposed steamer is easy to clean or not. If you have a dishwasher can you use it? I can't be doing with anything that is difficult to clean and as a general guide, these are quick and easy to clean even if you are hand washing them.
Is The Steamer Easy to Use?
How easy is it to use?  Most steamers that you use on the hob are basically a similar design, but it is the little things like the handles, the size of the steamer and the depth that are important.  As these are all individual choices it is difficult to say which would be best for you.
They are really very easy to use you just need to get used to the timings.
Do they Save Electric, Gas Costs & Hob Space?
The great thing about using a steamer is it saves you money on your cooking as you are trembling the use of one ring. This not only saves you on cost but allows you to cook more things as once on your other rings if you want to.
Using a Steamer to Cook Vegetables is a Healthy Way to Cook
Using a vegetable steamer to cook your vegetables is a clean healthy way to cook.  Your vegetables come out dryer than if cooked in water. This method of cooking keeps more vitamins than normal cooking.
What To Look Out For in Your Steamers
Size & Depth & Weight
They do come in different sizes and you may prefer a larger or smaller one depending on the quantities you need to cook at one time. Cookware size 18cm, 22cm 24cm & 28 cm.  Some are also deeper than others as well.
Some of the lighter weights are really good so you may not need to get a heavier one.  If you have difficulty in lifting a lightweight one will work better for you.
Does the Handle Get Really Hot?
When I have had mine on for a while my top lid handle does get really hot. So it is worth checking if there are any comments to that end.
Is The Make of Steamer Prone to Rust or Stain?
Mine doesn't.  I'd check if your prospective purchase is 100% stainless steel as they are less likely to have problems although some tarnishing may occur.
When Pouring Out Your Contents
The bottom pan of the steamer set usually does have water in and I have to admit that the short handles compared to the saucepan do require treating differently than a saucepan. If I have a saucepan I pour into a handheld colander, but with the shorter handles, you need to have a pan standing ready to tip things out. Or maybe that's just me!
Popular 3 Tier Stainless Steel Steamer Sets 18cm, 22cm & 24 cm
The Judge 18 cm 3 Silver Tier Steamer
The 18 cm Silver Judge 3 Tier Steamer Set
This silver steamer set is made by Judge. It is on the more expensive side of steamers. It comes in three sizes 18cm, 22cm and 24cm.
The inserts are 4 inches deep
You can use it on all hob types including induction hobs
You can use the bottom pan with the lid on its own
Cool handles during cooking
Good quality
Dishwasher proof
Easy to clean
The Popular 3 Piece 22cm Steamer Set
3 Piece Steamer Set with Stainless Steel Mirror Polishing Finish
This set is one of the most popular on Amazon with a great price and high star rating it is perfect for most uses. This one is a Prima brand and the most similar to mine in style. It is not as thick as the Judge but does a great job of steaming your vegetables.
Light weight set so easier to lift while still steaming well
You can use it on all hob types. The seller says this includes induction while others have commented that you cannot.
You can use the bottom pan with the lid on its own
Cool handles during cooking
Good quality for the price
Dishwasher proof
It is easy to clean
Read the instructions for best use methods
The Large 24cm 3 Tiered Steamer
A Large Glass lid 3 Tier Stainless Steel Multi Food Cook Pot Steamer
Again a great value lighter in weight set and a good size 24cm. You can use the base on its's own or with the set, the lid is glass with a vent.
This is a lighter weight set
You can use it on all hob types including induction hobs 
You can use the bottom pan with the lid on its own
The handles do get hot during cooking so use gloves or a tea towel
This set is Good overall value
Dishwasher usable
The set is easy to clean
In Conclusion
These vegetable steamers make a great addition to any sized kitchen or family unity that uses a hob for cooking.
What do you think?  Would you make use of these?  If so what size would be best for you and why?