Great Space Saving Ideas for small kitchens: A Brightly Coloured Silicone Collapsible Colander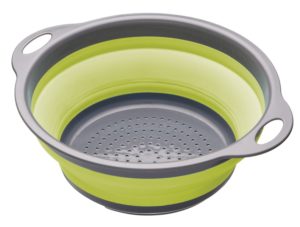 My sister showed me this range and I was taken with the idea immediately.
I love that it is so brightly coloured and comes in different colours and saves you lots of space by collapsing down.  A must for those with small kitchens or if you like to go camping or caravanning.  Or, if you are one of the tiny homes movement.
My kitchen is minuscule.  Seriously, I have a halogen, so use the main cooker (not mine or it would go) for storage as I don't have enough space in the cupboard and a half that is the kitchen.
Who ever thought of this is pure genius.  It is really cleverly designed.
Draining & Uses
It drains really well. It is great for straining vegetables and fruit. And because the holes are small it also works well on rice and also spaghetti.
Design, Holes & Handles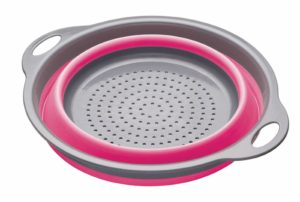 The holes are in the bottom only.  This is a bit odd.  However I have an idea as to why. Now, I am only speculating here, I could be wrong, but it is my guess this has something to do with the folding down of the colander, maybe it would weaken the colander if it had holes in the side – just a thought.
It says it is odour and stain resistant.  Hmm, we shall see just how well it copes with blackcurrants when they are picked the end of June.
The handles are a bit on the small side but they are firm enough to support if you need to put the colander on a pan to drain.
At 24cm in diameter it is also a good size.
Ease of Cleaning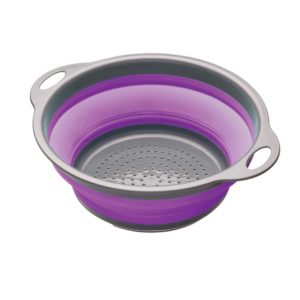 It is dishwasher safe if you have a dishwasher.  Otherwise it is easy to clean as it does not stain nor stick.  Which is very useful for pasta.
The 2.8 litre Kitchen Craft Colourworks Collapsible Colander, 24 cm - Green
Overall View
Overall it is a great design and clever use of space.  It is safe plastic that is both quality and a good thickness which is important.  And it is durable which means it is good value for money.