This is a fantastic no plumbing compact countertop ice maker machine that is great for home, office and professional use.  This very popular ice maker is great for making ice quickly and easily.
With 3 sizes of ice to choose from and only 10 minutes to make a small batch this machine is very good value for money and works well for everyone but the most demanding of ice needs.
As it doesn't need to be plumbed in it is also ideal for portable use as well.  You can not only use it in the home or office but in a caravan or on a boat or for your own BBQ party.
This versatile machine is great for anyone who needs lots of ice on a regular basis.
It easily fits on most counter tops and can be left to run as you need it.  It is easy to use and to clean as well.
Ease of Use

 ♥♥♥♥♥

Cleaning

 ♥♥♥♥♥

Ice options 

♥♥♥♥♥

Noise

♥♥♥♥

Overall Rating 

♥♥♥♥♥
The Machine
The size of this ice making machine is 37(h) by 29(w) by 36cm(d),
Weight
Ice Making Capacity makes 12-15kg in 24 hours
Speed of Ice Making 10 to 15 minutes
Find out more about this countertop ice maker machine here
 or continue reading.
How Noisy is it?
The machine itself is quite quiet to use.  However, the ice cubes being ejected out can clatter a bit.
Is Plumbing Needed?
No plumbing is needed for this ice making machine.  All you do is add water. This means that you are free to put the machine where you need to without worrying getting to a water source.
Is there any Water Drainage?
Yes, unlike many machines where you have to scoop out the water this machine has a water drainage spot on the left side so you can drain any unused water when you have finished making ice.
Is there a bucket to lift out the Ice?
Yes, there is a bucket to lift out the ice when it is full or if you prefer you can just use the scoop for the amounts you need.
What is the Ice Storage Capacity of the Machine?
It holds about 2kg (4.6lb) of ice.
Does this ice maker machine keep the ice frozen or do you have to empty it into a freezer?
The machine is not a freezer.  It acts more like an ice bucket so will store ice for a few hours. Once you have made your ice it will need to be put into your own freezer.
About the Ice
Are There Any Ice Options?
Yes, your ice will come out in 3 different sizes. Small, medium and large ice.
What is the Speed of Ice Production for This Ice Making Machine?
This ice making machine creates ice quite quickly even for its compact size.  It can be in as little as 10 minutes for the first small batch.  This does depend on what size ice cubes you want.
What Types of Ice is Produced?
The machine creates ice cubes. Due to the way they are made they are bullet shaped ice cubes. These are opaque ice cubes and not clear.
Are there any Extras Supplied?
Yes, a free ice scoop is provided.
How Easy is It to Use?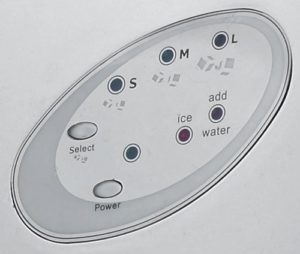 This is designed as a compact counter top ice making machine for the home and as such it is very easy to use.  As it is smaller than your average microwave it does not take up much space on your counter tops. As it does not require plumbing it can also go into any room that you need it.
It is also very easy to see the ice being produced as they have built a window so you can see how much ice you have.
There is also warnings for bucket full and water tank empty so you know when to empty out or fill up.
How Easy is it to Clean?
Overall it is quite easy to clean all you need to do is to flush out the water to stop bacteria build up. If you are not leaving it on you will need to wipe it out.  However, if you are leaving it on you don't really need to do anything. If you do decide to wipe around the nozzles then it can be a bit fiddly but you should really need to do that very often.
The Video Review of the Counter Top Ice Maker Machine
The video is a great demo on how to use the ThinkGizmos ice maker.  It shows how quick and easy it is to use and how the ice is made.
The Video Review of the best Ice Maker Machine UK.
Starting Tips
It is worth running a few cubes through your machine before you need it to get rid of the new taste of the machine.
In hot weather freeze your ice more frequently to prevent melting.
For increased speed of your ice production put your water in the fridge first before use.
Where possible and if it will not damage the machine put an ice block into the machine to cool the water to speed up ice making.
So Is This Compact Ice Maker Machine Good Value For Money?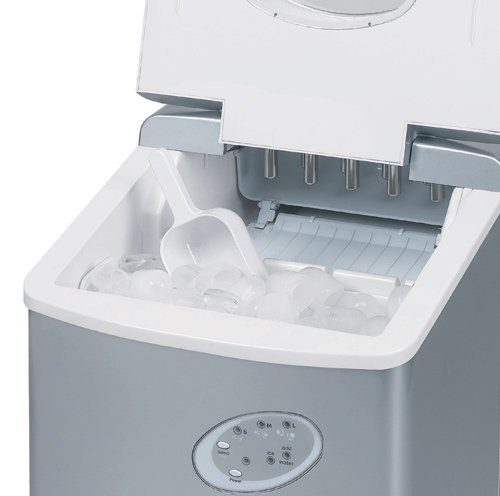 This compact machine is one of the most popular of the machines designed to make ice in the home.  Although it is on the more expensive side to buy it it is one of the best ice makers in its class and has far more functions than the others in the same price range.
This ice maker is very versatile as it is suitable for the home, the office or even for professional use.  Although it is a counter top ice making machine it can also be used as a portable ice maker as well if you want to.
More on the easy to use compact Counter Top Ice Maker Machine