Discover lots of exciting designs for your Christmas tea towels. Or if you prefer you can easily make your own design or use & adapt pre-made Christmas designs. There are also things you can make with your tea towels.
Fun Things to Do with Your Christmas Tea Towels that Don't Include Washing up!
There are a lot more things you can to than wash the dishes!
Table Centre or runner
Tea towels make fantastic table settings.  Sew several tea towels together to make a table runner or just have one or two in the centre with some fruit or flowers on them.
Turn a Simple Picture into Framed Art
With a fantastic design that you like, you can turn a quality tea towel into a piece of art that looks like a canvas piece.
If you have a uniquely designed tea towel with your children's art or a favourite pet or even lost ones at Christmas you can have it framed to make it that bit more special.
Nordic Snowflake And Reindeer Christmas Tea Towels set
Tray covers
Why not use as covers for trays?  This will help prevent your plates and dishes slipping.
Tea Towels Make Great Placemats
If you get a pack of them you can easily use them as Christmas place mats.  If you like sewing you could also cut them down and make napkins as well.  (note the 3 designs classy, fun and personal all come from different designers,  they may do matching sets for placemats, tea towels, table runner and napkins).
Tote bags & other Types of Bags
Tea towels make great bags.  Below is a simple method of making a bag using your tea towels.
Tea Towel Apron
There are many apron different designs you can make  from a simple half curved apron to a full front one. Below is a full video on how to make an apron from your tea towels.
How to Make a Tea Towel Apron for Christmas or other Occasions
How to Make a Simple Tea Towel Bag
When cutting up tea towels for making things it might be better to use ones that have a more repetitive pattern or ones that the pattern easily fits into the shape you want to make.
How to Quickly Make Your Own Professional Quality Personalised Tea Towels
If you prefer something unique and special or simply different you can make your own from scratch then order it pre-printed for that professional finish.

kitchen towel Merry Christmas rustic cute snowman
by Lighthouse_Route
Making your own pre-printed personalised tea towels whether for Xmas or any other time or event is easy.  You can either buy someone else's design like the two designs below and customise them, or you can upload your own pictures and add your own writing making completely a unique design.
Classy Christmas Designs

Snow Cottage scenes christmas Hand Towels
by JackieFlaten
Classy designs can easily be made into art for a longer term gift.
Fun Christmas Designs

Christmas owl hand towels
by ajn43217
There are lots of fun designs of owls, snowmen, Santa etc ready made that you can buy. Some allow you to customise or add your own words with ease.
Seven Quick Ideas for Personalised Designs
Family photos – either one or a collection of photos together
Pet Pictures – Pet pictures are always special
Winter Snow Pictures either local or on holiday
Fun designs
Kids drawings/art – these usually go down well especially if the child has made the picture especially for the person receiving it
Poems – Why not design a poem with a snow or Xmas background?
Lovely sayings – Simple saying that let loved ones know you care
I'm Not Any Good at Photography or Art Can I Still Create a Personalised Tea Towel?
Yes, you can easily create one.  You can either use the pre-made ones as suggested and adapt them.  That would be the easiest way.  Or you can buy a photo you like and upload that and create your tea towel from there.
You can buy pictures like the one above for very little.  Check the dpi size is enough to enlarge your photos to fit your tea towels.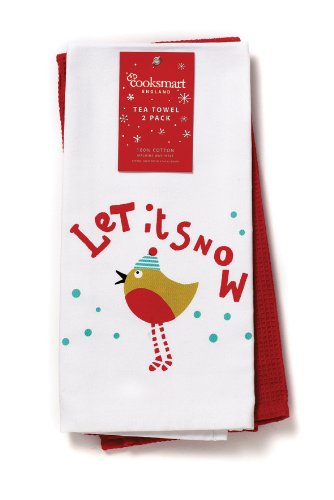 Should You Give Tea Towels as a Christmas Gift?
Knowing when to give a tea towel as a gift and when not to is the key to successful tea towel gift giving.  Not everyone will appreciate a tea towel as a Christmas gift.  Yet some will love the idea.
Knowing as best you can what the person likes helps.  If your friend or family member loves collecting them or would love something with the kids' art on it then you would be fine with a tea towel as a gift.
If however, they are not likely to receive it well then perhaps either find something else or dress it up a bit.  Perhaps put it in with a gift of preserves or other items.
Quality personalised tea towels can be special and even made into framed art.
Let it Snow set of Two Tea towels for Christmas