The Easy to Use Duronic KS5000 Large Display Digital Kitchen Scales Review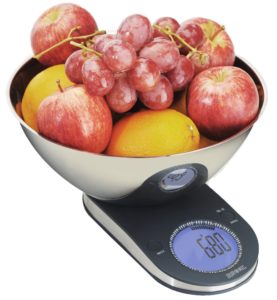 "The Duronic  large display digital kitchen scales are stylish, precise and easy to use." 
"The large bright display is a dream to read.  Makes weighing your ingredients clear and easy."
Accuracy: ♣♣♣♣♣
Display: ♣♣♣♣♣*
Consistency: ♣♣♣♣♣
Ease: ♣♣♣♣♣
Speed: ♣♣♣♣♣
Value for Money: ♣♣♣♣♣
Quick Overview
Weight – up to 5kg
Display –  large digital easy to read
Backlit – yes
Auto Shut-off – Yes
Tare Function – Yes
Measurements – g, fl.oz, lb,  oz, ml
Capacity – bowl holds approx 2350 ml liquids
Pros: The scales have a very large clear display.  The bowl can be removed when needed.  The scales are easy to use.
Cons: They can turn off too quickly.
The Duronic Large Digital Display Kitchen Scales Review
The KS5000 Duronic scales are large digital display kitchen scales that make weighing is easy.  They are very accurate and easy to use.  They are also great if you either need or like large clear to read and back lid readings.
The bowl is removable for easy cleaning and removal of ingredients.
What is Their Capacity?
The scales start weighing from 1 gram or 1ml.or 0.1fl.oz, 0.1oz. Their capacity is 5kg or 11lb. They weigh either dry or liquid ingredients in units of  g, fl.oz, lb or oz or ml.
How Accurate Are They?
These scales have 4 sensors that are high precision to create super accurate readings.
How Big is the Bowl?
The bowl is  approximately Bottom diameter = 7cm. Top diameter: 25cm
Height : 10cm  The bowl holds approximately 2350 ml of liquids.
Consistency of Weighing
These scales weigh both accurately and are consistent.
Are they Easy To Clean?
Very easy to clean.  Just wipe over with a damp cloth and wash the bowl in the normal way.
A Large Digital Display Makes Readings Easy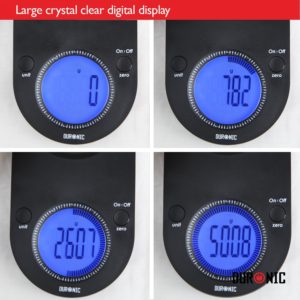 These scales are fantastic for those that prefer or need a large and clear digital display.  The digits are 8mm wide and 25mm high.  As you can see from the picture on the right they are very easy to read. The smart backlit blue background also helps with reading.
Are they Easy for You to Use?
Yes, they are very easy to use.  You can easily add more ingredients with the tare function.  You can also use a different bowl or plate if you want to. It takes a reasonably sized diameter container without covering up the large display.  Just remember to reset the tare to zero to allow for the weight change.
Automatic Shut Off/Low battery Indicator
There is auto shut off, this closes down slightly too quickly for some people, but a quick touch can keep it running.  The scales have an indicator to tell you when the battery is low and if there is an overload.
What Batteries are Used?
They use three batteries AAA size. Which are great as the batteries are economical and also easy to replace.
Stability of the Scales
These are quite stable on a normal flat surface.
What is the Weight of these Scales?
The boxed weight is 862g.
In Conclusion
Overall these are great easy to use digital kitchen scales.  They are well thought out and designed. The main downside is easily overcome when you get used to the way the scales work.