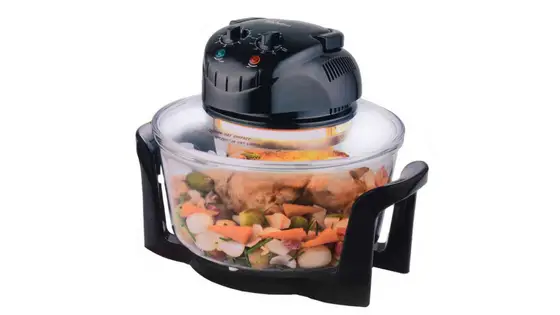 Halogens are easy to use and easy to look after.  However, they are different than your conventional oven and many people want to know what those differences are and how to look after the halogen, how to use it and how to clean it.
Some Frequently Asked Questions When Getting an Oven include will my normal cookware still fit?  Can I use silicone cookware?
How do you clean the halogen lid?
Will My Normal Cookware Still Fit?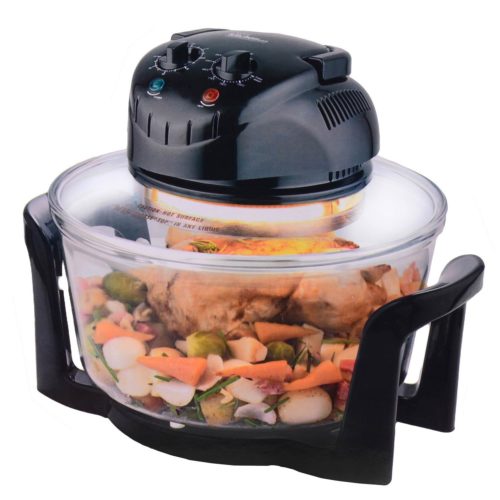 Because they are round the ovens do not always take all the cookware you have.  You may need to get smaller bun tins with 6 holes rather than the usual 12.
You can also get an accessory set to help with cooking chips (fries) and other smaller items and pizzas.  You may get this with your oven if not you can order them online separately.
After many attempts at cooking chips and having a few of them fall through the holes, I decided to use the two trays together creating a criss-cross grid and stopping those chips from slipping through Yay!
What Cookware Can I use in my Halogen Oven?
You can use most of the cookware that you would normally use in your standard oven providing it fits.  Ideally, you need a space around the outer part of the cookware and the edge of the oven for the air to flow under it.
bun tins
cake tins
Pyrex dishes
casserole dishes
If in doubt check the instructions you got with the oven.
You can also get additional halogen accessories as well.  These make cooking chips, toast eggs etc much easier.
Can I use Silicone Cookware?
When I first started using my oven I searched on-line to see if I could use silicone cookware in my oven or not and found that there were both yes and no answers.  My answer is a resounding NO!
Here is why.  After reading that you could use silicone, although I had concerns I decided to try it.  Not a good plan.  Within a very short time, the smell of "burning" was quite strong.  Although in fact, the tray hadn't burnt the smell of fumes showed that it should not be used.  Which is what I thought to start with.
So unless your instructions clearly say you can use silicone or you check with the manufacturer, I would stay well clear of it for halogen cooking.  Maybe, it is OK in the big square ovens, but I could not say for certain.
How do You Clean Your Halogen Oven?
You can usually clean your oven bowl in the dishwasher if you have one.  Or you can clean in the sink.
Or if you prefer, you can use the self-washing option of your oven.
Wait until your oven has cooled down.
Clean out any loose bits of food if there is any.
Then you just pop in some warm water (let the oven cool first) and washing liquid.  Ideally enough water to cover your stands 2.5cm to 4 cm (1 inch to 1.5 inches) approx.
Pop your stands upside down and put on the wash setting for five minutes or as your manufacturer's guide says.   (This is usually the lowest setting and will say wash and defrost on the dial).
When the time is up simply, lift the bowl and stand and tip any water down the sink. Careful as the bowl and water may be hot.  Rinse the bowl and clean with a paper towel or leave to air dry
Disconnect lid from electricity.
Wipe around the glass part of the lid carefully so as not to get the element wet.  Do not immerse the lid into water.
You can also remove the metal if you want to clean it more thoroughly.
How to clean halogen oven lid
This video shows clearly how to clean your oven lid easily.

The video information is slightly different in that is uses cool water and fifteen minutes.  I also like their solution to cleaning the lid.