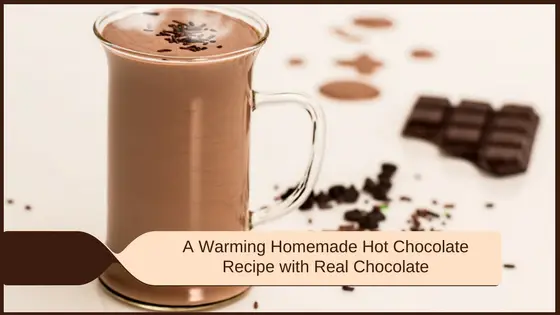 Relax and Enjoy a warming hot chocolate with this homemade hot chocolate recipe with real chocolate.
There's nothing quite like wrapping your hands around a mug of hot chocolate and sitting by the fire (even if these days your fire is cracking away on the TV screen) during those cold winter months. Often topped with cream or chocolate it makes a delicious treat.
Perhaps you are reading, crocheting or listening to music, just relaxing whatever the occasion chocolate is welcoming.
Also, this makes a great treat for the children when they have been outside playing.
A Warming Homemade Hot Chocolate Recipe with Real Chocolate
Below is a delicious traditional creamy chocolate UK recipe like granny would have made.  There is also a US video example of how to make a similar recipe that is so thick your spoon stands up in it.
This is a rich delicious recipe like your great grandma might have made.  Similar to the 19th-century hot chocolate yet suitable for the modern home.  All these recipes are from scratch so take a bit longer than the powdered variety.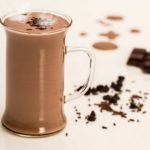 A Traditional Creamy Hot Chocolate Recipe
A traditional warming homemade hot chocolate recipe with real chocolate
Ingredients
50

g

of Chocolate (1.75oz) 70% cocoa solids

finely grated

140

g

of sifted plain flour

1

litre

(1.75) pint of boiling milk

1

litre

(1.75 pint of boiling water

108

g

of granulated sugar

1/2

tsp

a teaspoonful of salt

Whipped Cream

Optional
Instructions
Mix together the sifted flour, granulated sugar and salt

Put into a saucepan 65g of Chocolate (baking choc , finely grated

Add one litre (1.75 pintof boiling water, stir until dissolved, add the flour, sugar and salt,

boil gently, stir constantly for five and gently simmer

stir your hot chocolate mixture constantly for five minutes. Then stir in one litre (1.75 pintof boiling milk, and serve with or without whipped

This creamy hot chocolate is ready to use and can be served with or without whipped cream.
Hot Chocolate You Eat With a Spoon Video
(a US measurements and also converted to  UK measurements)
I chose this video recipe as an example because although it is made with cocoa powder it can also be real chocolate cocoa powder, it is also made with flour and you can see how thick and creamy it comes out.
I have converted the US ingredients to UK ones for your convenience. Otherwise please just follow the recipe from the video.
UK Ingredients
46.88g (1.65oz) cocoa
46.67g (1.65oz) flour
150g (5.29oz) granulated sugar
562ml (19.78fl) milk
US Ingredients
3/8 coco
1/3 flour
2/3 granulated sugar
2.5 cups milk
Making a homemade hot chocolate recipe with real chocolate takes more time and effort than using a shop bought ready made hot chocolate but it is well worth the time and effort to get a rich and creamy tasty hot chocolate.