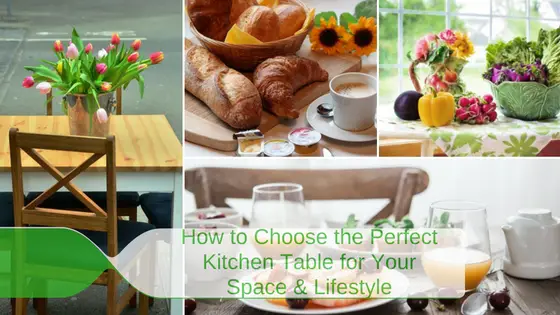 Whether looking for a table for dining or multi-purpose uses there are a few things to consider before you choose the perfect kitchen table.
For instance, what are you and your family going to use it for?  And what kind of space/kitchen will it be put into? What Materials are best, or do you prefer?  Will they work in your space and design? What size works well for you.  Will a square, round or rectangle table work best?
Below we cover the aspects of kitchen table buying including the following sections:
What do you use your kitchen table for?
Design of the table
Shape
Size
Materials
Legs
On Arrival
1. What do you use Your Kitchen Table for?
Kitchen tables can be used for all kinds of things.  As they are the centre of the household or the hub. Their use will change with your families needs.
No matter if you have a traditional country kitchen table that is hand made of wood and sits eight people easily or a small modern table for two people, your table needs to be versatile and fit your lifestyle as well as the kitchen.
So what Are The Many and Varied Uses of Kitchen Tables?
Tables in the kitchen have a surprising amount of uses.  With many homes being smaller and areas having multi-function tables are no exception.  These are but a few.  Breakfast, traditional Sunday lunch, Christmas or other holiday meals depending on your culture and/or upbringing. Coffee and a chat with friends. Family evening meals or an intimate dinner for two.  Baking bread and cookies or making jams or wines, crafting with adult friends of the children? Board games or just dumping laundry while folding. Homework or study or business on the laptop.
Is it purely a kitchen table for kitchen use or is your table a kitchen/diner where you want something both practical and more elegant for evening dining?  Will your children be painting or crafting on it? Or will it be purely practical for baking or purely for dining?
The style of the table can change dramatically depending on whether it is a dining table or only a utility kitchen table.  Table types include space saving, kitchen country, chair storage, bar, a kitchen island table or a corner dining table.
2. Design of the Table
A. What Is the Best Table Shape?
The most common kitchen table shapes to choose from are a rectangle, round, square, and oval.
Deciding on which one to choose can simply be one of preference, practicality, space or design.  As well as the needs mentioned, consider the shape of your room in relation to the table.
Rectangle Tables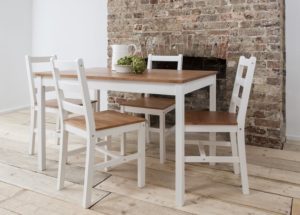 A rectangle is the most popular table shape and the most traditional.  Rectangle tables are great because they are versatile. A rectangular table also has a large area to use and is comfortable to sit at. The legs are neatly placed on each corner.
The corners can be a downside in smaller spaces. The shape may not work so well in a square room or space.
These tables are great in both traditional and contemporary styles.
Please see here for more on beautiful rectangular kitchen tables.
Round Tables For Small Spaces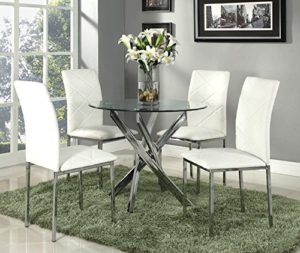 Round kitchen tables are great for smaller spaces as they take up less room and have no corners to navigate around or to catch yourself on.
They are not as roomy as a rectangular table but give more than enough space to eat at.  If you prefer to dish up at the table, larger round kitchen tables may work well with a centre rotating area to make reaching food. Sometimes they have a centre column with the base spreading out.  This can reduce leg room.
Round tables are also great for as both contemporary or traditional styles and kitchens.
More on round kitchen tables and sets without extensions
Square Rooms or Areas
If you have a square room or space a square table works best in that space.
Square tables don't work so well in rectangular spaces nor do they work in unusually shaped areas.
Square tables tend to be more contemporary in style.  They look great in wood, metal or glass.
More on square kitchen tables for dining
Oval tables
Like round tables work well in small spaces as the removal of the corners help with the overall size of the table and walking around it and saves painful bruises on your body from catching the edges.
Why Oval and Round Tables are Ideal for Young Children
If you have younger children rounded edged tables work well.  The lack of corners is a good safety consideration.  The alternatives are to put protectors on the table corners or to sit with one hand protecting the table corners while eating if the child is not at the table.
When to Choose Table Expansions
Table expansions are ideal if you need a larger table on the odd occasion but a smaller one most of the time.  Or you may not have much space so want to keep it clear as much as possible. Also, not everyone gets on with the Drop leaf table types.
Drop Leaf Tables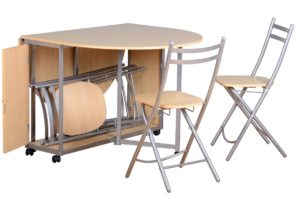 Drop leaf tables are a good way to save space, to store chairs and if they have wheels to move about with ease.
Some advantages are they take up little room, you don't have to have the chairs out (depending on the style) and you can have only half of the table up if you want to.
Some issues can be that they are awkward to put your feet under.  Some of the chairs are less than comfortable. You have to pull the chairs out when you need them which may not work as if you struggle with lifting or movement.
 B. What Size Kitchen Table Is Best For Your home?
There are several things to consider when deciding on the size of your new table.  Thinking about how you intend to use your table in advance, can help you decided on what size and style are best for you personally.
What space is the table is to be in?
How many people are going to be seated?
How often do you need extra seats at the table?
Is there enough room around the back of the table for pulling out chairs and sitting down?
 Will it be practical for you personally?
Is there enough foot room?
Is it too narrow or too wide?
Does the style suit your home and lifestyle?
How to Judge How Your Table will Fit into Your Area
It is very difficult to just online as everything is so small.  In store is not much better either as the rooms are usually large making the table appear smaller than it is.  It is well worth marking out the area to see what room the table actually takes up before you get anything.
Tables usually come in sizes to seat 2, 4, 6 or 8 people.
What is the Average Table Height for Dining Tables?
The height of the tables does actually vary slightly although they are usually between 74cm-75cm.
C. What Are The 4 Most Popular Materials for Tables?
Table materials come in mainly wood, MDF, glass, metal, and marble or sometimes a combination of materials like metal and wood for example.
Wood is very popular because it looks amazing.  It is very versatile, strong and hard wearing and works well in many different styles.
Glass is more contemporary in feel and look.  Glas lends an elegance to a room.  It is perfect for small spaces as it is often clear so the eye moves through it rather than holding on the table.  Again, it is very hard wearing. It is also easy to clean.
Metal is both contemporary and practical.  Often actual metal tables and tops are for more utilitarian kitchen use.  However, metal is great for the table legs and edges.  Metal goes well with either wood or glass.  It is ideal for those that love wood but have a small space as the table looks much lighter and takes up less room with metal legs matching metal edged chairs.
MDF again is more contemporary but can be an ideal more economical way of getting something that resembles wood.  Once not classed as environmentally friendly these days it can be, as it uses less wood and can be made of other materials. It can also be more environmentally friendly.
D. Table Legs
Table legs are often overlooked or forgotten.  Yet they are vital to the comfort and feel of those seated at it.  Some compromise is unavoidable if you need a round or drop-leaf tables. However, it is worth noting as some tables will have better-designed legs than others.
with or without chairs. chair storage, comfort
3. On Arrival
How will your table arrive?  Will it be full sized or flat packed? Will it get through your door or can you assemble it with ease?