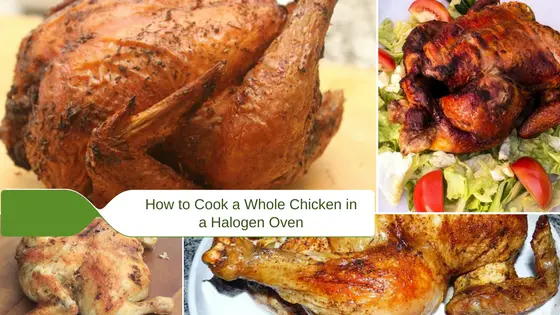 A chicken is one of the first things they recommend that you cook in your new halogen oven, so learning how to cook a chicken in a halogen oven isn't as daunting as you might think. In fact, it is a very good way to cook chicken and it is quite easy. 
The main things to think about when cooking a whole chicken is that it is cooked right through and cooked thoroughly and at a high enough temperature to kill off any bacteria.
You can easily cook a chicken big enough for a family. Either choose to cook your chicken on its own or with potatoes and vegetables.

Cooking a chicken in the halogen saves your time and is more economical than a conventional oven.
How to Cook a Whole Chicken in a Halogen Oven (1.35kg)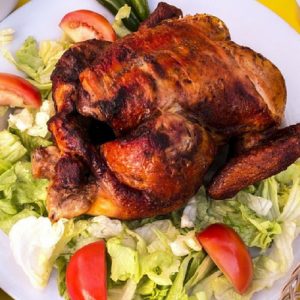 Cook from chilled only, always thoroughly defrost your chicken before cooking and do not wash it.
Prepare your chicken as you would for cooking in a conventional oven. Remove the giblets and season.  If you use stuffing pop that in as normal.
Place your chicken into the oven upside down on your bottom rack. If you have an extension ring use that to get some height. This will help to stop the top of the chicken from burning.
Set the oven temperature to 200°C (392F).
Set the timer for about 35 to 40 minutes.
Quickly check how cooked it is to determine further cooking time.
Turn chicken right way up.
Cook for a further 20 to 25 minutes.
Check to see if our chicken is properly cooked. If the juices run clear it is ready.  If not and they are pinkish give it a bit longer.
Check the temperature with a meat thermometer.
Remove the stuffing.
Let it rest for about 15 to 20 minutes.
Then slice and serve.
Alternative Method of Cooking your Chicken
If you find turning your chicken difficult during roasting you can also cook at a slightly lower temperature about 190°C for about 60 minutes.Check it then add a few minutes extra if needed.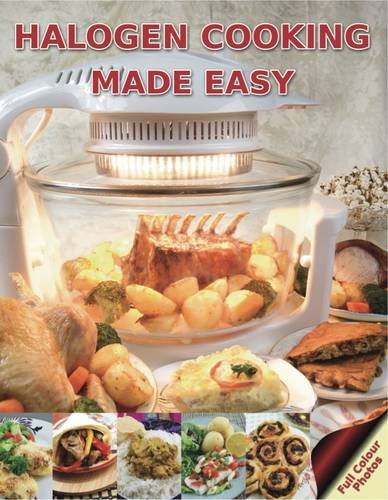 Halogen Cooking Made Easy: Part of the Halogen Made Simple Range
How Long to Cook a Chicken in a Halogen Oven
It takes approximately 4o minutes per kg (2.2lb) at 205°C (400F).  Please check your own halogen leaflet as this may vary from halogen to halogen.
Quick Halogen Oven Chicken Cooking Tips
Use an extension ring to add height this gives your more space and helps prevent burning and also protects your element.
use silver foil to prevent further browning or burning if needed.
check with a meat thermometer.
For the most success only cook chickens that are less than 7kg (16lbs).