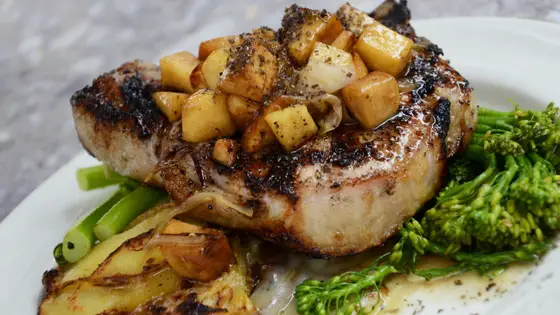 There is nothing like biting into a tender juicy pork chop. Yet so often the final results especially for pork is dry and overcook meat; not to mention tough. So how can you overcome this challenge?
If you want the perfect tender pork chop, cook them in the oven. How to cook pork chops in the oven gives you the basic techniques so that you can adapt and build upon them to make a variety of pork chop dishes.
Overcooked meat is always an issue. often in our attempts to make sure we don't undercook it we overcompensate, and pork just goes dry. Also, the tendency can be to cook it too quickly, which again results in less than perfect pork.
I admit I tend to cook boneless steak rather than chops as I can't be doing with the bones. However, chops are very tasty and still very popular. the great thing about pork is it is still good value to buy and very versatile.
How to Cook Pork Chops in the Oven
Preheat your oven to the desired temperature.
Take your chops out of the fridge, cover and allow to warm up to room temperature.
Place your pork chops on an oven tray.
Coat the chops with oil or butter.
Season with salt and pepper or herbs and spices to taste. Start with basic salt and pepper then experiment with different tastes. Salt, black pepper, and sweet paprika or chilli are a good alternative and something a bit different.
Put the tray into the oven and cook for about 35 minutes. If you are using a lower heat cook for slightly longer.
Check they are done. If you can check the internal temperature if should be at least 68C. Or cook until the juices run clear.
Allow resting for about 3-4 minutes.
Note: the lower temperature allows for a more juicy chop. If you prefer you can have a higher internal temperature.
Quick Questions Answered:
How Long to Cook Pork Chops in The Oven?
Pork chops are cooked for about 35-45 minutes in the oven. It depends on how you want to cook them and how thick they are.
At What Temperature Do You Cook Pork Chops?
The usual oven temperature for cooking pork chops is 180C for a normal oven and 160C-180C for a fan oven. If you are using your Halogen oven you can usually just use the fan oven setting or alternatively, 175C usually works well. Remember though that you are quite close to the element, so use the lower tray or/and extender ring if you have one.