Learn how to cut potatoes into chips in two quick and easy ways. Firstly, how to cut your chips by hand and then using a hand potato chipper machine.
With the move away from ready made food back towards homemade food for several reasons people want to find the best ways to prepare that food.
With our busy lives and the need for quick and easy solutions even if we are preparing our own chips we need something that isn't too time-consuming and will give great results.
Below are two methods of chip preparation that are easy to do and take up very little time.
How to Cut Potatoes into Chips Using a Hand Potato Chipper Machine, Hand Potato Chipper
I have a hand potato chipper to make chips, not the same one as in this video, though.  I got mine when doing a slimming diet as I needed to make real chips without the fat content.  This was the cheapest method, well second cheapest if you count just using a knife.  I didn't want to use the ready frozen ones you get from a shop and I wanted uniformity of size as well as a healthier chip.
The video shows just how easy they are to use.  Once your potato has been peeled you simply pop them into the machine and push the lever, out pops lovely even chips.  I do tend to cut mine in half though first for ease.  Some people don't even peel the potatoes first, it depends on your preferences.
6 Reasons to Use a Hand Potato Chipper
They are quick and easy to use
They give great results
They have consistent results
They are easier than hand cut chips
They take up little space
They are economical to buy and use
Find Hand Potato Chippers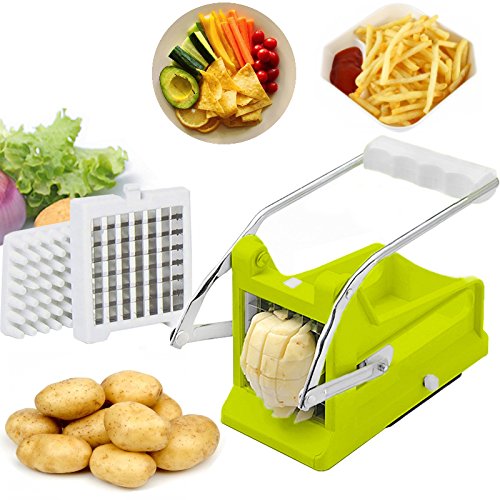 See Hand potato chipper machines here
How to Cut Potatoes Into Chips by Hand
Learning how to cut potatoes into chips by hand is just as easy as using the potato chipper.  Some people may even do it as quickly.  I am afraid I am a bit slow with cutting and slicing potatoes by hand, so I  find the chipper handy.  When not using a potato chipper it is easy to chip potatoes by hand. See the Photos and directions and also the video at the bottom of the page.
1. Wash the dirt off of your potatoes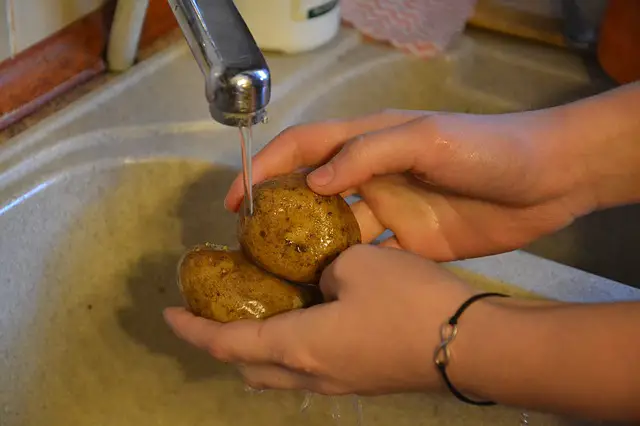 2. Peel your potatoes and remove any eyes, damaged bits or blemishes
3. Slice the potatoes down the middle. Then cut lengthwise the width of the chips you want.  Then pop them on their side and again cut to the width of the chips you want.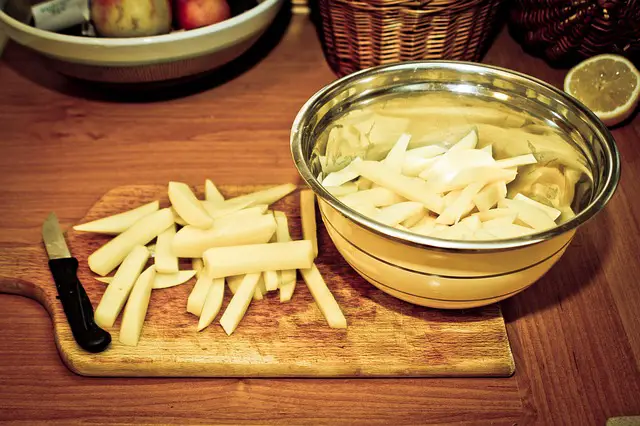 A Video of How to Cut Potatoes Quickly
As the video below shows, it is very easy to cut up potatoes to make them into chips.  They also show several other methods.  These include several types of cubes and a slicing technique.