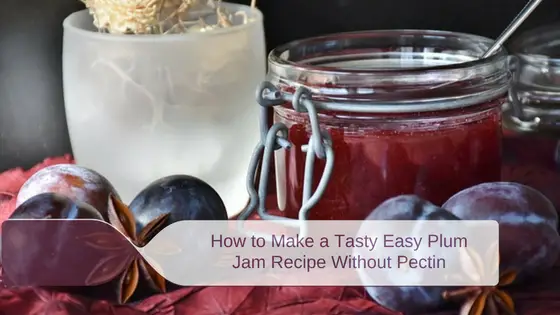 Why not make a tasty and easy to make plum jam recipe without using any pectin? You can just have plums or add some extras for that extra special taste.
Extras like port, cinnamon, and amaretto are really easy to add.
Making the jam is still easy for beginners to create yet will easily impress friends and family.
This easy plum jam recipe is made without pectin as you do not really need it as plums have lots of pectin in them anyway.
Ingredients to Make a Simple Plum Jam
Use 2Kg really juicy fresh ripe red/purple plums with stones removed.
1.5 Kg of Granulated Sugar or preserving sugar (If you prefer your jams sweeter match the quantity of the weight of the plums. However, if you use really ripe plums you can use less sugar.
1 tablespoon of lemon juice (optional, if you want to you can leave out the lemon juice. However, you will need to use your jam more quickly as they will not keep as long).
650 ml of water.
Added Ingredients if you want to add a bit of Pizzaz to your Plum Jam
Amaretto 100 ml (6.5 tbsp) – Add and stir in once the jam has reached setting temperature/or point
Port 250 ml & 1 cinnamon stick
Mulled wine
Cinnamon, 2 teaspoons – If you are adding the cinnamon put in at the same time as the sugar
Jam Making Equipment Needed:
Jam Jars & lids – Must be sterilized
Maslin Pan or Saucepan if you don't have one
Wooden Spoon or Spatula
Thermometer or frozen plate for jam set testing
Jam Funnel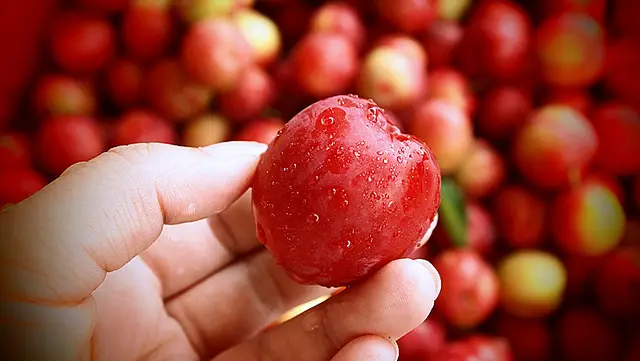 How to Make Your Easy Plum Jam
Wash your plums and remove their stalks.  Then also cut the plums into two or four pieces and remove the stones from the centre.  You can do this before you cook them or you can gently cook them for easy stone removal.
Place your plums into the pan along with your water and gently cook for about 25-30 minutes. (2. If adding port pop in your cinnamon stick now)
Now add and stir in all of your sugar.  (4. If you are adding cinnamon now is the time to add it as well.)
If you are using the jam set method of testing, boil for 5 to 10 minutes.  If you are using a thermometer make sure your jam is hot enough 105c (220F) for your jam to set.
Once the jam has reached the set point (1 & 2 Add the Amaretto or Port now if using & remove the cinnamon stick) remove from the heat and put into the pre-warmed and sterilized jam jars using your jam funnel.  Make sure there are no jam drips around the edges of the lid area.
Close the lids of the jars, wipe the jars clean and allow them to cool naturally.  Depending on the jars used you should hear a pop when they seal in 10 to 15 minutes approx.
Make Easy Jams, Preserves and Chutneys
An Easy Plum Jam Recipe Video Without Pectin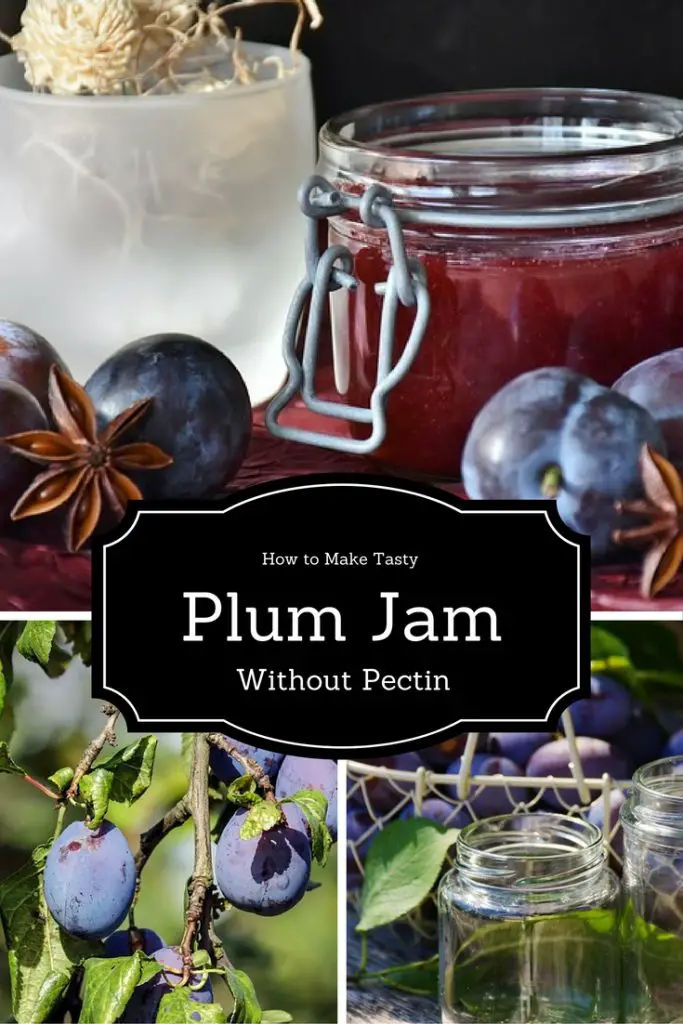 Summary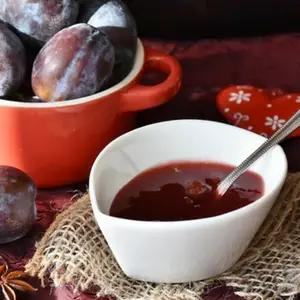 Recipe Name
How to Make a Tasty Easy Plum Jam Recipe Without Pectin
Published On
Preparation Time
Cook Time
Total Time