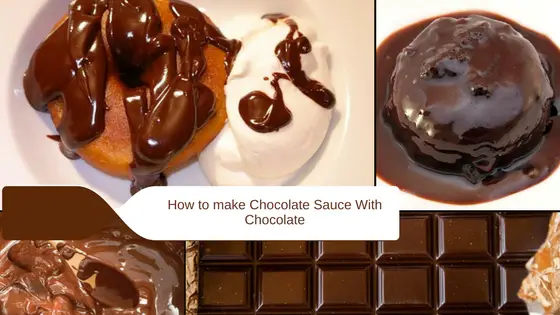 How to make chocolate sauce with chocolate bars that are grated or with chocolate chips. This luxurious thick chocolate sauce recipe is perfect for many different uses.
It can be used on puddings or as a dessert or as a soft custard. Or simply put in with your ice cream for a delicious ice cream sundae.
It can be made thicker or thinner depending on your preference. And you can also make it with milk, or dark chocolate.
The sauce is a perfect addition for those little luxuries.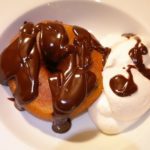 How to Make Chocolate Sauce with Chocolate Bars or Chocolate Chips
A traditional thick chocolate sauce that is a perfect addition to your desserts and cakes.
Ingredients
0.5

litre

milk

1 US pint

120

ml

cold milk

½ cup or 4 oz

56

g

Chocolate Bar Grated

(2 oz of chocolator chocolate chips

80

g

Caster Sugar

7 tablespoons

4

egg yolks/dried egg if you prefer

1.2

g

Salt

1/4 tsp

30

ml

Boiling Water
Instructions
Place 0.5 litre of milk onto the hob in a double boiler (or heated bowl and pan).

Add 56g of grated chocolate with 48g of sugar and 30ml of boiling water to a small pan and stir over the heat until your mix is completely smooth and all the chocolate is melted.

Add this to the hot milk.

Separated the yolks of the eggs then Beat the egg yolks together then add the remaining sugar the salt and the 120 ml cold milk. Beat the mixture thoroughly until completely mixed.

Stirring well then add this to the boiling milk and return the mixture to the double boiler.

Cook for 5 minutes continuously stirring.

Put the mixture into a cold bowl and put the bowl into cold water and stir for a few minutes.

Keep stirring the mixture every so often until you sauce has gone cold.

This sauce is perfect with ice cream or to pour over cakes.
Recipe Notes
In metric and US measurements.
If you prefer not to have such a thick sauce please reduce or eliminate the flour.