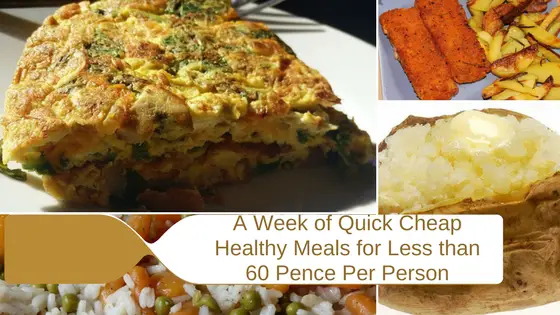 Create a week of really quick cheap healthy meals for less than 60 pence per person with these meal ideas. Perfect for those who are being economical in the kitchen or are tight on time.
The meals are simple, cheap and easy to prepare and cook. They are one portion and can easily be increased to make as many portions as you need.
They have a healthy balance as they all have carbohydrates, vegetables, and meat or dairy.  They are also mostly unprocessed.
These meals are super frugal and easy to cook straightforward meals that do not require lots of ingredients or good cooking skills. You do not even need to cook everything from scratch.
A Week of Quick Cheap Healthy Meals for Less than 60 Pence Each Meal Per Person
Sometimes, if your budget is extra tight you may want simple meals that cost even less than normal.  The meals below all have your three main areas of a meal protein, carbohydrates and vegetables. I have cost them all out based on current supermarket prices broken down into the cost of that sized portion.
Are These Meals Suitable for Vegetarians?
Most of the meals are suitable for both meat eaters and vegetarians alike.  The ones with meat are easily turned into a vegetarian meal by using a quorn substitute.
Omelette or Scrambled Egg & Chips With Peas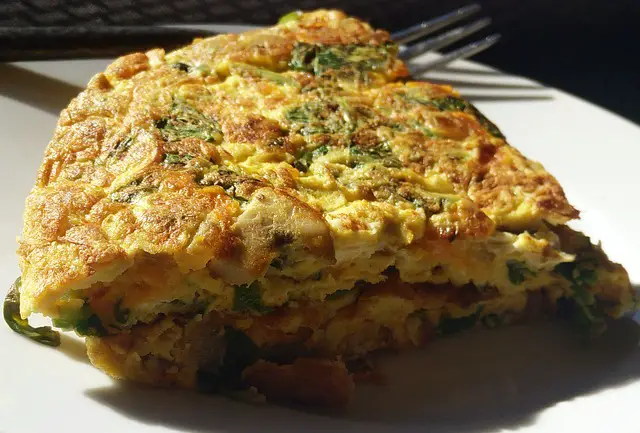 Make a quick to make a tasty plain omelette with chips and peas for only 54 pence.
Can I take it to work? If you have a microwave at work you can make the omelette there.  Simply get a Sistema Microwave Egg Cooker Easy Eggs
 from Amazon and you can easily create your omelettes anywhere that has microwave access.  The only thing that would cause problems would be the chips.
Ingredients:
2 Mixed weight free range eggs 30p
Potatoes two whole approx 14p
Peas 1 Portion 10p
Cost Total Per Person = 54p
A Simple Risotto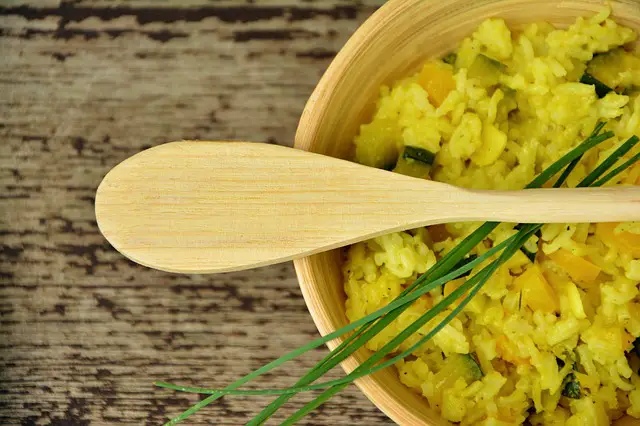 Risottos are perfect for quick cheap healthy meals as the are amazingly versatile and easy to do.  You can use virtually any meat, fish or vegetables you want to make them.  Here we have a very simple example however, they can have many more ingredients.  They are also perfect for using up leftovers so save money by reducing wastage and saving you buying new ingredients.
Ingredients:
White/Brown Plain Rice 74g portion 13p
1 onion 17p
Mixed frozen veg 12p
Flavoured stock cube (between 5 and 10 pence)  or mixed spices/herbs of choice
Cheese 15g  8 pence
Total Cost Per Person = 60 pence
Quicker Easier Option: Buy a  mixed bag of  Rice, Broccoli, Sweetcorn & Peas Microwaveable Steam Bags x4 540g £1.50 (37p a portion)
Can I take it to work? This would be better cooked at home and heated at work.
Baked Potato & Baked Beans & a Yoghurt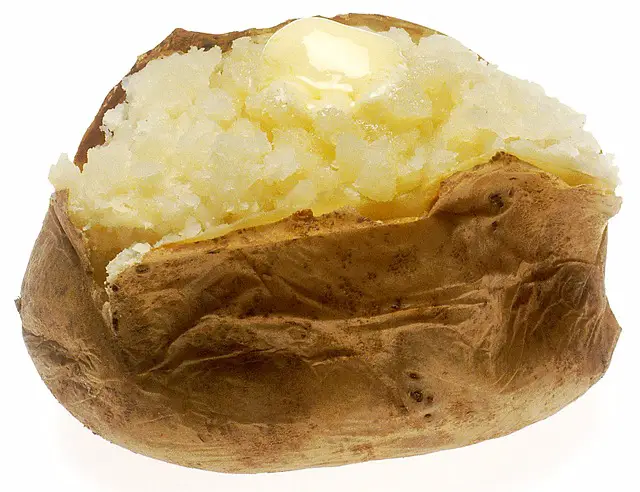 A warming jacket potato with baked beans and a yoghurt for dessert.  Note if you don't want desert you can remove the yoghurt and add cheese to the main meal and still keep all three things that make up a balanced meal.
Can I take it to work? Yes if you have a microwave at work this would be easy to cook there.
Ingredients:
Baked potato 22p
Baked Beans 14p (1/2 420g tin)
(Sainsbury's own 6 yoghurts£1/6 = 17p )
Total Cost Per Person without Yogurt = 34 pence including Yogurt 51p
Fishcakes Chips and Mushy peas/ Or Fish fingers and chips and spaghetti or beans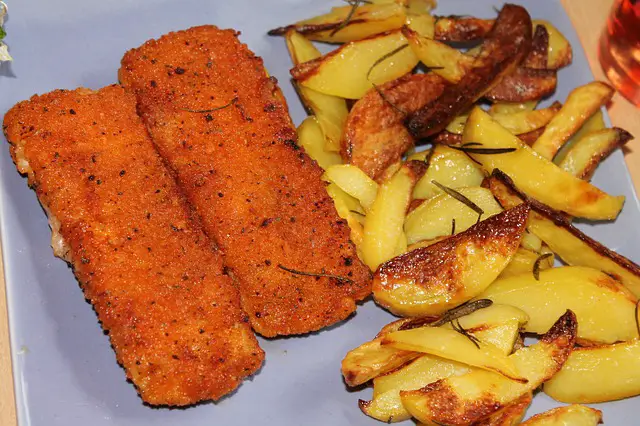 Ingredients:
Fishcake 25p
Mushy peas 10p (basics range 20p for chip shop peas)
2 Potatoes 14p
Total Cost Per Person = 49 Pence
For another option or if you are feeding your children you can easily replace the fishcakes with fish fingers. The peas can be replaced with spaghetti shapes however this doubles the cost of the meal.
Can I take it to work? Not really suitable for taking to work.
Sweet Potato Korma
A filling sweet potato korma is a great winter meal as it is both warming and filling.
Ingredients:
1/2 Sweet potato 22p
Creamed Coconut 10p
Pineapple chunks1/4 container 20p
Tomato Purée 2p
Ground Ginger 2p
Ground Coriander 2p
Ground Cumin 2p
Total Cost Per Person = 60p 
Making it easy tip: Aldi do a very good Korma Powder which will save you from having to get so many spices.
Hearty Winter Vegetable Stew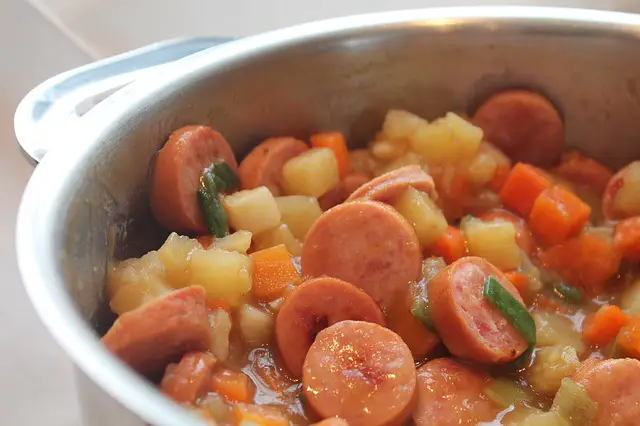 There's nothing quite like a stew to warm you in the winter months.  This is the only recipe that doesn't have a meat or dairy element. You could add a yoghurt but that would take you just over the 60p limit at 61p.  Personally, I would add dumplings instead.
Ingredients:
Potatoes x 2: 9p
Carrots x 2: 10p(basics range) pack
Parsnips x 1: 10p (basics range pack)
Flavoured stock cube (between 5 and 10 pence
Sainsburys own 6 yoghurts £1/6 = 17p )
Total Cost Per Person = 51 pence 
Can I take it to work? Yes, this can easily be reheated or kept warm in a soup container.
A Simple Sausage Pasta
This is a simple sausage pasta based on the Nigel slater recipe on TV but adapted to be much cheaper to make and with more vegetables for balance. His tastes better but then it has cream in it which adds about 50 pence to it and doubles the calories that you would get from the milk.
Ingredients:
Sausage 18p Pasta Conchiglie (Shells): 13p
Veg/peas 10p
Milk 10p
Mustard 5p
Total Cost Per Person= 56 pence
Vegetarian alternative: Use vegetarian sausages.  My sister has used the Linda McCarthy ones and she says they taste divine and are also lower in fat.  This sausage will cost about 33 pence increasing the cost by 15 pence, though.
So What is the Total Cost for the Week?
The total cost of all the meals for one portion for the week is only £3.81 that works out at only £0.54 per day on average.
That is only £15.24 for a family of 4 people
***
Prices on this page are standard prices taken from Sainsburys online at the time of writing and are subject to change.   The basic range has not been used unless I have said, so there is room for further savings if it is used.
As this is for one person only these meals may require buying a whole bag or tin of something so the actual spend is greater but broken down. Some of the recipes you can make for four or 8 people and batch cook and freeze to reheat later.