These round kitchen table sets for 4 people are great for either the dining room or the kitchen dining areas. They fit well into small spaces and allow for maximum use.  Elegantly designed, there are tables that are great for modern spaces or traditional ones while some suit either.
Some come as complete sets while others allow you to choose your chairs separately to complete your set to your own specific needs.
The Stunning New Designer Glass Dining Set With 4 White Chairs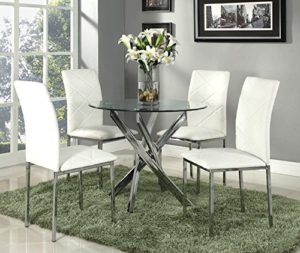 This beautiful contemporary round kitchen dining table will look stunning in any modern kitchen or dining area.  The white faux leather chairs will fit neatly into nearly any colour scheme you have chosen.
This table is perfect for smaller spaces or simply if you prefer clean modern lines and an open feel to your dining area.
This is the perfect modern table.  It is strong and durable, easy to look after and to clean, well designed and very stylish.
Seats four people
Dimensions of this Table: -Diameter 90cm Chairs – W44 by D54 by H92cm
Durable Glass
The table is very easy to assemble
Stunning New Berlin Clear Glass Dining Set with 4 White Chairs By Limitless Base
Round Clear Glass and Oak Dining Table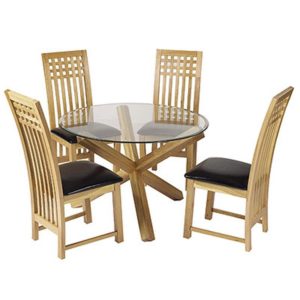 This stylish tempered glass table with oak legs combines the simple elegance of glass and modern lines with the beauty and tradition of wood.  The design is both practical and comfortable to use.
The table is held in place with suction pads for stability.
The chairs can be chosen and bought separately.  You can also buy the table with different types of wooden legs.
The table seats 3 to 4 people
Approx Product Size: D 106.5 by H 74cm
The table is made from solid oak with a tempered glass top
Assembly is a little more tricky due to style
Oak LPD Furniture Oporto Dining Table, With a Clear Glass Top
White Julian Bowen Mandy Dining Table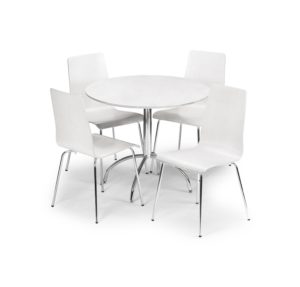 This is a very popular modern clean cut white round table with central chrome leg panel.  The table is lacquered and painted MDF.  The chairs can be bought separately or as a set depending on the seller.
Good quality and value for the money. Although the table is not as stable for leaning on as some of the other examples if you have children.
The chairs can be bought separately or as a set depending on the seller.
Seats 4
Chairs bought separately or as a set depending on who you buy from
Dimensions of the table: 90cm X 90cm X 75cm
Table is laminated plywood & chrome
Comes in white or maple
Easy self-assembly with 2 people
Julian Bowen Mandy White Dining Table
The Natural Oak Finish Grosvenor Dining Set With 4 Dining Chairs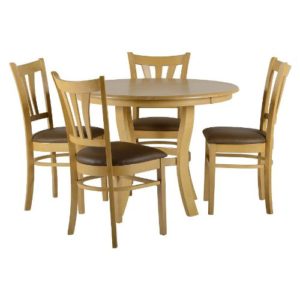 Simple elegance and practical durability are combined in this beautifully finished tropical hardwood dining table with oak veneered finish.  The grain of the oak lends elegance and strength to this table.  The  legs of the table curve beautifully.
The backs of the matching chairs also curve for comfort and style.  The seats are padded with faux leather for extra comfort.
Seats four people
chairs are chosen separately
Round Table Diameter is approx 101 cm
Made from tropical hardwood with oak veneer
Some home assembly with simple instructions included
Natural Oak Finish Grosvenor Dining Set with 4 dining chairs
In Conclusion
Round kitchen dining tables are perfect for the smaller space or for those wanted a more open feel.  They seat four people with ease.  Many round tables come separately from the chairs so they have to be chosen to match the table to make a perfect set.  This gives more flexibility individuality to your choice.
Also, many round tables come with the ability to extend by having extensions built in or drop-leafs.   All of these options make the round kitchen table truly versatile and suitable for most kitchens and dining rooms/areas.