The Smart Weigh CSB5KG Cuisine Digital Scale with a Bowl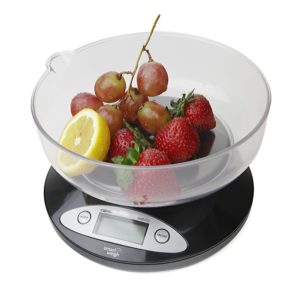 "The Cuisine digital kitchen Scales are compact, easy to use and very fast and accurate.
The easy to remove bowl and large backlit digital display makes weighing a breeze. " 
Accuracy ♣♣♣♣♣
Consistency ♣♣♣♣♣
Display ♣♣♣♣♣
Ease ♣♣♣♣♣
Speed ♣♣♣♣♣
Value for Money: ♣♣♣♣♣

Quick Overview
Weight – Up to 5kg
Display – Clear strong LCD digital display
Backlit – Yes blue
Auto Shut-off – Yes
Tare Function – Use the on-off buttons for tare
Measurements – Grams and ounces
Pros: The scales have a backlight and are very clear and easy to read.  These scales have a bowl. Their readings are very accurate.
Cons When setting up a calibration weight of 3kg is needed.
Review of the Smart Weigh CSB5KG Cuisine Digital Scale with a Bowl
These Smart Weigh digital kitchen scales are easy to use with a clear and accurate backlit reading.  They have a plastic bowl  supplied.
What is the Weight Range of the Scales?
The range has graduation increments of 1 gram. You can buy these scales in a 2kg capacity or a 5kg capacity.
How Accurate and Fast Are They?
These scales are super accurate as they are made with precision electronic sensors to accurately  weigh your food etc. The reading is instant.
What Readings Do They Weigh In?
They weigh food and liquid and weigh in either grams or ozs or pennyweight or troy weight.
What is the Total Weighing Area/Bowl Size?
The bowl holds approximately 1.6 litres of liquid. The bowl is approx 19cm (7.5 inches) in diameter.
Is there a Tare Function?
You can use the on and off button for the tare function.
Consistency of Weighing
They weigh really well and consistently.
Are They Easy to Clean?
Cleaning is easy.  The smooth base is easy to wipe over and the plastic bowl is easily cleaned.
What is The Display Like?
There is a beautiful stark contrast blue backlit display.  The reading is extra large so you can read it easily.
How Easy Are They to Use?
The bowl is removable, easy to use and handle even for people that struggle with their hands. There is a lip for pouring liquids as well.
The large platform for weighting means there is plenty of room for what you are weighing.
The scales are very easy to calibrate you just need to press a CAL button for a few seconds.  Press again and then you add the amount. Once it has done it tells you.
You do have to remember to switch them off at the end of your cooking session.
What is the Power Source?
The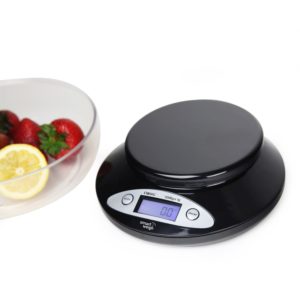 se digital scales have 2 AA batteries.  This is great as they are easier to get than the flat round ones and do not cost as much.
Stability of the Scales
These scales are very stable as they have five rubber feet for stability.
Wight of Scales
Total weighs 7kg (packed)
Overview of Scales
These scales are very good.  They are accurate and easy to read.  Some find the plastic bowl makes them look cheap. However, in fact, they are great value for money and work really well.
Smart Weigh Black uisine Digital Scale with Removable Bowl CSB5KG