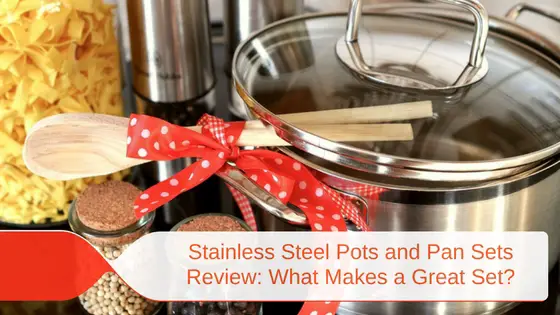 Quality, durability and value for money are all important when looking to get new stainless steel pots and pans. However, there are other factors to consider when deciding which one is the best for you and your family.
These include ease of use, pot quality, design and weight, fast cooking times and which hobs you can use them on.
The choice of pan you decide on may change depending on many small factors.  For example, if you want to use your pans in the oven as well as on the hob.  If you have a dishwasher. Or simply if you are right or left handed, or suffer from a muscle condition that limits the weight.
Below is a selection of pan sets that cover each of these requirements and many others as well.
Stainless Steel Pots and Pan Sets Review:  Looking at the Quality, Design and Usability
Karcher Jasmin is a 20 Piece Set for Induction with Roasting Pot and an Extra 4 Bowls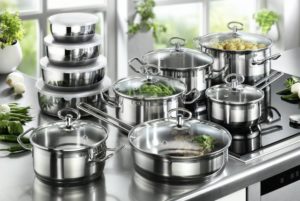 This is a great set for setting up a home. They look and feel like a good quality set with 6 pans and 4 bowls that is elegantly designed.
Karcher Jasmin Cookware Set with Roasting Pot and 4 Bowls Induction Stainless Steel
Handles: The handles are very elegant oval metal handles
Lids:  The lids are made of glass and have an outlet for steam to help speed up the cooking time and lock in the goodness.  This also mean's you can easily see the food while cooking.
Pans: These mirrored finished pans with elegant satin stripes around them.  The are made of 18/10 high-quality stainless steel.  The frying pan also has a lid which makes for easy splash free frying.
Pan Base:  The base of the pans have a special heat conduction protection to make them compatible with induction heating hobs.
Hobs:  can be used on all hob types.  However, they have a special base that is particularly suited to induction heating.
On the Downside:
The lid handles do get hot.  They do stain on the outside when using a gas stove so don't put the heat on too high.
Can the Pans be used in the Oven?
Yes, these pans can be used in the oven but only up to temperatures of 180C.
Are they Dishwasher Safe?
Yes, the set is dishwasher safe.
Are They Easy to Clean?
Yes, they are easy to clean, you just have to soak them for a few minutes if anything gets stuck.
In Addition:
With this set, you get an extra four bowls for food storage either in the fridge or dried.  These come with plastic lids to retain freshness and odours.
In Conclusion:
This is a good value basic set that looks elegant yet is also practical.  You get a lot for your money.  The 20 pieces do include all the lids.  There are in fact, six pans and four dishes all with lids.
The Morphy Richards Equip is a 5 Piece Pan Set for Speed, Efficiency and Elegance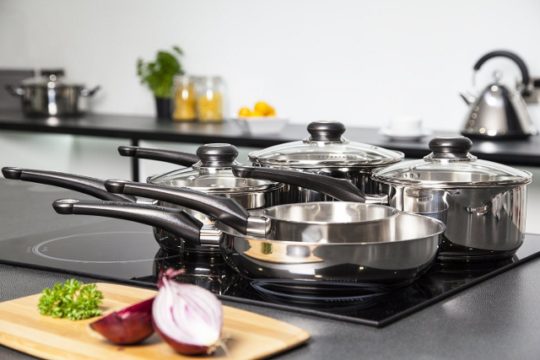 The mirror finished stainless steel pans are made with Thermocore technology so they are very fast and efficient to cook with.  They are also free of any Teflon coatings.
Morphy Richards Equip Five Piece Stainless Steel Pan Set


Handles: These are left or right handed stay cool safe handles.
Lids: The lids are made of glass which has been double tempered.  They also have steam drainage holes and draining rims.
Pans:  The pans have measurements inside, pouring spouts for both left and right-handed use.  There are made with a high-grade stainless steel.
Pan Base:  The base of the pan distributes the heat very evenly as they have been hot forged.  This process makes for easier and better cooking.
On the Downside:
As the pans are stainless steel they are not non-stick.
The box in the picture on Amazon says it is 8 pieces and the description clearly, says 5 pieces.  The set is five pieces consisting of 3 saucepans, a frying pan and a milk pan.
Are the Morphy Richards pans Dishwasher safe?
Yes, the pans are all dishwasher Safe.
What Hob Types can the Set be Used On?
The Hob types that can be used on all kinds of hobs including induction, ceramic , halogen, electric and gas.
In Conclusion:
This is a very good pan set which is well made by a well-known company and is great value for the money paid.  It is well thought out with attention paid to the details.The design considers both left and right handed use and how easy it is to drain.
The Stellar 1000 is a 5 Piece Deep Pan Set for Quality, Durability and Stamina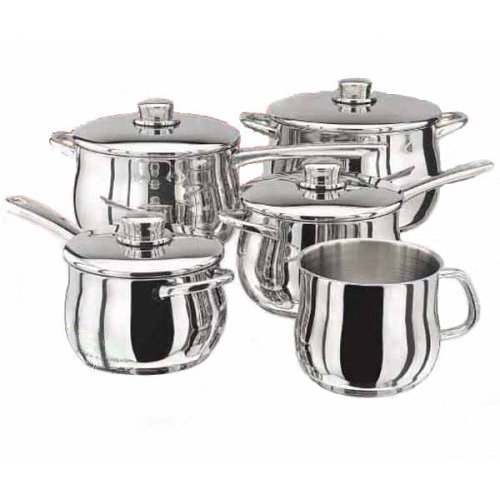 These pans are heavy duty stainless steel with a mirrored finish.
They are great quality and long lasting with a beautiful shape.
Stellar 1000 5 Piece Pan Set (Deep)
Handles:  The handles keep cool providing you do not have them over the heat.  Although some heating may occur if you are using an induction hob.
Lids:  The lids and the knobs are made completely of stainless steel so they can go into the oven.
Pans:  These are a good sturdy shiny mirrored type heavy duty stainless steel pan.  They are made from high-quality stainless steel without any coatings.  They are not too heavy for most people to use.
Pan Base:  The bases are thick stainless steel to ensure that there is an even distribution of heat throughout.
On the Downside:
There are no downsides to mention for these pots.  However, if you struggle with lifting you may prefer to get something a bit lighter as the set weighs in at about 6kg.
Are they Safe in a Dishwasher?
dishwasher safe although they are easy to hand wash after light usage.  They keep their shine very well and clean up well.
Do they Dent Easily?
They are strong pots that are hard wearing and they do not dent easily.
How Easy Are They to Clean?
These pans have been commented on as being "virtually non-stick"  which makes the cleaning easier.
Can the pans go into an oven?
Yes, these pans are oven safe.
What Hob Types Can these Pans be Used on?
They can be used on all of the hob types including induction.
A Final Note:
A great quality sturdy pan set which is both good value for money and very durable and hard wearing.
These are made to last and have the guarantee to prove it.
So three great sets that range in price and suit differing needs.  All are great value for money.  These are a good place to start to see what suits your own needs and to think about what elements of design, quality and price are most important to you.
It is recommended that you take a look at these pans armed with the information here and in the other related articles and then also see if any of the other sets suit your needs better or if these are the ones for you.