The Vonshef whole fruit juicer is a very powerful juicer that uses two speeds and a large chute so that you can juice both soft and hard fruit.   It is perfect for juicing both fruit and vegetables (including leafy veg) and was voted in the top 5 juicers on the market in 2013.
VonShef Professional Powerful 990W Whole Fruit Juicer for Easy Juicing
This juicer is fun to use and makes juicing tasty and nutritious juices from whole fruit easy and part of everyday life.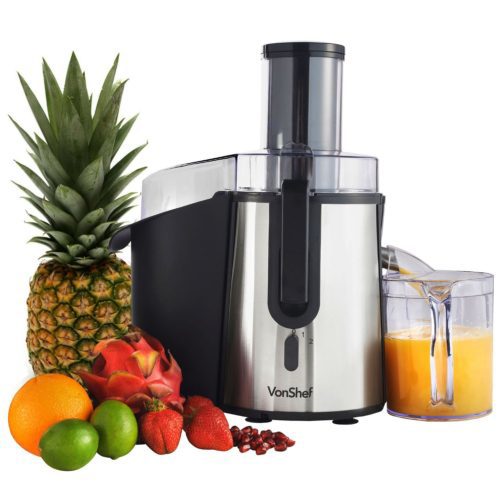 The large chute makes putting the fruit into the juicer faster.  (Although larger stones need to be removed.)
This is a well thought out machine that overall is great value for money and a good introduction to the juicing world if you do not want to run to the more expensive models.
Well designed, practical and sleek this whole fruit juicer will fit well into any modern kitchen.
Juicing ability

♥♥♥♥♥

Pulp Collection

♥♥♥♥

Speed

♥♥♥♥♥

Noise

♥♥♥♥♥

Machine Size 

♥♥♥♥

Cleaning

♥♥♥♥♥
Quick Overview of the Vonshef Whole Fruit Juicer
Motor Size –  Power motor a maximum of 990W
Juicer Type – Centrifugal
Machine Size – 26.2cm x 37cm x 44.6 cm
Juicing Speed – Two options.  You can juice at 15000 rpm or 18000
Chute Size – Large for whole fruit
Colour Stainless Steel and Black
Pulp container – 2L
Cleaning – Easy/Removable parts are dishwasher safe
Click For more information on this whole fruit juicer
Juicing Ability
This has been reduced to four stars as some people have trouble with harder fruit.  Although this may be due to using the incorrect speed setting.
What Fruit and Vegetables Does the Juicer Cut/Juice?
The juicer has very sharp blades made from stainless steel to cut up the fruit and vegetables.  Large seeds must be removed.
Juice Collection
Juice simply goes into the juice container ready to drink.
The Chute
The chute is large and is designed so that you can juice whole fruit and vegetables without having to cut them up first.
Pulp Collection
To collect pulp there is a large container (2L) that you can detach and remove from the machine for disposal and cleaning.
What are the Speed and Settings
There are two speeds to choose from, simply select which you want via a dial.  The speeds are 15000 rpm or 18000, this allows you to select between either hard or soft fruits for juicing.
Does the Powerful Motor Create a Lot of Noise?
In spite of the powerful motor and fast cutting speeds the Vonshef whole fruit juicer is relatively quiet and a lot less noisy than other juicers you can buy.
What is the Size of the Machine?
With dimensions of 26.2cm x 37cm x 44.6cm this juicer is fairly large compared to the smaller more expensive machines on the market.  However, you can break it down into several pieces for storage.
Is it Easy to Clean?
Cleaning your juicer is easy as all the parts that you need to clean are removable.  You can pop them into the dishwasher ready to be cleaned for you next juicing session.
Additional Safety features
There are pads to stop movement while juicing. The removable parts are dishwasher safe to make cleaning easy and safe.
Is There Foam?
Some people find they do not get foam while others do.  There is no foam extractor on this machine and it does not seem to be an issue for most.  If you do get foam it does not tend to go into your glass when you pour it from the small lip of the juice container.
Is this Machine Suitable for Leafy Veg?
The machine works well for leafy Vegetables.
The video below gives a brief demonstration of the VonShef Profesional Power Juicer in action.

Overview of the Vonshet Whole Fruit Juicer
The Vonshef whole fruit juicer is a professional power juicer that juices whole fruit and leafy vegetables with ease.  It is fast, easy to use and not too expensive to buy.  Most people are very happy with this juicer and how it juices.  A few found the pulp was too much and therefore the machine did not extract as much juice as they would like.
The machine is a reasonable size but easy to put together, to dismantle and to store.
Purchasing a more expensive machine would put these minor issues to rights.  However, these machines are about 3 times the price.  So while making the decision, it is best to think are these minor details for you or would they warrant buying a machine at a much higher price?  For the majority of people, this machine works well, and they are happy with the results.  With this being in the top five juices in 2013 in the Great British Food Magazine, it has a lot going for it.
Overall a good machine that juices well for very little outlay.
Click here to buy the VonShef Professional Powerful Whole Fruit Juicer