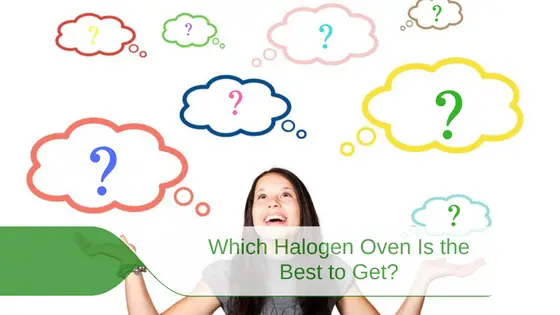 When deciding which halogen oven is the best to get for you and your family it is important to make sure it fits your needs.  Below are three great examples of popular halogen ovens.
Below are three great examples of popular halogen ovens and what they do.
I have picked them because they give a good range of functions designs and oven types as examples. 

Both my sister and I have halogens and we each chose them because they worked for us.
For instance, I don't have an extender ring and my sister does.  I have a lift off lid and my sister has a hinged one so she doesn't have to lift a heavy item.
Below will explain each of the elements of the ovens and their advantages and disadvantages if there are any.
The Popular Andrew James Halogen Oven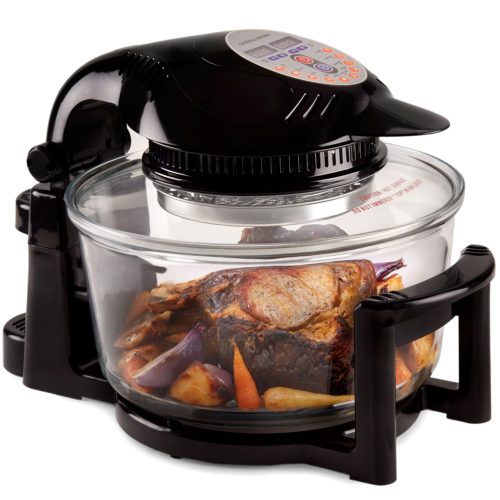 The Andrew James range of cookers is very popular on Amazon.  This one is the top of the range and the overall most popular of all the ovens.
The hinged lid is great if you have the headroom to use it and if you struggle with lifting.  It comes in both black and white.
A 12 Litre Digital Halogen Oven With a Hinged Lid -and all the accessories
It saves space as you don't need to find somewhere to put it every time you want to take something in or out of the cooker.  It is also safer to use as reduces the need for lifting or the possibility of burning yourself.
Make sure you watch out for steam rising when you lift it though, so you don't get burned.
The digital dial allows for 2 hours for the meat to cook.  This saves you having to reset the timer.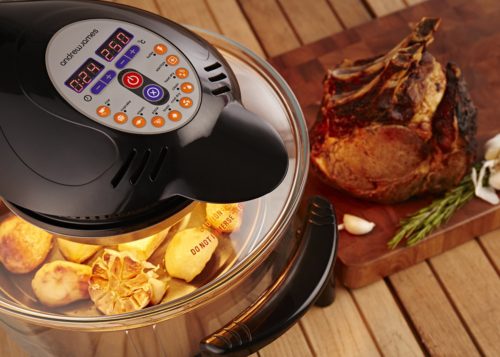 It has a digital control display which is more complex than most other ovens which are dial only.  This can be both good and bad because it does give you more precise heat and timings.  There are also presets for various things like rice etc.
However, if not technically minded some people may find it harder to use than the simple dial example above.
Andrew James says it is easy to use.  And after seeing this video I agree.  However, I know people who would get confused using it.
See for yourself:-
Extender Rings
The extender ring is included and will give you more space if you need it.
The bowl is heavy tempered glass.  Some people find it too heavy to lift to clean.  However, most people shouldn't have a problem
Although there is a  really good self-clean option that leaves the bowl spotless, you do need to lift the bowls to empty out the dirty water.   Another option would be to remove the bowl from its stand and put  it in the dishwasher.
The oven cooks food beautifully.
12 litres in capacity extends to 17 litres
1400w
Hinged lid
lots of accessories
Digital display
2 years warranty
an extender ring to increase the oven to 17 litres
an extra bulb
black or white ovens
On the downside, a minority of people seem to have had a few issues with the lamp when they bought the machine.
The VonShef Halogen Oven Cooker in White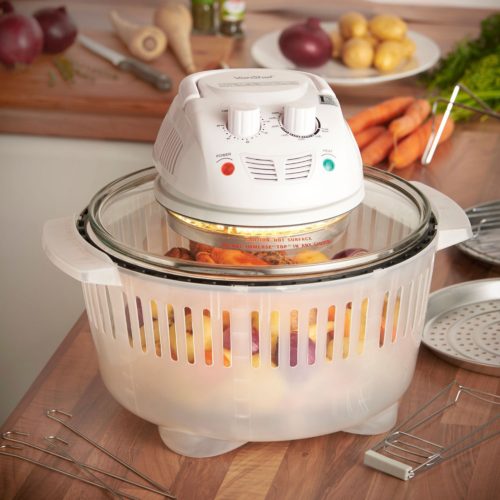 The Basket is a bit different on th289is one.  It still acts as a stand to keep the heat away from the counter surfaces.  I like the way it protects all the way around the bowl.
The VonShef 12 litre Premium Halogen Oven Cooker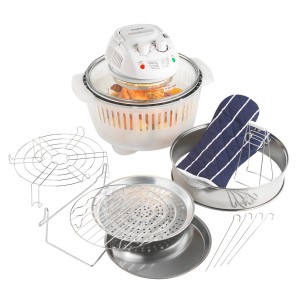 This oven has lots of accessories.   (see picture right)  These are really handy to have.  Bare minimum you will need the two racks.
12 litres of capacity
2 years warranty
it is white
basket
includes lots of accessories
lift off lid
On the down side a few people have had issues with the plugs or the heating elements.
The Your Kitchen 12L Halogen Oven 
I was going to tell you about my lovely oven next.  However, it seems to have vanished.  I am devastated.  This one is the nearest I could find and looks almost identical.  Well apart from being white.
The Popamazing Halogen Oven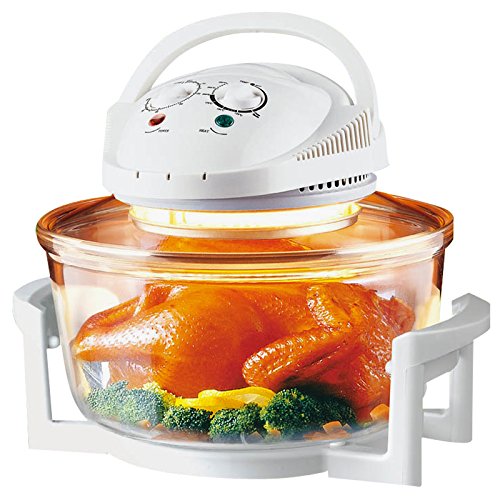 As you can see this oven is simple to use, strong of build and a good cooking size.
Personally, I would use an extender ring if I wanted to cook a chicken this big in it.
You can get an extender ring separately.  With the ring, your oven is 17 litres and without 12 litres.
The Popamazing 12 Litre Halogen Oven and Some Accessories
The ring can add to the life of the bulb as it is less likely to get splashed with fat.
I use my high cooking rack for things like toast, bacon, chips, meat etc and my lower one for buns, jam tarts.  You can also use it if you are cooking full roasts or chickens.
This is the lift off lid version.  Which can be a bit of a pain if you haven't much room as it is hot and you cannot just plop it down anywhere.  With a bit of wrangling, I have managed to just about get enough room to put the stand near the oven.  Now I have it off to a T.  I lift it up and keeping it vertical I pop it on the rack.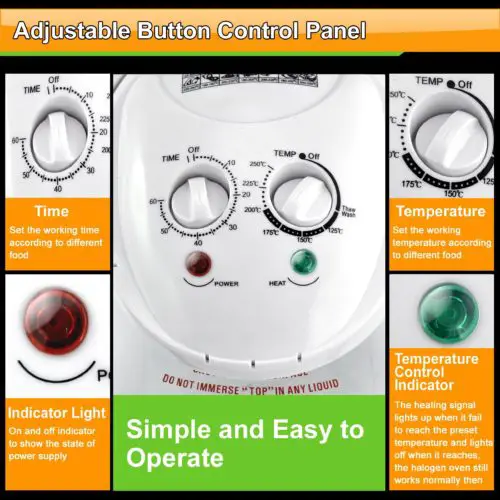 The manual dial type ovens are so easy to use with two simple dials and red and green lights.  One dial is  for temperature and the other is for time.  When you lift the handle the oven stops immediately.
These are reasonably popular on Amazon and great value for money.  I love using my oven as it is so easy and quick to use.
12 litres
1300w
lift off lid
accessories include a high rack and a low rack, a lid stand, tongs for lifting
recipe booklet
There are no extender ring or baking trays with this oven.  So if you wanted to get them you'd need to get them separately.  They are not that expensive and easy to find on-line.
A couple of downsides are that some have found faults like any item purchased.  A couple of ovens seem to have issues with early breaking down and being able to see the element.  However, most comments are positive and they do cook faster than your normal oven.
In Conclusion
I have picked these three to give a good look at variety and price of cookers and to show the difference between sizes, ease of use and the use of extenders and the dial and digital oven versions.
I recommend that when you are looking you take all these things into consideration and check out some of the positive and negative comments to make certain you are happy with your final decision.  Maybe, also check out some of the other options as they might be more suitable to you personally.
I hope you get many happy and easy hours cooking from your new cooker.  Good luck.