I am really excited about this super easy-to-make 3-minute syrup sponge cake. It makes sponge making so fast and is ideal for anyone who has a microwave.
I found out about it when my sister was telling me about someone who wanted to make a sponge in their slow cooker. Someone said why when you can microwave it!
When my sister told me about it I was dubious because I'd seen this quick-to-make thing before and they never normally work. My sister insisted they did as she and her children had made them so I took my sponge recipe and adapted it to make a syrup sponge and reduced it in size so it was ideal for fewer people.
When I made it I remember taking it up the stairs to eat thinking what a brilliant idea this was and how much easier to make it was – then I stopped.  Maybe it's a little too easy to make. So easy that you could make them while waiting for the kettle to boil!
I was right since then I have experimented with several different flavours and styles some more successful than others.
Easy To Make 3 Minute Microwave Syrup Sponge Cake Recipe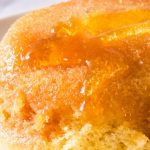 Easy 3 Minute Microwave Syrup Sponge Recipe
This is a quick and easy to make syrup sponge cake recipe that anyone can do.
Ingredients
2

oz

Self Raising Flour

56g

2

oz

Softened Butter or Baking Margarine

56g

Golden Syrup

2

oz

Caster Sugar

56g

1

egg

Egg

0.5

teaspoon

Vanilla Extract
Instructions
Bowl One
Beat the butter and sugar together until they are soft and fluffy

Add the egg and beat that into your mixture

Now add the flour and mix in thoroughly
Bowl Two
Add your syrup to the base of a greased microwave safe bowl until it fills the base.

Add your mixed ingredients on top of the syrup.  Note: It will barely cover it, don't worry this is right.

Pop into the microwave. Heat for 3 minutes on High for an 800W, 3.5 Minutes for a 700W microwave.

Remove and tip out into a dish and serve. You can add more syrup for effect if you want to. 
Recipe Notes
Make sure your bowl is the right size for the mixture and suitable for the microwave. 
Please note the mixture rises several times its size so make sure the bowl is big enough to allow for expansion.
You need just over 1/2 litre or 1-pint bowl narrow at the base if possible as this works best.