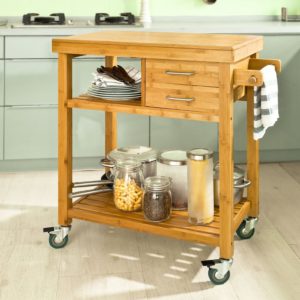 We often lack enough storage with built in or smaller kitchens. Or the cupboards do not meet the needs to accommodate storage for a growing family. Natural bamboo kitchen storage trolleys can help fulfil those additional storages needs.
They are beautifully designed, elegant trolleys that will look good in any kitchen.
Bamboo is both strong and durable.  It grows quickly so can be environmentally friendly.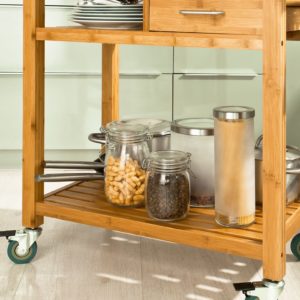 The natural bamboo kitchen trolley carts listed below have been chosen because of their quality, sizes and price.  They are not so large that they become unwieldy.  Yet they offer plenty of storage in different designs that will suit your different needs.
It is important to consider where they are to be situated and what you intend to store in them. Is the design flexible enough for all your needs?
For instance, the wine racks, depending on the size of the opening can also work really well to store full-sized cans if you do not need them all for wine.
1. Bamboo Storage Trolley Serving Trolley Kitchen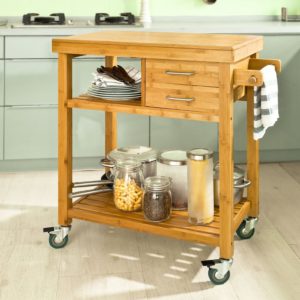 This beautifully designed bamboo storage trolley by SoBuy is a useful, sturdy and stylish addition to any kitchen.  Made from 100% bamboo it is strong and durable.
Beautifully finished , the varnished gives the trolley a rich warm colour. The quality of this trolley is as good as many of the expensive trolleys.
It includes cutlery drawers and shelf for added convenience.  The trolley is easy to assemble and easy to move yet locks into place with ease.
Overall Dimensions: L73 by W45 by H92cm
For more information on this Bamboo Kitchen Storage Trolley Please visit Amazon
2. Natural Bamboo Kitchen Storage Serving Trolley Cart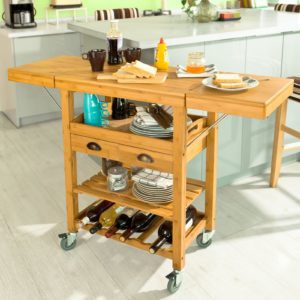 This high-quality kitchen serving trolley is both practical and stylish. It is beautifully made from 100% robust environmentally friendly bamboo.
The folding sides add much needed additional length without taking up more space. While the adjustable centre shelf adds ease and flexibility to your storage area.
The wine rack gives that something extra. Overall, a useful addition to any kitchen.
Dimension: L65(95/125) by W40 by H92cm
For more information on this Kitchen Storage Serving Trolley please visit Amazon
3. The Bamboo Wheeled Kitchen Trolley Cart, Kitchen Storage Trolley Rack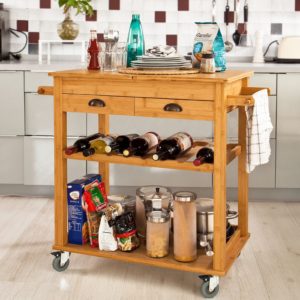 This trolley comes in either a natural varnished colour or finished in white. This 100% bamboo kitchen trolley by SoBuy has a lot of storage space, room for 8 bottles of wine and two tea towel hangers.
It is easy to move with brakes to hold in place.  This is a well thought out and versatile storage unit that is ideal for a variety of kitchens.
There is plenty of room on the bottom shelf for taller items. And a handy drawer for cutlery or smaller items.
Dimensions L80xW50xH92cm
Bamboo Wheeled Kitchen Trolley Cart and Kitchen Storage Trolley Rack
4. Bamboo Kitchen Island Storage Trolley with Stainless Steel Worktop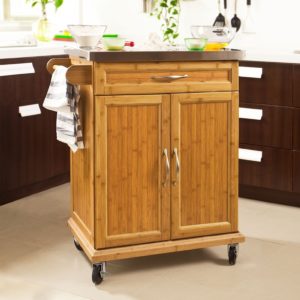 This elegantly designed 100% bamboo kitchen storage trolley by SoBuy has an extra large cabinet area, covering the whole storage section.
This gives the trolley an added feel of luxury and keeps your kitchen clear of clutter and behind closed doors.
The lockable wheels give you the flexibility of movement and the stability when you need it.
The stainless steel worktop is easy to clean and durable.
Dimensions:L66xW46xH90cm
For More please see the Bamboo Kitchen Cabinet Kitchen Cart Island Storage
5. The Aspect Kitchen Storage Serving Trolley with Cabinet and Removable Basket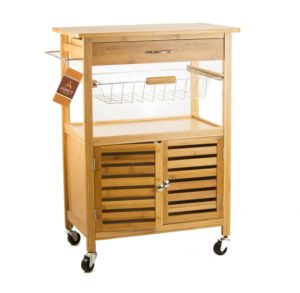 The Aspect kitchen storage trolley is made from 100% bamboo. At only just 59.5 cm in width, it is ideal for smaller spaces.
The removable tray is ideal for fruit storage.  While the enclosed bottom cabinet stores a variety of  items.
Its multidirectional wheels with two brakes are ideal for ease of movement and safe static storage.
Overall, although not as robust as the larger pieces this is   a stylish piece of furniture that will make a useful addition to your kitchen.
Dimensions:59.5(W)x36(D)x80.5(H)cm
For more information of the Aspect Kitchen Storage Trolley please see Amazon
Quick Overview of the Top 15 Things to Consider When Deciding on Which is the Best Trolley For Your Kitchen
Overall size including any towel rails or extra panels.
Overall height of the trolley
Does it have locking wheels?
Are the wheels multidirectional?
Is it easy to move about?
Will the storage area work for your kitchen needs?
Do you need wine racks?
Do you prefer your stored items to be enclosed?
Do you like natural products?
Is it environmentally friendly?
Is it easy to clean?
Is it strong enough for your needs?
What have others said about this item?
Does the trolley have adjustable height shelves?
Is the storage space high enough for your containers?
In Conclusion
We think that the above bamboo kitchen trolleys offer a good selection of trolleys offering different styles and methods of storage.   They should give you a good idea of what will or will not work for you in your own kitchen.
These are all sturdy trolleys offering useful much needed extra space and the ability to organise your kitchen storage in a way that is right for your personal needs.