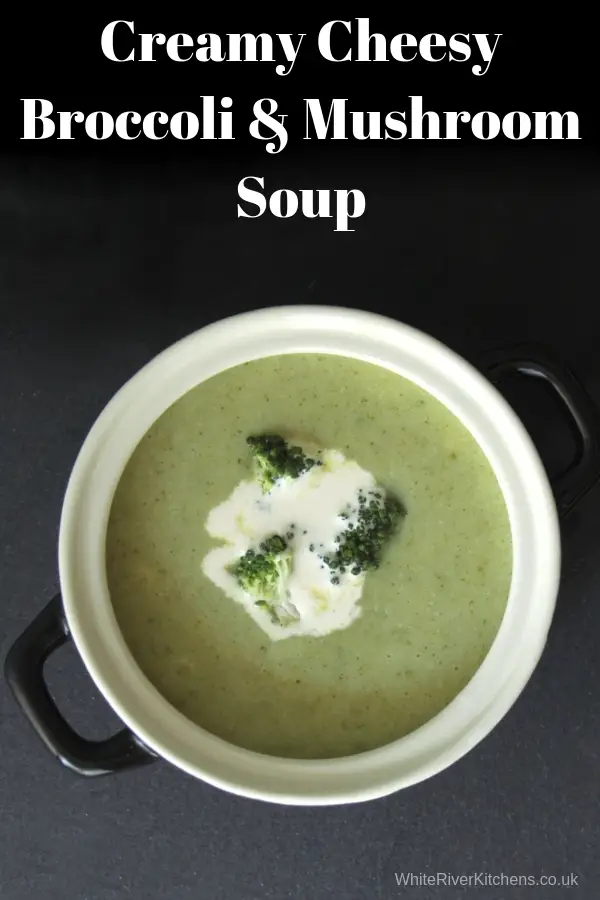 This lovely creamy broccoli and mushroom soup is a perfect dish perfect for chilly wet days. It is really quick and easy to make. It's mild flavour and warming ingredients make for a perfect comfort food.
It's so easy to make and is ready in less than 30 minutes. It works perfectly with chunky bread, but it is really filling on its own.
Creamy Cheesy Broccoli & Mushroom Soup
What I was going to make, was a lovely blue cheese and broccoli soup but in spite of meticulously writing down all my ingredients to buy for some reason, I didn't end up with any blue cheese.
Hmpfh, fortunately, I bought a large chunk of mature cheddar, and mum gave me some mushrooms which I needed to use up- hmmm.  So two days and four different types of broccoli soup later I have a lovely creamy broccoli cheese and mushroom soup. Luckily I love broccoli.
Get more soup recipes on Amazon with this a Soup a Day book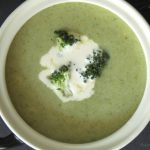 Creamy Cheesy Broccoli & Mushroom Soup
An easy to make tasty creamy cheese, Broccoli and mushroom soup recipe.
Ingredients
Soup
28

g 

butter or margarine

2 tablespoons

1

onion

chopped

75

g

white mushrooms chopped 

1 cup

700

ml

vegetable stock

3 cups

750

g

broccoli florets chopped

aprox 3 cups
Sauce
42

g 

butter or margarine 3 tablespoons

21

g

plain flour

3 tablespoons

250

ml

milk

1 cup

80

g

cheese

2/3 cup/3oz

Salt and ground black pepper to taste
Instructions
Prepare your mushrooms and broccoli. Wash them and chip them into smaller pieces.

Heat your hob to a medium heat and melt some butter.

Add your onion and saute for a couple of minutes.

Now add your broccoli and mushrooms and your vegetable stock. Stir.

Leave to simmer for about 10-12 minutes.

Blitz your soup.

Prepare your sauce

Melt your butter in another pan

Stir in the flour

Add the milk

Add the cheese and melt

Add the sauce to your broccoli and mushrooms

Allow your soup to thicken for a few minutes, stirring occasionally

It's now ready to serve.
Recipe Notes
Tips: Don't leave your blitzing to the end it makes it harder to create a smooth soup.
If you want you can also have it as a chunky soup without blitzing. You can also adapt the thickness to suit your preferences. I like it thick and creamy but simply add more milk or water for a less thick texture. Though I'd make it as it is first as this is a medium thickness.
This recipe was inspired by my ingredients and inspired & adapted form these two recipes Cream of Broccoli Soup
and Cheese sauce