When deciding on which is the best countertop ice maker machine for your own personal needs it is important to consider what the machine is capable of, if it is right for you and fits your own personal needs.
Below is an overview of each machine plus the criteria that each machine is rated on.  Also, links to more in-depth reviews.
What is worth considering before you buy your machine is how you are going to use it and where.  Will you want to be able to move your machine for a BBQ or a caravaning trip for example?
Things that are discussed and rated are
Ease of Use
Cleaning of the machine
Ice options
Noise levels
Overall Rating
And also the Machine Dimensions
The machines overall size
The machine's weight
The quantity of ice produced, speed and overall time
Compare 5 of the Best Compact Counter Top Ice Maker Machines
The Best Counter Top Ice Maker Machines
Item
The Slimline Andrew James Compact Counter Top Ice Maker Machine
Polar Manual Fill Counter Top Ice Maker
New Model Think Gizmos Ice Maker Machine
VonShef Electrical Compact Counter Top Ice Machine
Capital Eros Counter Top     Mini Ice Maker
Star Rating

♥♥♥♥

  

♥♥♥♥

 

♥♥♥♥♥

 

♥♥♥♥♥

 ♥♥♥♥♥

 
Ice Speed
20 mins
10 mins
10-15mins
10 mins after 1st cycle
Varies
Ice 24 hours
15Kg
10Kg
12-15Kg
12Kg
12kg
Max. Ice Storage
Yes
1Kg
Large
0.8Kg
1Kg
Water Capacity
2.4L
2.0L
Not Stated
2.2L
2.8L
Ice Full Alert
Auto
Auto Shut off
Yes
Yes
Yes
Ice Cubes Sizes
2
3
3
3
3
Quiet Running
Normal
Normal
Very Low
Normal
 Low
Colour
Silver
Black
Silver
Silver
 White
See the Ice Makers
AndrewJames
The Polar
Gizmos
VonShef
Capital
Or See Our In-Depth Reviews  
Andrew James Review   
Gizmos Review
How Noisy is the Machine When it is Running?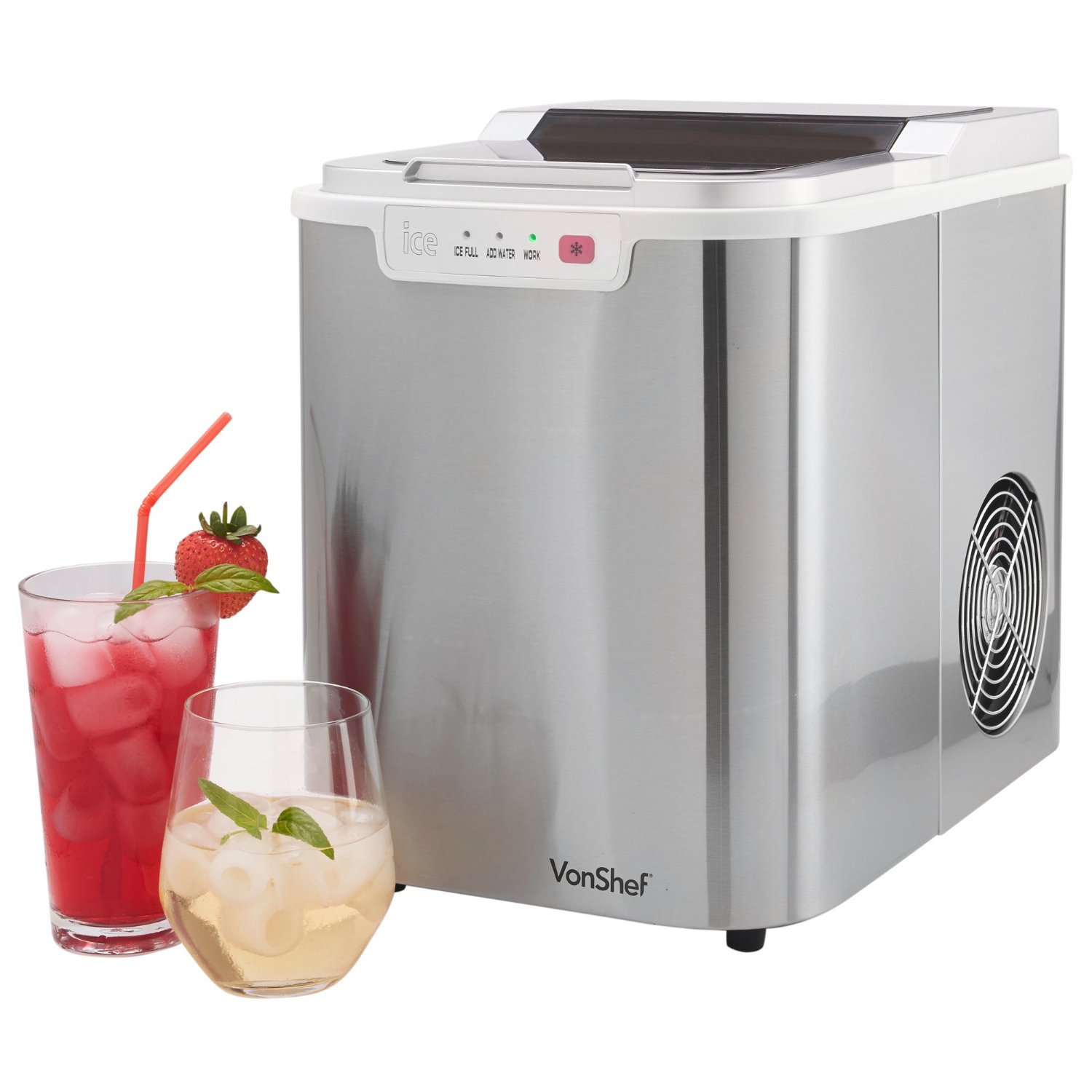 If low noise is important to you then the overall noise of the machine will be important.  The noise of each ice maker is reviewed against both the manufacturer's statements and also the customer comments. Although, sometimes what one person thinks is noisy another will think is quiet depending upon their own ideas or experience.  With these kinds of ice making machines, there is a certain amount of noise due to the ice dropping into the basket as well as the machine noise.  This can be every 10 minutes with the faster machines so it is worth considering. The Think Gizmos is classed as the lowest noise levels.
Is Plumbing Required?
It is much easier if you don't need to plumb your ice maker machine into anything.  The machines reviewed here are all plumbing free for ease of use and portability.  They are great for BBQs, caravans and for any counter top big enough to stand them.  Also if you want to you can take your compact ice makers with you when you travel in the caravan/mobile home.
Is there a bucket to lift out the Ice?
Buckets are important as not all of the machines keep the ice cubes frozen for long periods of time.  It is, therefore, an advantage to  be able to remove the cubes easily and pop them into the freezer for longer term storage.
What is the Water Capacity?
Most buckets hold about 2 litres of water.  See chart for individual quantities.
All About Ice. Making Ice, Speed and Options
What Types of Ice is Produced and How Fast?
These ice maker machines make small bullet/bell shaped cubes with holes.  These are not clear.  Each machine makes different sizes at different speeds.  These range from 10 minutes per small batch and a total amount over a 24 hour period.  The Think Gizmos and the Andrew James produce the most ice in 24 hours.
What are the Ice Options?
Different Machines will have different ice options.  Most will have 2 options, small and large ice cubes.  While some will have a third option of medium sized ice as well.
How Easy is The Machine to Use and Cleaning?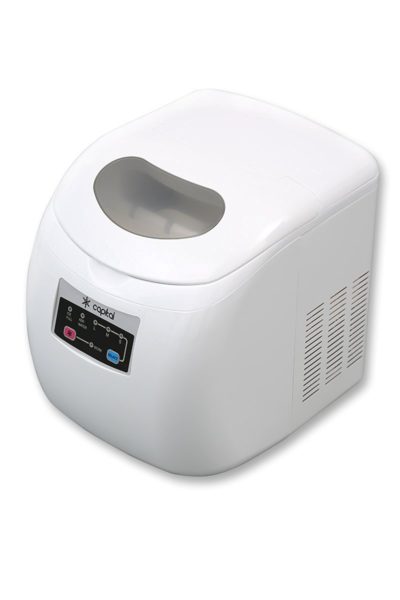 Ease of use is important.  All the small details can make a difference.  How easy is it to get the ice out of the bucket, how easy it is to drain away any water and to clean and dry your ice making machine?  If it is on a counter top then you won't want to be moving it every five minutes just to clean it.  So cleaning in situ is important.
Tip: No matter which machine you pick it is a good idea to clean your machine before use by producing some ice cubes then throwing them away to get rid of any odd taste from a new machine.
Use Online Reviews To Your Advantage
It is always worth checking out the online reviews made by several people who have bought and had experience of your chosen machine.  Here we aim to cover as much detail as possible for each machine for you to compare.
However, checking out both the positive and negative reviews and why they are made can help with final decisions on which is the best ice maker machine for your own personal needs.  You may pick up on something which is personal to you and sways you one way or the other towards a particular model.  You can check out the low and high star ratings and the best ice makers here.