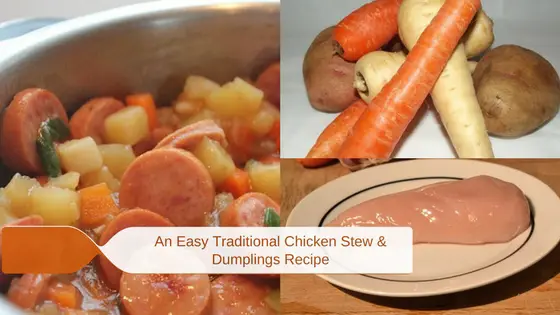 This traditional easy chicken stew and dumplings recipe is both tasty and economical and great for a budget meal.  You can make a warming tasty stew for a family of 4 for only 1.25 per head) £5 in total.
Stew and dumplings were one of my favourites growing up.  Mums homemade dumplings were very popular and were always cooked in the stew.  Mums stews were always thick and very tasty.  We would always have bread and ketchup with them as well.
We had chicken because it was a lot cheaper than say beef, but there doesn't seem to be much difference these days.  Thighs are cheaper than chicken breasts, which is why they are used here.
Chicken breasts can easily be used if you prefer. But we would have used up any leftover chicken from a whole chicken which is the cheaper way to buy it. We would have also had butterbeans but they are not so popular these days so I have left them out but feel free to add them.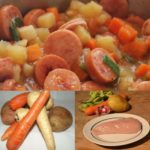 Traditional Easy Chicken Stew & Dumplings Recipe
An easy chicken & dumpling stew recipe. A great winter warmer and economical too.
Ingredients
4

fillets

Chicken Thighs

2

items

Parsnips

1

item

Onion

500

g

Potatoes

1

Pack

Dumpling Mix

Pack (600g)

Carrots & Swede

can buy separately if you prefer

1

Stock Cube

water

1

pinch

Salt
Instructions
Cut up your chicken into cubed pieces

Chop up all the potatoes & vegetables into cubes or slices

Put your chicken, onion and stock into the pot 

Mix up your dumpling mix according to instructions on the packet.  Split into required quantity of dumplings and add to your stew.

Put your stew on the hob to simmer for about 12 minutes.

Then add your remaining ingredients like the potatoes etc cook for about 20 minutes or until the potatoes and carrots are soft.
Recipe Notes
If there are less of you why not freeze a portion or two and save yourself some time.
More Chicken Recipes
If you like the traditional easy chicken stew and dumplings recipe why not try more chicken recipes?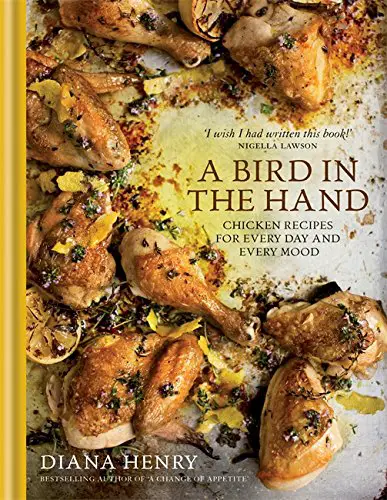 A Bird in the Hand: Chicken recipes for every day and every mood
Total cost £5.21 however, this included pre-packed potatoes that you would only need less than half of bringing the full amount into the £5 budget.
Money Saving Tips
Saving Money Tips:  To keep the recipe within the £5 allowance I have included a prepacked carrot and swede mix. However, if you have other meals using carrots a bag might be the better and cheaper option.
For Speed: Use the ready made carrot and swede mix or the dumpling mix.
For economy: Use only 3 chicken pieces leaving you with some over to freeze for other recipes. This saves you 43 pence. Swap the carrot and swede mix for buying a whole carrot or two and replace the swede with something else, a swede is 80 pence so you could easily buy something for 1/2 that. Total saving for one family meal 83 pence.
Additional Store cupboard items: None