We are excited to enjoy and share 25 Easy salad recipes ideal for everyone and especially those on the Mediterranean lifestyle way of eating (WOE).   Many of these salads are suitable for vegetarians as well as those who simply enjoy fresh healthy food. These are marked (V) for ease.
My house is an oven in the summer with the upstairs often being unbearable so I like anything that means I do not have to put the hob on. So I love recipes that either do not have to be cooked, can be cooked in the microwave, or the halogen as it retains most of its heat inside.
I read once somewhere that here in the UK as soon as it reaches 18C we Brits head for the salads.  Where I live many often head for the beach too, so they want something easy to carry for lunch. We often had a packed lunch or tea on the beach as children and there would be some salad although it was usually in sandwiches.
Below there are 25 salad recipes that can be enjoyed by everyone.  They are quick and easy to make and you don't have to be on the Mediterranean diet to enjoy them.
25 Easy Salad Recipes, Healthy Mediterranean Lifestyle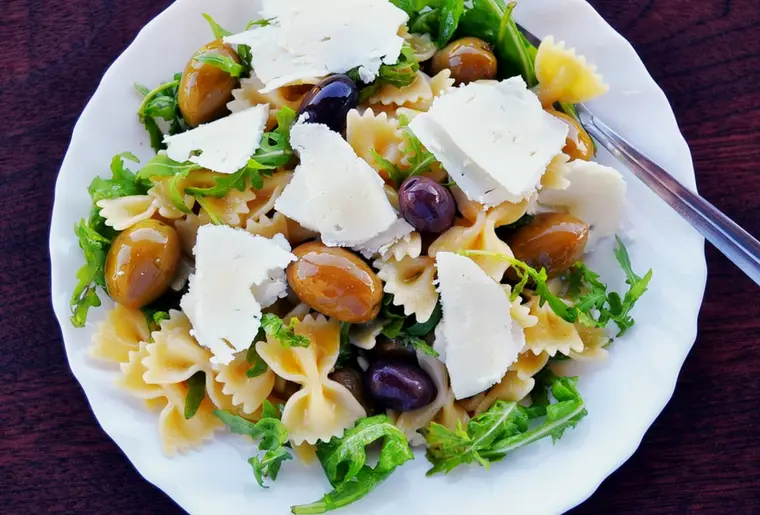 25 exciting and easy-to-make Mediterranean diet & lifestyle salads.
The aim is to share many easy-to-make salads that ear both healthy and delicious. Let's face it salad can be really boring, but it doesn't have to be. I love the traditional Greek salad shown first on the list and surprisingly for me feta cheese. (Normally only a strictly cheddar or garlic soft cheese girl). Yet after having it for several straight days in various versions, I had to start to get creative or go salad crazy!
Below I have chosen some salads that are really similar to my favourites and some that are completely different for as much variety as possible.
A Simple Yet Delicious Traditional Greek Salad Recipe
I love this type of traditional Greek salad menu and use my own version of it. I also create lots of variations on a theme. It has the perfect combination of salty flavour in the feta cheese combined with the fresh crispy salad. Not a fan of olives though. For the Mediterranean lifestyle diet, you can also use extra virgin olive oil or EVO/lemon juice & pepper instead of the dressing used here.
This is a simple dish that is easy to make and needs to have fresh quality ingredients.
Grilled Lemon-Herb Mediterranean Chicken Salad
Light and tangy this is a perfect combination of chicken and seasonal salads with an easy-to-make marinade. I have made versions of this many times. I chose this one because it is similar to mine but uses more herbs for added taste.
Easy Chicken Orange & Tomato Salad
Quick and Easy Healthy Chicken & Orange Salad 
This is a healthy and easy recipe I created because I like simple to create recipes that I can follow on my way of eating. This is a lovely light salad that can be served with rice, potatoes or quinoa. It is also easy to create a vegetarian version if you want.
Summer Watermelon Salad With Cucumber, Feta & Mint
This is a really lovely refreshing salad. I love the idea of using the fresh mint as I have it in my allotment in abundance this time of the year and with gives an added twist to the dish. Even if you don't have mint in the garden it is easy to come by this time of year. The honey vinaigrette adds a touch of sweetness which when combined with the salty cheese makes your taste buds tingle. My mouth is watering just writing about it.
Easy Italian Chopped Salad
Italian Chopped Salad
This is a flavour-packed easy-to-make, chopped Italian salad with lots of simple ingredients. It makes a perfect side dish for many different Italian meals. Or it is an easy light meal in itself if you don't want to put the cooker on. I have to confess I often simply add a bit of rice to salads like this for some carbs. I cook it in my microwave so there is no added cooking heat.
This one contains many of your classic Mediterranean ingredients like olives, tomatoes, and avocados. I love the tang of the red onions.
A Healthy Greek Salad
This is another easy Greek salad with all your classic ingredients. A lovely fresh salad with lots of colour and a tang that comes from the sweet lemon vinaigrette.
A Simple Kale Salad
Simple Kale Salad with Lemon Vinaigrette
This recipe is extremely healthy. Those dark strong kale leaves aren't for everyone though, they are right n nutrition and make a great salad. Try different types of kale as some are stronger than others.
I was surprised to find so many kale recipes on the Mediterranean diet although naturally, kale does grow in western and southern Europe. While this one is not claimed to be the Mediterranean as such it fits the criteria for being on the diet lifestyle. I chose it because it is easy to do and adds variety to your salad choices.
With this recipe the kale is raw.
Healthy Melon & Cucumber Fruit Salad 

(V)
http://thefitfoodiemama.com/melon-cucumber-crunchy-fruit-salad/
Hmm, a lovely light summer fruit salad treat. This is a delicious combination of light fruit and mint. I love to use mint from my allotment at this time of year and have different varieties – even chocolate! This simple fruit salad is perfect for those hot summer days.
Honey Lime Fruit Salad 

(V)
Honey is one of those things that adds that little bit of sweetness to your fruit making your taste buds tingle. This is really easy to make and will be a hit with all the family. While many of us get our honey from the supermarkets if you buy local honey it can easily change the flavour of a dish like this. Here, for example, the honey has a warm heady flavour with hints of heather. It depends on where it is grown.
The Ultimate Mediterranean Bowl 

(V)
This recipe is a little more complex than most of the others, but I think its worth it. It is rich in flavour and filling. Here you have falafels as well as a mix of green vegetables & salad.
Quick & Easy Falafel Salad & Tahini Lime Dressing 

(V)
Quick and Easy Falafel Salad with Tahini Lime Dressing
This is easy to make a salad that is suitable for vegetarians as well as non-vegetarians. As Falafels are fried you may want to limit how often you create this if you are trying to lose weight. But they are delicious and worth it as a tasty treat.
I love the dressing on this salad it makes for an unusual taste. If you are in a hurry or don't fancy making your own you can easily buy the hummus instead of making it.
Greek Tomato Salad 

(V)
Greek Tomato Salad
This is a really easy throw-together tomato salad recipe with simple ingredients. What makes it special is the marinade.
Lemon Herb Mediterranean Pasta Salad 

(V)
This is a light, easy to make, and versatile salad recipe that is perfect for summer with cold pasta or later in the year with warmer pasta. It is perfect for a main dish or as a side dish as well.
This recipe is not only suitable for vegetarians but will be better for diabetics as well as it is a cold pasta dish which makes the pasta less likely to raise your blood.
Quick Tri-Coloured Pasta Salad
I love this brightly coloured pasta salad it looks so cheerful and appealing. I also love that they used different coloured pasta rather than the normal colour one. This pasta is a perfect side dish or even a full meal for your meals whether for dinner or lunch.
Simple Vegan Panzanella 

(V)
A simple recipe of chopped tomatoes and other salad vegetables and bread. This recipe is not only tasty and fast to create it is great for those who like to be frugal it saves you from wasting your bread.
Perfect Pasta Salad
Perfect Pasta Salad
This pasta salad is another variation that shows just how easy it is to create unique salads from similar ingredients. This is super quick to create, only a few minutes in fact. It does need to spend a few hours in the fridge though to allow the flavours to soak into the salad. Perfect if you want to make your meal ahead of when you intend to use it.
BBQ Friendly Chopped Caprese Salad 

(V)
This is the perfect BBQ salad. This recipe fits well with lots of different meats. again it is really easy to make which makes it perfect for entertaining friends.
Delicious Fruit Salad with Honey Lime Dressing 

(V)
I love the honey and lime on this fruit salad as you get both sweetness and tanginess at the same time. Oh dear, my mouth is watering just thinking about it!
5 Minute Mediterranean Bowl 

(V)
I love these 5-minute salad bowls if you are out all day like I was digging mums garden by the time you get back you are too exhausted to do anything these are just perfect. 5 minutes and you are done and can relax.
Greek Orzo Salad 

(V)
Orzo makes a nice change from rice and some say it is healthier, This is a filling 10-minute salad.
Strawberry Salmon Salad
I love this because the ingredients are a bit different than many of your salads. Being as you should be eating at least two lots of fish a week on the Mediterranian diet and fish isn't my favourite I think spicing it up in different ways is a great idea. Not a combination I would have thought of but you can't deny it looks delicious. (I am currently avoiding the salmon debate though after being told farmed salmon isn't good for you so I had the wild salmon only to find that is endangered. Seriously!!! You can't eat anything these days without intense research. It's crazy).
Caesar Salad Pasta
http://www.flavorsrecipes.com/caesar-salad-pasta/
This tasty caesar salad is easier to create than it looks. It has a lot of ingredients and adding the pasta
Roast Vegetable Quinoa Salad
Roast Vegetable Quinoa Salad
Tasty & Quick-Detox Arugula & Tomato Salad
A simple and really quick to make fresh detox salad. I just love easy to make recipes like this.
Pumpkin, Haloumi & Avacado Salad
I have to admit my first introduction to Haloumi didn't go too well. My sister and niece rave about it so trying to expand my cheese from pretty much cheddar and garlic soft cheese, I decided to buy some. Oh my goodness, it was dire. Yuk! Not having used it I didn't know anything about it and treated it like any other cheese.
Big mistake. HUGE!
So why this recipe?  Well, a quick text to my sister (I can almost see her rolling her eyes lol). She told me it needed to be cooked (me feeling silly at this point). So off the plate, it went and into the frying pan.
Oh MY! Wow, completely different feel to it. Haloumi said has fast become a favourite. This recipe is similar to what I do with Haloumi cheese, although I tend not to use pumpkin. We don't do so much in the UK. You can easily replace it with summer squash or something else to change it about a bit.