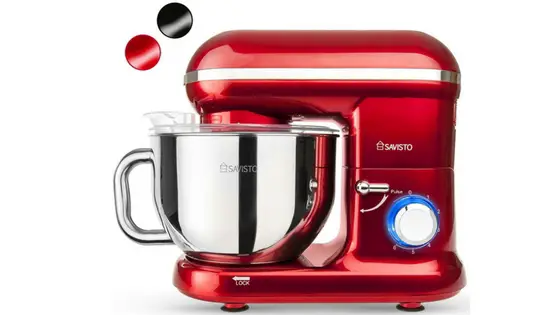 Use a food processor with a dough hook for mixing your bread dough.  This saves you mixing and kneading by hand and makes making bread that much easier.  The dough hook is designed especially to mix your dough thoroughly.
They are an investment and can be used for many other mixing tasks besides bread.  It may be worth considering how much you are going to use them for other things to make it worthwhile buying them.
Maybe if you are only considering using and mixing bread get a bread maker instead as that will be cheaper and better value.
If you don't want to mix your bread by hand then you can either use a bread maker or a table top dough mixer, food processor with a dough hook. You need quite a robust mixer to mix bread dough.
Can I Use a Handheld Food Processor?
If you have a handheld one it is probably best not to use it.  People have gotten away with it but the little motor probably isn't powerful enough to do it.  Not only that you have to hold it while mixing.  Bread dough becomes quite thick compared to other mixes and it can become a challenge to hold on to it and stop it from spinning while the machine is going around.
Dough Hooks Without Processors
If you already have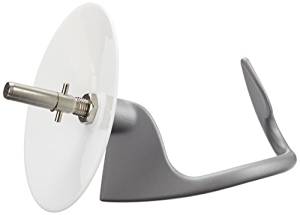 a mixer without a dough hook you may be able to just buy the hook on its own that is compatible with your mixer to save buying the whole thing again.
To see what dough hooks are available please click here to see a selection of dough hooks
 that may be compatible with your mixer.
When you are buying a processor for bread making there are a few things to consider.
Make sure it has a dough hook or that you can get one added to it.
Make sure you get a good quality powerful motor that will not burn out when mixing a sticky and thick dough.
Make sure it does other things too, to maximise the machines use and value.
Make sure it is easy to clean as dough mix can be a pain to get off of things.
Good sized bowl.
Easy to use.
4 Food Processors with a Dough Hook Reviews
Below are four very popular food processors that also have dough hooks with them as part of their accessories.
The Planetary Mixing Action Duronic Silver SM100SR Electric Food Stand Mixer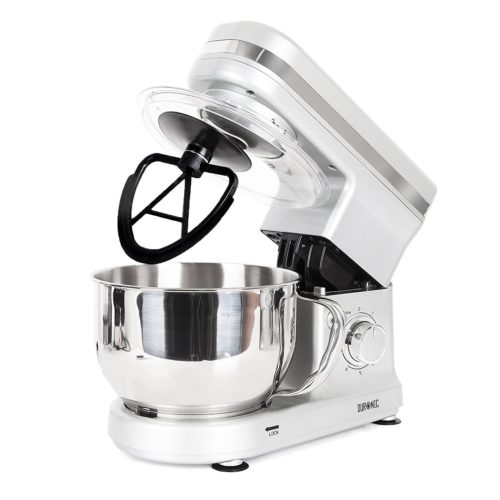 The Duronic Electric food mixer is a lovely machine and is great value for money.
It is elegant in design and looks good.
It is really easy to clean and has a good compact size.
It comes in both silver and black.
It has a good sized strong 450 W motor.
A good solid and cost-efficient mixer for the money and is really easy to use.
The attachments are easy to remove.
The only downsides are that it is a bit on the noisy side and has no splash guard.
See here for more on the Duronic Silver Electric Food Stand Mixer with planetary mixing action Dough Hook
The Savisto Food Stand Mixer
The Savisto food mixer is a lovely retro designed mixer with a good quality stainless steel bowl and attachments including a dough hook, beater and whisk. These should last a lot longer than if they were made from plastic. It is a good solidly build machine and on the heavier side so is less likely to move about when mixing.
It comes in red or black.  It is a quality mixer with an 800-watt motor. It can also go to 1260 watts when you need it to which is perfect for bread making.  Thre are 6-speed setting and a pulse mode.
The bowl is a good size and is 5.5litres in size.  It is very easy to use.
See more on the Savisto 1260W Retro Food Stand Mixer
The 500 W Kenwood KMX50BK Stand Mixer with Dough Hook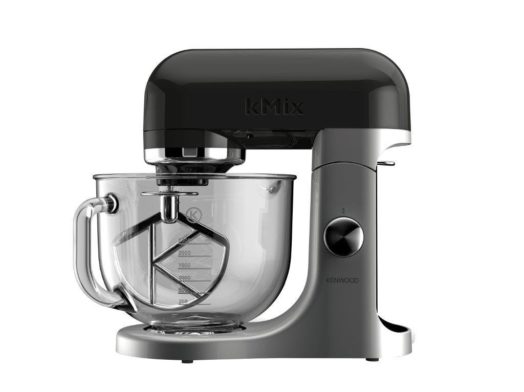 This sturdy yet stylish machine comes in black, red or cream.
It has 8 settings and a powerful 500W motor.
Make sure it is easy to clean as dough mix can be a pain to get off of things.
It has an easy to clean glass 5-litre bowl with a handle
It has a fold function to keep in the air when mixing for lighter fluffier results.
 Click here to see mroe on the Black Kenwood KMX50BK Stand Mixer
The Red/Silver Bosch MUM48R1GB Kitchen Machine

The Bosch is a stylish red machine.
It has a good quality powerful 600W motor and is a sturdy machine.
It is compact and ideal for small spaces and yet still has a  3.9 Litre bowl for mixing.
It is easy to use and even has integrated cable storage.
It not only has a dough hook but also a  beater, whisk and also a continuous shredder.
See here fore more on the Bosch MUM48R1GB Kitchen Machine, 600 W, 3.9 L - Red/Silver