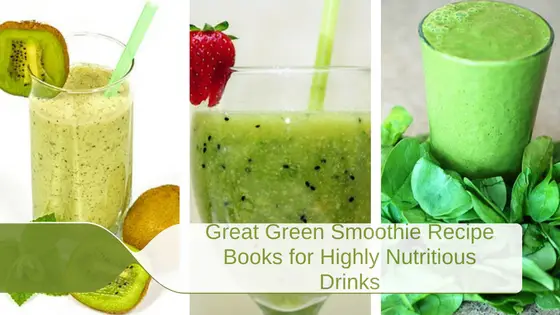 Green Smoothies are a great way to keep healthy and eat tasty enjoyable and nutritious food. There is a lot of variety and if there is a vegetable that you are not so keen on you can add ti with other fruit and veg and not really taste it.
They are really fast and easy to make in a smoothie maker and easy to eat on the go.  They also make a fantastic addition to any healthy breakfast.
The Green Smoothie Bible for Nutritious Smoothies
The Green Smoothie Bible has fantastic highly nutritious drinks that help to boost energy make you feel great and also help as part of a weight loss program.
What I like about this book is it combines fruit and vegetables together.  I do prefer the fruit smoothies so would find it easier to drink the vegetables in a fruit mix if it were tasty.
Also, there is background information on why what we are drinking is so good for us.  This helps people to make better-informed decisions as to what they need and why. This is important if we are taking responsibility for our health.
One of the issues I had as a youngster was vicious mood swings.  I just thought I had a volatile nature, little did I know at that time that this was in part due to my sugar highs and crashes. (OK, I admit I did also have a bit of a volatile nature, but the sugar just made it worse).  This book explains about your mood and blood sugar.
Note: If you want to extend this to your eating in general, the Low GI Diet explains in full about foods and the way they affect your blood sugar.
Also, having an allotment, I like to use my produce from it when I can.  What I love is that the recipes use ingredients in season so I can use things I have grown myself.
What I also love, is that the recipes only use a handful of ingredients, this is great because I am not a fan of complicated recipes that stretch the budget.
On the downside, the book does omit how many greens and which ones and just adds it to the bottom.  I guess this also can be a plus as you can decide for yourself and the book does tell you all about them so you can make a better choice.
Those of us in the UK are again stuck with the conversions, but once you have them it isn't a problem.
40 Green Smoothie Recipes that Charge Your Energy and Help Your Weight
This is an adorable little book and a great way to start off your new green smoothie plans. On ebooks only (at time of writing), it is available instantly which is great as you can start NOW! Before your determination wanes.
Have you ever bought one of those sealed packets of spinach and found lots left over?  I think that these green smoothies are a great way to use those up.  Spinach is used in many of the recipes here.  I love it and intend to put some in to grow soon, so this is a great book for me.  Kale and cucumber are also featured.
It combines everyday smoothies with those that are slightly different and a bit unusual which gives good variety.  It also gives advice on diet and nutrition which is always useful.
I admit I am having a bit of difficulty getting my head around the idea of banana and a green veg etc.  But as long as they taste great that is fine.
I am a bit puzzled by the reviews on Amazon for this book as they are saying there is no index so it makes it difficult to navigate.  Admittedly, I am on my tablet and not my Kindle but there is a linked Table of Contents that takes you straight to your chosen smoothie.
The layout is simple to follow
Sadly there are no pictures.
The measurements are all in cups again!  I am beginning to think those of us in the UK are behind in the smoothie stakes, or maybe we just like to use other people recipes.
---
Cool Green Smoothie Recipes for weight loss and Health
This is the latest edition to my collection of smoothie books.  I wanted to try one without any reviews to see what it was like.  First through, I used the sample button.  It wasn't much help as only gave one recipe, but it did give a list of the smoothies you can expect.  I decided to chance it and buy it.
I love these recipes.  They are fresh and look tasty and not too complicated.
This time there are pictures, which personally I think are really helpful.  There is a small part at the front saying why it is a great idea to use smoothies.  Then it is straight to the smoothies, no messing.
The Cilantro mango smoothie sounds very exotic except I had no idea what Cilantro was, I looked it up and it is Chinese parsley which is the leaf part of the Coriander plant.  Hmm, coriander I can do.  Am, thinking a page for explanations might be of use.
On the down side, this one really does only have a list and no clickable link to your smoothie of choice.  Cup measurements are used.
---