This is a simple easy to make recipe showing you how to bake bread rolls at home.  This recipe makes lovely tasty bread rolls or you can opt to just make bread instead.
This recipe is easy to create and ideal for beginners or even children if you want to get them involved in baking.  With this, you get success early and build confidence.
There is nothing quite like the smell of freshly baked bread or pulling open a soft warm bread roll and filling it with homemade jam.  I remember the smell of bread baking filling the house.  Mum always let us help.  This recipe is ideal for beginners or even children if you want to get them involved in baking.
How to Make Bread Rolls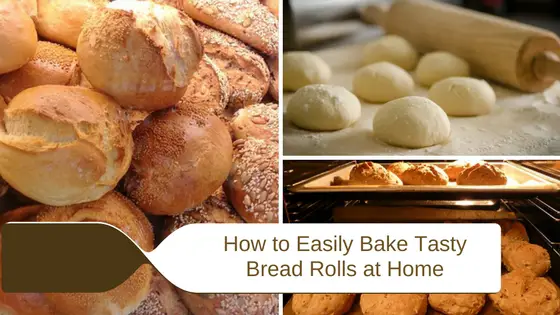 Equipment Needed to Make Your Rolls:
Large mixing bowl
Saucepan for heating the water and milk
Wooden spoon
Baking trays
Tea towel to cover your rolls
Clean kneading and work area
Easy Short Course on How to Make Bread Rolls on Udemy

How to Make No Knead Dinner Rolls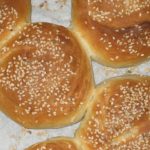 How to Make Bread Rolls
easy recipe on how to make bread rolls.
Ingredients
Bread Flour 500g

You can use either white or brown bread flour or strong flour

Plus Extra for dusting

Luke Warm Water 200g

100

g

Milk

if you prefer you can use 300g of water instead

Salt 2 tsp

Sugar 1.5 tsp

Yeast Sachet

fast action 7g

40

g

Butter

Plus extra for greasing for the tray
Instructions
Pre-Heat your oven ready to bake your bread rolls to Gas Mark 7, 220°C, fan oven 200°C.




Mixed all of the dried ingredients (flour, yeast and salt) thoroughly together into a bowl.

Add the butter and also mix well.

Pop a well into the top of the mix and put in some of the lukewarm water and milk and mix using your wooden spoon. Continue to mix until your dough forms.

Now that your dough has formed you can start to knead it until it is elastic and smooth.  If you are unfamiliar with how to knead please watch the video below as this shows you how to effectively knead the dough.

Break your dough down and roll into shape.

Pop your dough on to a ready greased tray, cover and leave to rise somewhere warm until they are double their size (approx 30-4o minutes). You will need to leave gaps between the rolls to allow them to rise.

Now they have risen they are ready to put into your home oven. Now bake the bread rolls in a pre-heated oven at Gas Mark 7, 220°C, fan oven 200°C for 15 to 20 minutes.  They should be a lovely golden brown colour. You can check they are ready by tapping the bottom of the rolls if they are hollow in sound, they are fully baked and ready to eat.
How to Knead Dough By Hand
These rolls are great with homemade soup or salad etc.  They are best eaten fresh although can be frozen if needed. Just wait until they have cooled down.