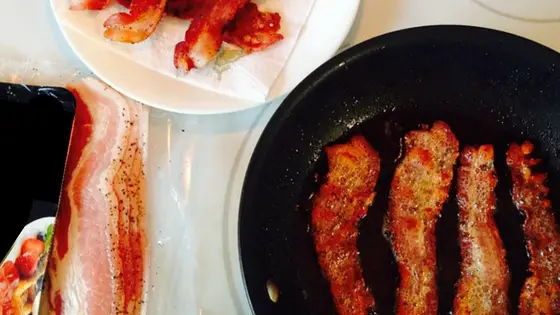 There's nothing quite like the smell of bacon cooking or biting into a bacon sandwich or having a full English breakfast. Bacon is really quick and easy to cook. Here we share the methods of how to cook bacon in four easy ways by frying, using the microwave, the oven and also grilling. Once you have these basics you can expand and use them to create lots of easy recipes using bacon.
There is no best way to cook bacon as everyone will have their favorite methods. Try out the ones that suit you or you have the equipment for and see which method you prefer. Like me, you may find that different methods are best for different occasions or you may just like to stick to one.
It doesn't matter if you like your bacon lightly done or crispy these methods will work for you time and again. They require only the basic equipment and you can do them even if you only have basic pans.
Whatever method you choose it would be great to hear back from you and see how you got on or where you had any challenges.
How to Cook Bacon, 4 Easy Easy to Make Your Bacon Sizzle
I have to admit these days unless I am using my frying pan on the hob anyway or more than one thing I tend to use the Halogen to cook bacon with. It is for me the fastest and easiest way.
All of the methods described below work really well and are easy to do. However, which you choose will not only depend on what equipment you have but also how quickly you like to cook and your preferred taste of bacon.
How to Cook Bacon in the Microwave for Quickness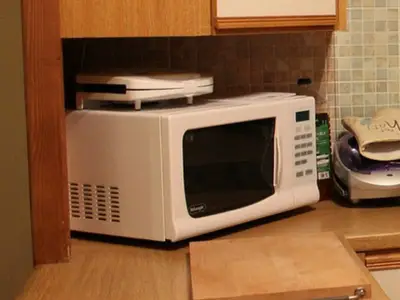 Even if you use the microwave to cook bacon you still want it to crisp up, or I would anyway. This is the cleanest and quickest way to cook your bacon.  I have to admit I tend mostly to use the microwave to defrost bacon when I have forgotten to take it out of the freezer, tut tut, then pop it in the Halogen rather than cook it completely in the microwave.  But if you want to cook it fully here's how:
Equipment Needed
Method
Place the bacon onto your bacon crisper
Cover with a paper towel to stop it spitting onto your microwave
Set your timer to High
Cook until crisp. The cooking time will depend on your microwave but allow about 50 seconds to 1 minute per slice on a standard 800W microwave
Note: if you are not using a crisper tray you may need more paper towels both on top and under your bacon
You can get different types of bacon microwave tray
on Amazon. They are better than a normal plate as they have ridges so the moisture and the fat of the bacon vanish while cooking. They vary as to how the bacon is held so it is a matter of personal preference. The one pictured below is very popular.
To Avoid Fat, Grill Bacon
Grilling bacon couldn't be simpler if you have a grill. There are one or two things to look out for when grilling bacon.  Many grills are in the top of the oven. If you grill with the oven grill, be careful of fat spitting because then you use the oven to cook it can become smeechy.
Equipment
Method 
Simply heat up your grill to medium heat
Pull out the grill and spread your bacon rashers evenly on the grill mesh and place it under the heat
Allow your bacon to cook a few minutes until cooked to your taste
Use tongs to remove the bacon from the grill
For those that need to use a charcoal grill, I have enclosed this link to a video as this is something I am not familiar with.
Bacon Recipe books on Amazon
For Extra Taste, Fry Bacon on the Stove
My mum always fried bacon on the hob then kept it warm in the oven while cooking other things. It was like a mini food factory. I remember the heat and the spitting and sizzling and the lovely aroma filling the kitchen. Watching the moths fly in because the heat was too high and searching so the back door was open lol.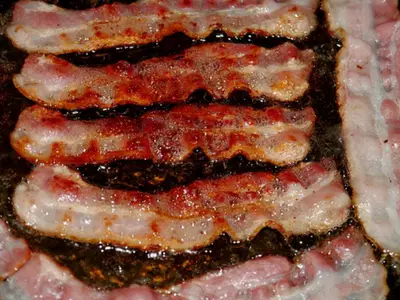 Now, I know that some people say you should cook bacon with a cold pan, place the bacon in then warm it up. This way you don't need oil, you cook the bacon in its own juices. This method is great if you are avoiding fat. I have to admit I haven't tried this as my hob takes forever to warm up I prefer it hot before I start and use a tiny amount of oil (these days I use coconut oil but use whichever cooking oil suits your preferences and budget).
My sister has tried this method without much success, she says the bacon always stuck to the pan. I admit when I have used the one cal oil sprays I have had the same problem.
Below is the method my sister and I use. I'd try both and see which method you prefer.
Equipment
Method
Preheat the hob to medium and heat add your frying pan and oil and allow it to heat up
Place the bacon rashers into the pan being careful of any hot oil as you put it in.
Give it a few minutes until the bacon is half cooked then turn the rashers over to cook the other side.
Wait until they are cooked to your liking. Leave them in the pan to cook longer for crispier bacon.
My sister was reluctant to admit she does this as she thought what she was doing was strange. Maybe it is but I had to confess I do the same which made her really happy. Neither of us like the long streaky rashers we like the larger flatter rashers with one fat end and one thin one.  But they take up a lot of space in the pan so we lie them side by side but also top to tail. This means you can get more in the pan, grill or oven. Have you ever done this?  We'd love to know we are not the only ones.
Need to Cook A Lot of Bacon? Cook Bacon in the Oven
Technically I cook my bacon in the Halogen and not the conventional oven because it is quicker and cheaper and so, so much easier. However, the principle is similar although the Halogen feels more like grilling than oven cooking. A good time to use the oven would be if you were adding spinach and egg to it as a whole meal and cooking together. However, if you are cooking it on its own in a conventional oven it is simple enough to do.
Cooking bacon in the oven is perfect if you need to cook a lot of bacon in one go as you can put a lot more on a baking tray than in a small frying pan and it needs less attention while cooking (although I do also have a huge frying pan that would hold as much bacon)
Equipment
Flat oven baking tray
Greaseproof baking paper
Oven gloves
Method
Preheat your oven to 200C
Line your baking tray with a sheet of greaseproof baking paper to stop your bacon sticking to your tray
Place your bacon onto a flat baking tray
Put your tray onto the lower rack of the oven
Cook for about 17-20 minutes depending on how well done you like your bacon.
How to Make Crispy Bacon
Crispy bacon is the best. There is nothing like pulling off a piece of crispy and popping it into your mouth and feel the salt tingle your taste buds. Each of these methods used here can make crispy bacon. Just leave it to cook a bit longer until it is as crispy as you want it.
What is the Easiest Way to Cook Bacon?
I'm all in favour of the quickest and easiest and healthiest methods of cooking and bacon is no exception. The quickest and easiest method is the microwave. Personally, I find that the easiest way to cook bacon is in the halogen oven. You just pop it, in turn, it on and wait. It cooks quickly, the oven doesn't take any time to heat up and you can crisp your bacon to perfection.
For those that do not have a halogen, and are not keen on the microwave, I think the best method would be to grill your bacon if you have a grill if not then fry your bacon on the stove using your preferred choice of cooking oil depending on your health preferences. It's all about which method suits you. Which method do you think you would prefer?  Would you try them all?
Easy Bacon Recipes
Below are two easy bacon recipes for you to try.