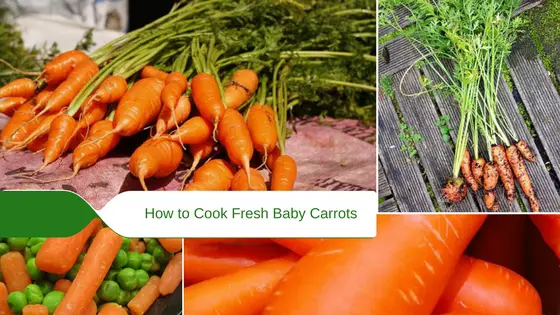 See how to cook fresh baby carrots on the hob either simple cooking or glazing, in the microwave or by roasting.
Baby carrots are a delight to eat and quick and easy to cook.  They are perfect for many dishes from roasts or mash to salads.
Super high in Vitamin A they are also very good for you.
They are smaller and sweeter than big carrots so might be more acceptable to small mouths.
There's nothing quite like fresh baby vegetables and baby carrots are no exception.  They are especially good if you have grown them yourself.
As a rule, I'm not a big fan of carrots but home grown ones taste different, well they taste.  Actually, when it comes to baby carrots from the allotment I just wipe off the dirt and give them a quick once over and crunch into them.  They don't need a lot of cooking. But if you decide to you want to make the most of them and not over cook them.
How to Cook Fresh Baby Carrots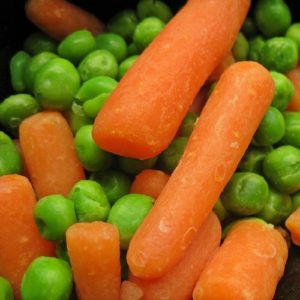 How to Cook Baby Carrots on the Hob
Wash off the dirt if you bought organic or grew them yourself, if not just wash.
Gently remove the greenery (note you can eat this as well if you want to)
Check for blemishes. There shouldn't really be any.
Boil your water in a pan.
Pop in your baby carrots gently.
Return the pan to the boil.
Now simmer until you carrots are tender. This should take between 5 and 7 minutes depending on how well you like them done. They don't need heavy cooking.
When they are ready serve straight away.
How to Cook Baby Carrots in the Microwave
Wash and clean your carrots as above
Put your carrots into a microwavable bowl.
Add a small amount of water.
Cover but leave a vent.
Microwave for 4 mins for a 700W oven,  3.5 mins for an 800W, and 3 minutes for a 900W
Remove from the microwave and let them stand for about 1 minute before you serve them.
Buttered Baby Carrots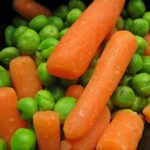 Delightful Buttered Baby Carrots
If you prefer a bit of added taste you can always cook your baby carrots with a bit of butter.
Ingredients
500

g

baby carrots

Pinch of salt

2

tablespoons

of butter

3/4

tablespoon

of sugar
Instructions
Wash and clean 500g carrots.

Just cover them with water about 2.5 - 3cm cm should do it.

Add a pinch of salt.

add 2 tablespoons of butter.

Add 3/4 tablespoon of sugar.

Place on the lid.

Boil your water then let it simmer for 6 to 8 minutes.

Remove your lid.

Make sure your heat is on medium temperature.

Now let your water nearly evaporate.  This should only take a couple of minutes.
How to Roast baby carrots
Discover how to roast your fresh baby carrots with this easy to make roasted carrots with this example on Youtube.
What is your favourite way to eat baby carrots?