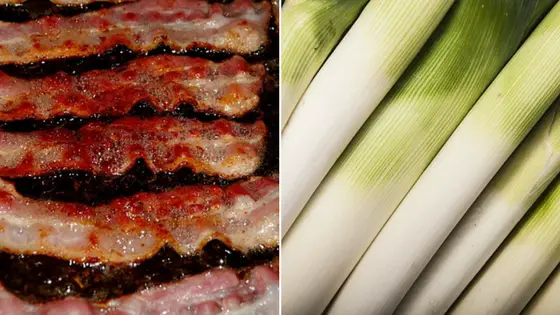 This recipe shows how to make a tasty bacon and leek risotto recipe that won't break the budget.
Risottos are a great meal to make for budget conscious families and individuals as they are versatile, healthy, cheap and quick and easy to make.
This is one of my favorites as the salty taste of the bacon combines well with the smoother textures adding life to it.
And it is quick and easy to cook too. It only uses one pan so it saves on dishes and eclectic/gas costs.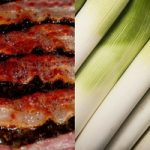 A Tasty & Easy to Make Bacon and Leek Risotto Recipe (Serves 1-4 People)
How to Make a Tasty Bacon and Leek Risotto Recipe This recipe is for one person but the ingredients can easily be increased for however many people you want. See the quantities for 4 people in brackets for quick reference.

 Difficulty level: Easy
Ingredients
Arborio Risotto Rice 75g

(300g for 4 people)

1

leek chopped

(3/4 leeks for four people)

1

rasher

Bacon streaky/smoked

(3/4 rashers for 4 people)

1/4

Flavoured stock cube or mixed spices/herbs of your choice

50

g

of Philidelphia garlic and herb or plain

150/200g for 4 people

1

tablespoon

Cooking Oil of choice

(ie Rapeseed, Olive oil, coconut oil, butter etc)

Boiling Water 150 ml

(550ml for 4 people)

Salt & Pepper to taste
Instructions
Heat the cooking oil in a pan

Cut the bacon roughly into small squares

Add the bacon to the pan and fry for a few minutes

Now add the chopped leeks and continue to cook until your leeks are soft

Add the boiling water to the pan along with your stock cube or herbs

Add your rice and stir your mixture

Cook until your rice is soft and most of the water has gone

If you are using cheese mix it in at the end for a more creamy texture
Recipe Notes
Notes: In a Hurry? Cook the bacon for a few minutes then just add all the ingredients (except the cheese) at the same time.
The Ultimate Rice Cooker Cookbook: 250 No-Fail Recipes
The Total Cost Of the Meal Per Person
Arborio Risotto Rice 75g portion 16p
1 leek 45p
1 rasher of Bacon 14p
Flavoured stock cube (between 5 and 10 pence)  or mixed spices/herbs of your choice
50 g of Philidelphia garlic and herb cheese portion 44p
Salt & Pepper
Total Cost Per Person = £1.24 (Family of four with one less leek = £4.51)
Money saving tips:  If you are making this risotto for a family of four you can use only 2/3 leaks saving you 90/45 pence. Don't use the cheese saving another 44p per person.
Cheese Alternatives: If you prefer you can use parmesan cheese. 
What is your favorite risotto?  Or is there a risotto recipe you would like to see on this blog? Just comment below.