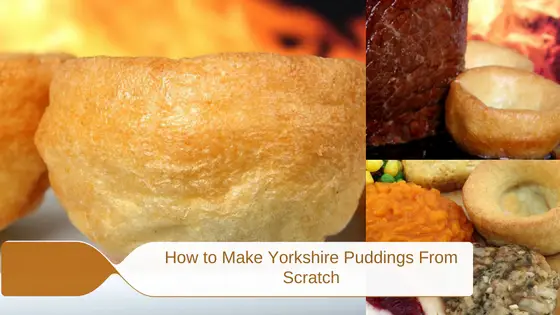 Learning how to make Yorkshire puddings from scratch is quite easy.  Included here are three popular methods of making them including one traditional from the heart of Yorkshire and one celebrity chef method and one method from home. Both written and videos methods are included for variety and ease.  There are also some tips to help you overcome any difficulties you are having in getting your puddings to rise.
Yorkshire puddings are one of my favourites.  In our family, Yorkshires were always simple, straightforward and homemade.  I don't even know if ready made ones were available back then.  As a child we would always have them with roast, in fact as far as our family members are concerned roast doesn't count if you don't have Yorkshire puddings.  The quantity cooked has to be exact unless you want arguments breaking out over the spare ones. Sadly even though we are all grown up the same still applies.  Two is our quota although we'd prefer three.  But that is classed as greedy, humph!
I once went to a pub and ordered chicken roast, no Yorkshire was served with it.  Horror.  It was then that the harsh reality of the fact it was beef roast and not all roasts that came with Yorkshire puddings. So, now I ask to have them added if I am not eating beef.
So just how do you eat your Yorkshires?  My niece likes the traditional method to have gravy poured into the centres so the bottoms go all soggy. Uck.  I prefer mine firm and dry but will wipe into ketchup.  Some people prefer the large ones with everything in the centre.  I have even read that some people use them as a dessert with ice cream. It's a matter of personal choice.
How to make Yorkshire Puddings From Scratch With an Easy Yorkshire Pudding Recipe
Heat the Oven to 222Cor Fan Oven 205C or gas Mark 7
Preparation time: 12 minutes
Cooking time: 25 to 30 minutes
The Ingredients Needed to Make 12 Small Puddings or 4 Large Oes
3 Medium Free Range or Organic eggs
Plain Flour 200g
300g of whole milk (You can also use semi-skimmed milk if you prefer)
Pinch of Salt
Pinch of Pepper (If using the Award Winning Recipe Video)
Fat or Oils that can withstand high temperatures
The Equipment Used
A Measuring Jug
A Mixing bowl
Sieve
Fork or hand whisk
A Spoon for Mixing
A spoon for catching drips
Yorkshire Pudding Tins in the size of your choice. We simply use normal bun tins with sloping edges. However, you can get larger tins, especially for Yorkshires.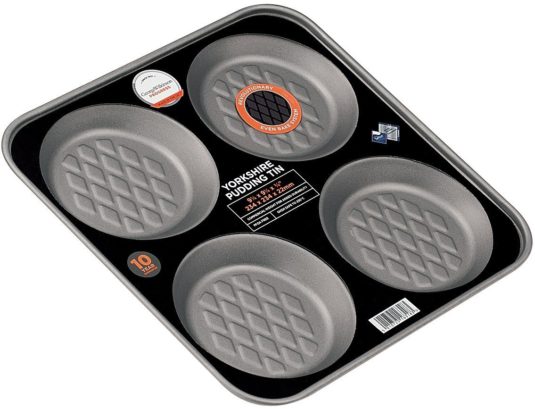 See examples of yorkshire pudding tins
The Method for Making Your Easy to Make Yorkshire Puddings
How to make batter mix for Yorkshire puddings.
Heat the Oven to 230Cor Fan Oven 210C or gas Mark 8
Sieve your flour into your bowl and add a pinch of salt
Add your eggs
Add your milk
Stir your mixture then beat with your fork or whisk until your mixture is smooth and all the bumps have been removed
Put your fat or oil into your tins and heat until hot
Put your mixture into a pouring jug and pour the batter mixture evenly into the tins as quickly as you can as ou want your fat to stay hot
Pop your mixture into the oven and cook for 25 to 30 minutes checking through the glass that they are cooked through but not overcooked.
The Award Winning Home Made Yorkshire Puddings Video Recipe
Cup Measurements for America
The recipe in the video on YouTube has a conversion mentioned in the comments for those in the US using CUPS. 1 cup of eggs, 1 cup of milk, 1 cup of plain flour.  Also, add a pinch of white pepper and salt.
A Jamie Oliver Video on How to Make Big Fluffy Yorkshire Puddings – Huge!!
It's interesting how he does it and his puddings are definitely big and fluffy and two to three times the size of the normal puddings you see.  And I have to admit they look pretty perfect. What he does that nearly has me having kittens is put deep hot oil in the trays. I am assuming that the oil is not absorbed into the puddings due to the high heat.
Some Quick Yorkshire Pudding Facts
In America, they are called popovers because they rise and pop over the tops.  They are made very slightly differently.
They were originally called the dripping pudding
They were invented in the north of England when people used the fat from the meat to make them
They were eaten separately as a filler and are great for frugal cooking
They need to be 4 inches tall to really be a Yorkshire pudding
Puddings rise better at lower altitudes
Cook at high temperatures
Yorkshire Pudding Rescue Tips
I used to make them as a teen and the method was very similar to those in the videos.  I don't think it has changed much over the years.  I usually got quite good results as I was good at putting air into any baking mixture.
Yet for some reason, not everyone gets such great results as you see in these videos.  There can be several reasons for this.  So check each area carefully to make sure you are getting the best from your mixture.
There are definitely key elements that make for great Yorkshires and to make your Yorkshire puddings rise.  These include air, heat closed oven and spillage.
Make sure your mixture is not too thick
Put in plenty of air by mixing either with a fork or whisk
Make sure the oven is piping hot before they go in and that your fat and tray are also hot or they will not rise
Jamie Oliver also recommends avoiding spill in his video below.  As he says it draws the weight of the pudding down preventing rise. He uses a spoon to prevent drips spilling onto the surrounding tin which is a good idea.
Do not open the oven while cooking or they will flop.