Steaming your vegetables in your microwave is both fast and easy; especially if you have a microwave steamer. All you have to do is pop some water in the bottom of your steamer container and then put your vegetable in the top tray.  Make sure you cut them equally if you can.
Then you put the tray in the container and the lid onto the container making sure you leave a vent open to release steam and pressure. Then put your steamer into your microwave.
How to Steam Your Vegetables and Broccoli In a Microwave Steamer
Set your microwave for the appropriate amount of time.  This will vary depending on the following:
Your microwaves power
Your choice of setting
The quantities of vegetables and water you are using
If your vegetables are fresh or frozen
What kind of vegetables you are cooking
How well done, you like your vegetables
And the size of the vegetables
As a general guide, you need to allow 2 minutes per portion of fresh vegetables for each person.  (This assuming you use standard portions of veg) It is best to allow slightly less time than would be suggested by this method as it is better not to overcook your vegetables as they go really icky really fast in a microwave.
The Advantages of Microwave Cooking Your Vegetables
There are several advantages to cooking your vegetables in your microwave:
it is much faster to microwave steam your vegetables than cook them on a traditional hob cooking method
it uses a lot fewer pans
it is cheaper because it is faster and uses fewer pots and pans
it is a healthier way to cook your vegetables as it maintains more nutrients than traditional cooking (providing you don't overcook them that is)
Specialist Microwave Steamers Make Steaming Veg Easier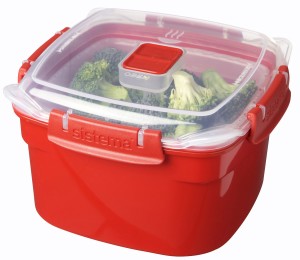 If you use your microwave a lot for veg or get a bit fed up with messing about with plates covering your bowls or microwaves pots where lids have to be left loose or worst still the lid is not allowed in the microwave you can invest in a microwave steamer.
This is designed especially for veg and other things you might want to steam and will make it a lot easier for you in the long run.
2.4 L, Red/Clear Sistema Microwave Medium Steamer with a useful Removable Steamer Basket -
How Long Does it Take to Steam Broccoli in a Microwave
How long to steam broccoli in a Microwave?
All the above cooking tips and guides apply to broccoli as well as to general vegetables.
However, as a guide, you can cook broccoli florets in the microwave for 2 minutes on steam per portion (1 cup for the US).  About 4 minutes for most families.
Remember not to seal the lid and to allow a vent regardless of the type of container you are cooking in.
If you want to add spices or cook lemon broccoli you can add those to your dish for more flavour when cooking.
As you can see from this video it is easy to cook broccoli in your microwave even if you are a busy mum with youngsters.