This specially designed microwave steamer will cook your vegetables to perfection.
These steamers come in three sizes –   sizes 1.4 L, 2.4L and 3.2l so are suitable for both smaller and larger amounts of cooking.
The medium steamer cooks enough for four people who have normal sized portions.  If you eat a lot of veg like my family, I'd be inclined to go up a size.
Some of you may have read about my goal to cook my rice in the microwave.  While researching that I took a look at the other  microwave cookware as well.  I am a big fan of Sistema products but hadn't really ventured into the more specialist containers.
I wondered if you could cook your rice in the vegetable steamer so only having to get one thing instead of two.  I have seen YouTube videos of this steamer with rice in it, however, decided that it was best to go for the rice one, for rice and this one for vegetables and other cooking.  Below are some of my findings.
Make Rubbery Veg a Thing of the Past with the Microwave Steamer
Do They Work With Fresh or Frozen Vegetables?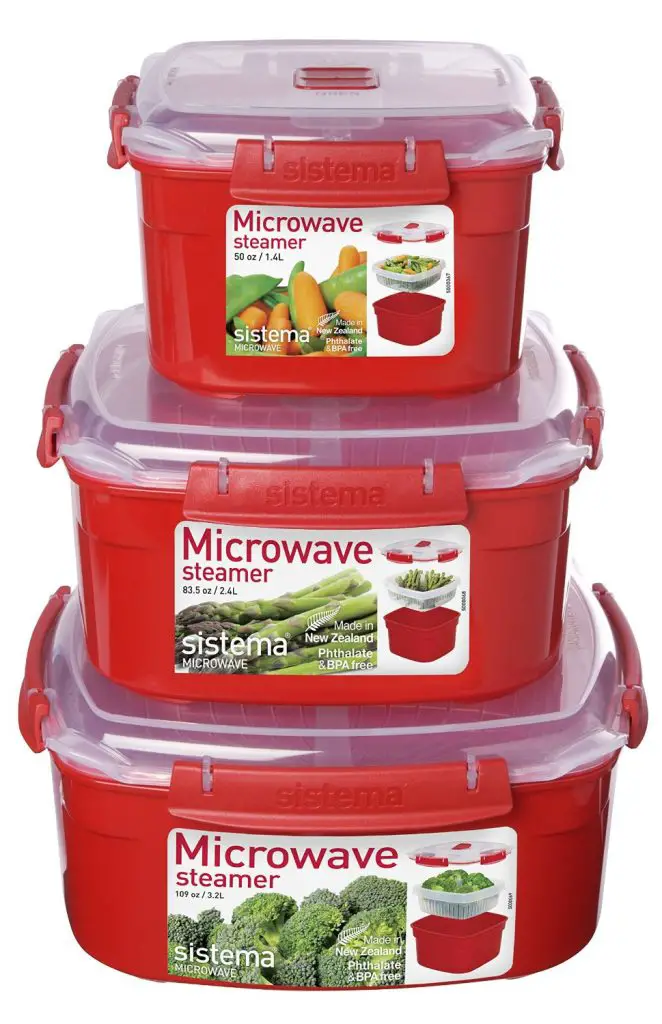 Yes, they work with both fresh and frozen vegetables of all kinds including potatoes.
With a little bit of practice, you can cook healthy tasty vegetables in these.  They cook faster and easier than in the pan and take fewer pans.
A very short video example by Sistema on how easy it is to cook veggies in this container.
A Sistema Microwave Steamer with a Removable Central Tray in Three Sizes
Just pop some water into the bottom, put in your veg.  Make certain you have opened the vent on the lid and pop into your microwave.
What Else Can You Cook in It?
Well, you can steam fish and poultry as well as vegetables.  So that makes it a really useful all round container.
Are the Containers BPA Free?
Yes, they are.  All of the Sistema products are BPA free which is very important to your families health.
Are they Easy to Clean?
Yes, they are really easy to clean.  They can be cleaned in with your normal dishes or in the top rack of your dishwasher if you have one.
Storing Food
You can also store things in it in the Freezer and then pop into the microwave.  This is really handy if you like to cook bulk and then reheat things later.
The Steamer Design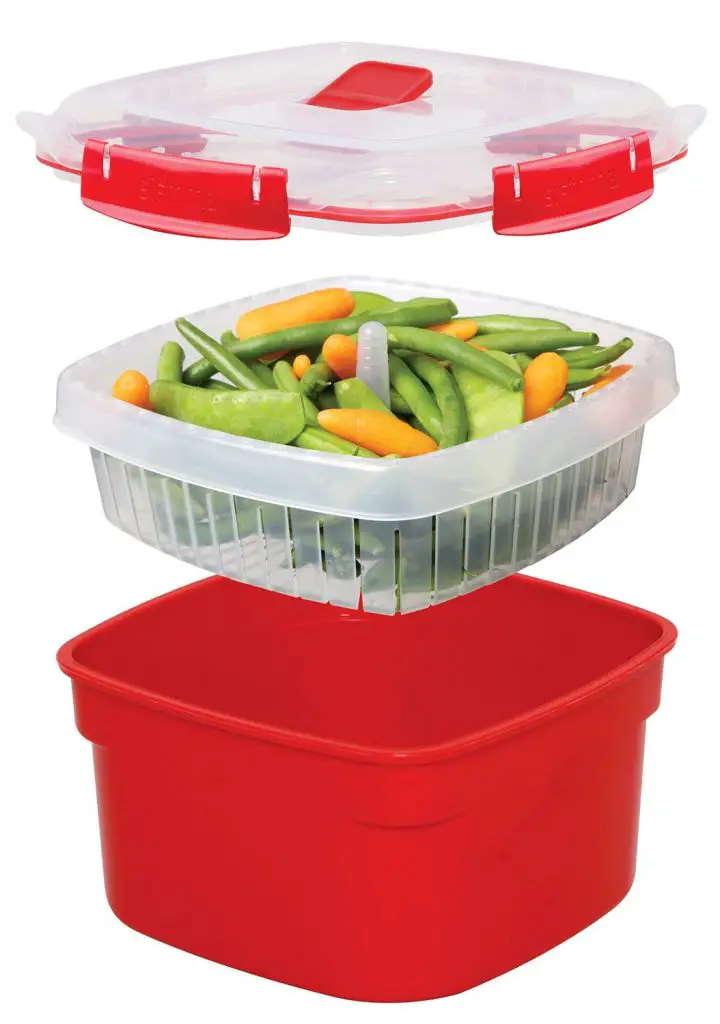 As you can see the steamer comes in three parts and is perfectly designed for steaming.
You have the lid with the vent that clips firmly onto the base.  The lid has cool to the touch handles so you don't burn yourself when lifting it which is a great idea.
Then you have the steamer tray where you pop your vegetables, fish etc.
Finally, there is the base where you put the water.
Cooking this way gives you a better result.  Many people complain about their microwave vegetables.  But by not putting them in water or overcooking them they can turn out great.
Buy the Sistema Microwave Steamer with a Removable Trays
Can I Carry Them Around with Liquid in?
The steamer is neither water nor air tight.  If you want to carry them around it is best to add the water when you need it.
Can I Use them to Reheat Things?
Yes, you can use them to reheat things that you have previously cooked or even frozen.  You and reheat things like soup etc. However. Sistema does have a special soup jug as well.  Follow similar guidelines to anything you would reheat in the microwave and be wary of too much sugar content.