The Professional Ice Cream Maker, Why Freeze in a Bowl When You Can Have a Machine That Does Everything for You?
If you are tired of having to freeze bowls in your freezer or of your bowls corroding when you make ice cream then perhaps it's time to consider upgrading to a professional ice cream maker.
If you want ease of use and speed in your machine, it is worth considering upgrading to a professional ice cream maker with a compressor.
These do everything for you and turn out beautiful tasty ice creams often in less than 60 minutes.
Below we compare three popular machines and reviewed so you can decide for yourself if they are worth getting for your own home.
The Ice Cream Maker by Andrew James
Overall rating ♥♥♥♥♥
"This is a beautifully designed ice cream maker that creates lovely tasty ice cream in only one hour complete with evenly spaced chocolate chips (if you add them!)."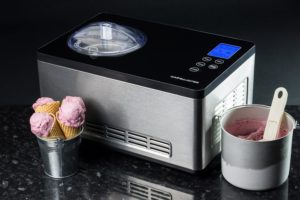 The Ice Cream Maker With a Built In Compressor by Andrew James , No Pre-Freezing Required
You can create 2 litres of quality ice cream in only 60 minutes.
With this type of ice cream maker, it is not necessary to freeze in the bowl. This means that once your ice cream is made you can pop it into another container wash the bowl and make a new batch should you want to.  This is better than freezing the bowl and having to wait 24 hours for your desert.
Is it Easy to Ready and Use?
The LCD screen shows you everything you need in a clear easy to read display.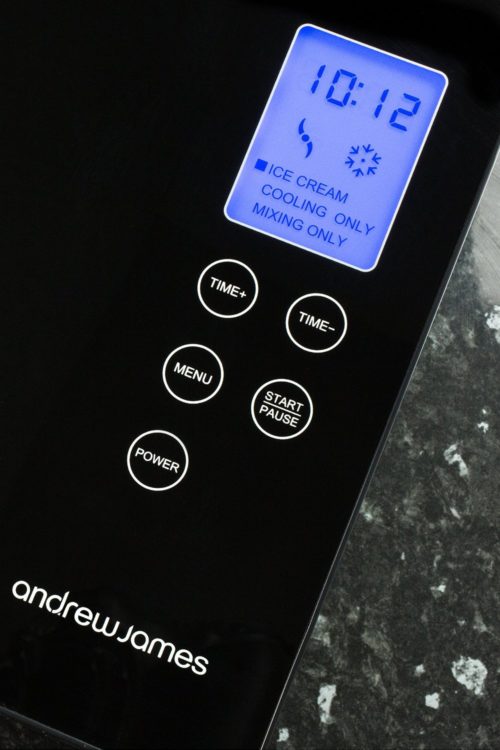 How Easy is it to Clean?
It is very easy to clean.  You just remove the bowl and clean that.
What is the Overall Size of the Machine?
The size of the machine is about the same size as your average microwave at 42.4 Long x 28.8in Width x 26cm in height
How Much is the Total Power Use in One Hour?
Somebody really kindly worked this out for everyone.  It is 150W which uses up one unit of electricity in a 6 hourly period. So between 6 and 8 batches of tasty ice-cream= 1 unit!
What is the Overall Weight of the Machine?
This machine is heavy so not something you really want to be taking out and putting in cupboards too often.
Does it need a Saline Solution?
Some machines need a saline or alcohol solution or similar between the bowl and freezer part of the machine.  This one does not need it.
Is the Machine Noisy?
This is a very quiet machine, quieter than many others on the market today. This is in part due to the paddle being led from below.
How Long Does the Cooling Time Last?
It has a really long cooling time feature of one hour.  This gives you plenty of time just to leave it while you have your meal if you want to then enjoy your still ready ice cream.
The Paddle
What is a great idea, is that the machine drives the paddle  from below.  You can easily get replacement paddles from the manufacture.
You can see the ice cream maker in use here.  It is so easy to set for what you want.
The Ice Cream Maker by Cuisinart 
Overall rating ♥♥♥♥ 
"Make delicious sorbet, tasty ice cream, or even smooth gelato in super fast time in this speedy machine."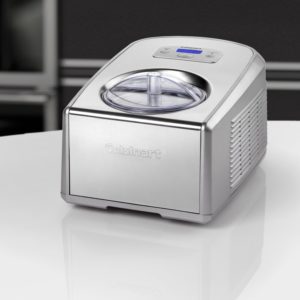 What Quantity of Ice-Cream Does It Make?
This machine creates 1.5 litres of tasty gelato or ice cream in a very short time, from only 40 minutes.
Again with this type of machine because it has a compressor in the machine you do not need to freeze the bowl separately in your freezer.
What Screen Displays & Controls Does It Have?
On the lid, it has an easy to use and see digital display.
Is is Easy To Clean?
It is really easy to clean as you can remove the bowl, the lid and the paddles when you want to clean them.
How Big is It?
This machine is 28.5 cm long by 42 cm wide and  22 cm high. Or in inches 11¼L" by 16½W" by 8¾H".
What Power Does it Use?
This machine is a 40Hz,  230V, 150W power.
What is The Overall Weight of the Machine?
It is about 24lb in weight, so  it is quite heavy.
How Noisy is this Machine?
It isn't overly noisy for this type of ice cream maker.
The Cooling Feature
You can keep your ice cream cool for up to ten minutes after it has finished making it.
Why Are there TWO Paddles?
There are two paddles one for ice cream and the other for gelato.  Making gelato is different than making ice cream and you need different amounts of air and fat than for ice cream to make it successful.
The Buffalo Ice Cream Maker
Overall rating ♥♥♥♥♥
"A quality designed machine, that makes great ice cream quickly and consistently."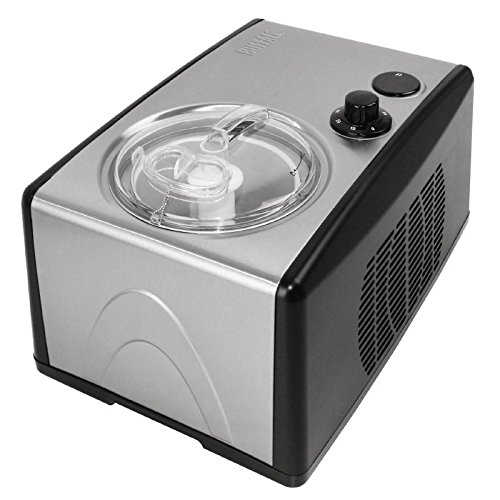 The Buffalo Ice Cream Maker 1.5Ltr
What Quantity Does this machine Make?
It makes up to 1.5 litres
Screen Displays & Controls
It has a LED temperature display and an easy to set the dial for controls.
Is the cleaning easy?
It is easy to clean simply lift out bowl and paddle to clean.
What are the Dimensions of the Machine?
This machine is 24.5cm Height by 40.2 Width by 28.1 cm Depth
What is the Power?
It has a 150W Motor.
How Heavy is it?
It is about 12kg.  As with all similar machines, it is fairly heavy.
Is it Noisy?
About average for this kind of machine.  Although some people do find it slightly too loud for them.
Is there a Cooling Feature?
None mentioned.
The Paddle
The paddle is driven from above.
In Conclusion
Although all classed as professional machines, many people do buy the for their own home.
All three of these professional ice cream makers are of exceptional quality and great value for the money paid for them if you make a lot of ice cream or if you prefer to have homemade rather than shop bought.
It really depends on which one suits your needs the best, which every you choose you should have a machine that will make tasty homemade ice-cream.
Some Thoughts on the Issues and Differences of Each of the Professional Ice Cream Makers
You really need enough space in your home to keep these machines out all the time.   You would need enough space to keep what is about the size of an extra microwave.  Some people do put them away. However, they are quite heavy to keep moving and would take up quite a lot of space in your cupboards.
Some minor differences that may influence their suitability for you personally would be the cooling times, they vary quite a lot.  They all make gelato, sorbets etc, however, the  Cuisinart Ice Cream Maker has a paddle designed especially for this.
The Andrew James is viewed to be the quietest and has the longest cooling time.  Some have windows so you can add extras to your mix.