Why not make this quick and easy tomato soup recipe with fresh tomatoes. It is perfect for those cold winter days or as a simple lunch.
Not only are tomatoes tasty they are also full of goodness, they are packed full of vitamin C, vitamin K, biotin and molybdenum.  They also make tasty soups and are very versatile as well.
Tomato soup is one of my favourites and I make it several different ways. I like mine spicy but this one is basic and easy to adapt to your own personal tastes.
This is a really simple and versatile soup and filling due to the rice content.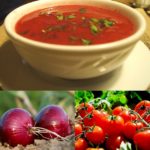 A Quick and Easy Tomato Soup Recipe with Fresh Tomatoes
A simple and tasty filling tomato soup made with fresh tomatoes and that is easy to make and very filling.
Ingredients
0.70

kg

tomatoes

US weighs 1-1/2 lbs

28

g

butter

(1oz US)

1.4

kg

water

US 3 pints

57

g

of rice

2 oz US

1

large onion

1

teaspoonful of herbs

Vegetable stock cube

Salt

Pepper
Instructions
Put the tomatoes, rice and the onions into a saucepan with your water and cook for approximately 20 minutes.

Add your herbs, salt and pepper to your taste and all the other ingredients to the saucepan

Cook on the hob until your rice is soft and fully cooked

This soup is chunky. If you prefer a smooth soup simply blend it.
Recipe Notes
If you run out of fresh tomatoes you can substitute them for a tin of tomatoes instead. You simply need to reduce the water by 1/3.
Note: the cooking time will vary depending on the type of rice you buy.  The rice I used is easy cook, and takes about 20 minutes, some will take longer. Just check it is fluffy.
Costings for the Tomato Soup
tomatoes 1.20
onion 17p
stock cube 4p
butter 5p
rice 57p
salt pepper & herbs 7p
Total £2.03
The Total cost per head is four people = 52 pence, 6 people = 35 pence.  This soup can easily be split between 6 people. Prices may vary from time to time
200 Super Soups
If you are interested in more soups this book has 200 soups and has sold over 5 million copies.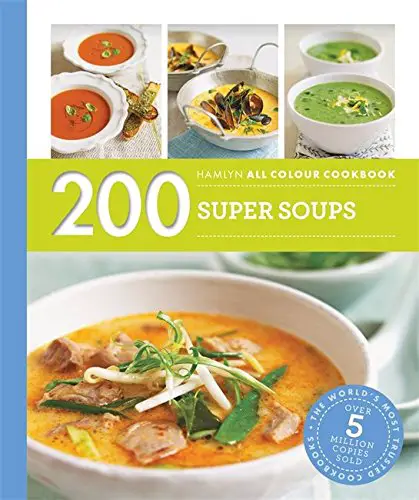 200 Super Soups: Hamlyn All Colour Cookbook (Hamlyn All Color)