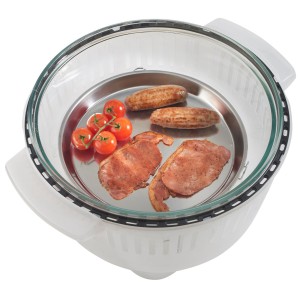 What are the most popular and useful accessories you can get for the halogen oven?
There are a few items that are popular to get for your oven that will help you with your general cooking and grilling and chips and not getting burnt when removing your cooking.
They make life much easier and can save time and burnt hands, fingers or wrists.
For example, ideal accessories include the baking tray, gloves. extension rings.
The steamer helps with cooking great vegetables while the breakfast rack holds all your breakfast food.
In fact, you need very little to make cooking in your halogen a great experience.
***
The Very Useful

halogen Oven Accessories Pack

 Extender Ring and Tray Set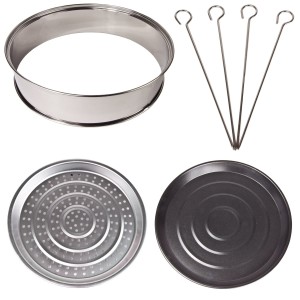 If you are going to get any accessories for your oven, I recommend that you get this set of trays and extender first as overall they will be the most useful.
This set (minus the skewers) is often included with the ovens so you may be lucky and not have to buy it separately.
It is good value and will come in handy as it can be quite difficult to get pizza size trays that fit into your oven on the high street (at least it is here).
Halogen Oven Accessories include an extender ring, and trays for baking and steaming and also skewers, they are suitable for any 10 to 12 litre Oven
The extension ring will turn your oven into a 17 litre oven capacity if for any reason you need more space.  It is great if you have a larger family or if you enjoy entertaining and need to cater for more people.
It will also distance your cooking from the element which will reduce the possibility of burning the food.  It will also prolong the life of the element.
The baking tray is great for your chips, wedges, and baking as it stops things falling through the holes of the stands.  It also means you can lift everything out in one go which makes life easier. (use gloves to prevent hands from getting burnt)
Tip: If you are short on cash you can make do without the trays by popping on tray onto the other one and creating a grid to stop your smaller items from falling through.
The steamer is useful if you want to steam your veg or fish etc.  It can also be used for pizza and chips.
The Full English Breakfast Enthusiasts Rack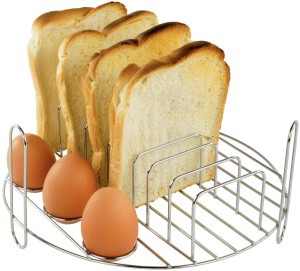 This rack has some great reviews on Amazon and at such a great price it might be worth it depending on your needs.
One person said that they found it did the eggs and the toast at the same time.  Maybe it is the standing them up that does it because I have done both toast and eggs in my oven (laying down because I didn't have this stand.  Toast cooks fine but eggs take longer.
The Halogen Oven rack for a Full English Breakfast
The advantage is you can do a lot more toast standing up.  However, I would think the top would be done first.  There is a space for some sausages or hash browns, but it is quite a small area.
Air Fryers for Cooking Chips and Wedges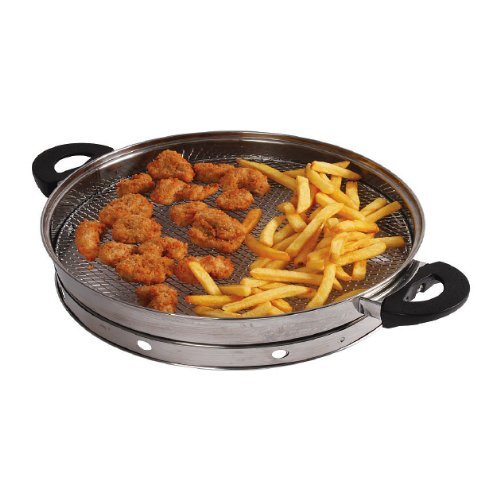 Woho!  An air fryer.  A healthier way to cook chips
You can cook your chips without it.
However, this is a great help as unless you have a tray the chips can easily go through the holes.
I know from a lot of experience of losing chips through the holes.  You can't use them as they land in the fat.
AN AIR FRYING RING ATTACHMENT FOR 12LT HALOGEN OVEN
Just pop it on top of your glass bowl and then put the lid on top.
If you get one check the diameter is right for your oven and will fit your bowl
Saves on chips slipping through larger holes
Cooks beautiful chips, sausages, bacon, onion rings, wedges etc
really easy to remove the chips from the pan
What I love about this is that all the fats drip to the bottom of the oven which makes frying/grilling much healthier as your food isn't swimming in fat.  It can be a little scary to actually see how much fat is in some things as well.  Certainly, the cheaper sausages have a lot more fat.
You can put something in the bowl to catch the fat to easily remove it.
Long Oven Gloves Help to Save Burnt Arms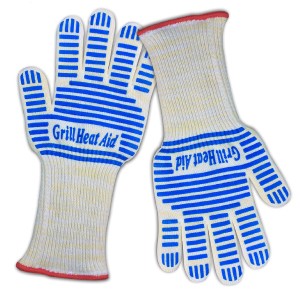 Long oven gloves are really handy if you have a halogen oven.  This is because you have to take things out from the top of the oven.
It is really easy if you are not careful to catch your wrists on the side of the bowl when lifting things from the oven.
If you have an extender ring or use bowls in the oven it is even more possible.
#1 Oven Gloves - These gloves are 13 inches Long to Protect Half of Your Forearms - Defy Heat up to 932°F/°C -
I was OK with just a cloth until I started to use Pyrex dishes in the oven.  With these, you have to put your hands quite close to the bowl edge and you also have a hot glass dish with a lid to take out.  In this instance, it is much safer to use gloves as if you accidentally  drop the dish you could break both the dish and the bowl and burn yourself.
These gloves are great because they are longer so protect arms and wrists and have a good heat resistance as well.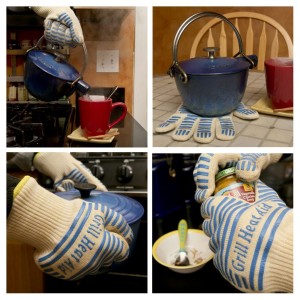 The gloves are a good quality heavy duty and have a silicone grip to stop things slipping and allow you to lift your dishes safely.  They are both comfortable and very efficient.
They are really easy to clean as you just pop them in your washing machine.
If you decide to get these check the size you are ordering is right especially if you have really small or large hands.
However, oven gloves shouldn't be too fitted anyway as they need to be able to be removed easily and quickly.
You can get away without them if you are just cooking things like bacon or chips and just take them out with the tongs.
Other options would be long oven mitts.  However with these, it is not so easy to feel what you are picking up.
Other Accessories Include:
You can also get a lid stand, one should come with the oven if you need it. You can get the extender ring and trays on their own.  Or you can get extra bulbs.  Or a rice maker.
I recommend you check your cooking trays and bowls etc as sometimes these will not fit into your new oven.