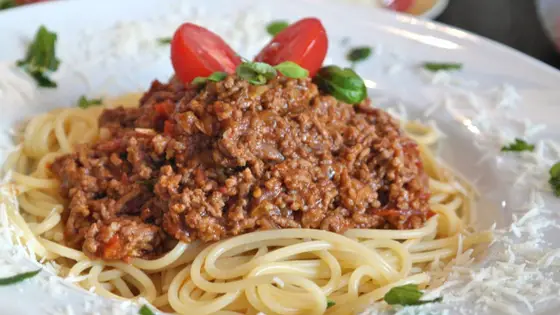 This simple spaghetti bolognese recipe is quick to make and very economical. The great thing about spaghetti bolognese is that it really easy to make and takes very little preparation time.
Bolognese is very versatile as you can either keep it simple and traditional or change it a bit depending on your tastes, dietary requirements and budget.
This recipe is very simple to make and to change if you want to. It is ideal for the student or the family, for people who like spicy or plain food.
A Simple Spaghetti Bolognese Recipe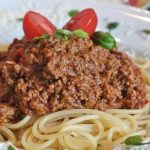 Simple Spaghetti Bolognese
This recipe is for 4 people although it can easily be split down for 2 people or just freeze half of it to use next time. I am a bit naughty really as I tend to make a bolognese one day and make double the amount then I reheat it and add more chilli and put it with rice for a quick chilli.
Ingredients
1

tbsp

cooking oil or cooking spray

400

g

lean minced beef or Quorn mince if you are vegetarian

from £1.69 for 500g

2/3

garlic cloves or Garlic salt

10p

1

Medium brown onion

22p

400

g

of chopped tomatoes fresh or tinned

34p

0.5

tbsp

Soy sauce

buy for 54p use about 5p

1

medium carrot

optional (9p)

1

tsp

Parsley Dried

Allow 5p

Pepper

200

ml

of vegetable stock

5p

350

g

Dried Spaghetti

15p per person x 4 = 60p

1/2

tsp 

chilli powder

(5 p optional, although I doubt traditional, add only if you like more kick)
Instructions
Finely chop your onion, garlic and carrot.

Heat your pan and add your onion, garlic and carrot to it and heat for 3-5 minutes.

Now add your minced beef and stir in.

Keep stirring to keep it from sticking to the pan base. Make sure it is browned on all sides.

Add your tomatoes and soy sauce.

Now add your vegetable stock and parsley and stir everything.

Bring your bolognese to a simmer then reduce the heat and cook four about 30 minutes. Stir it occasionally.

Cook your spaghetti in a pan of salted boiling water for 9-10 minutes (check your packet for any variations).

Add your chilli powder if you are using it and mix in cook for a further 10 minutes.

Note the nearer to the end you add your chilli the hotter it will be.

Drain your pasta and put it on the plates add your bolognese to each plate sprinkle with pepper and cheese if you are using and serve.
Recipe Notes
Price is a guide only as prices will change.
Note: Some recipes have parmesan cheese that they grate on the top at the end. This is optional and I have left it out as parmesan is a bit on the pricey side and not ideal for a budget kitchen. It is very distinctive in taste as well so not easy to replace. You could try Mozzarella instead as this is a lot cheaper.
Total cost of meal for 4 = 3.32 which is only 83 pence per person
This recipe was inspired by and adapted from Quick spaghetti bolognese, spaghetti bolognese, and the easy Bolognese 
Save 15 minutes: If You Are in a Hurry Use a Ready Made Sauce
Using a sauce is quick and easy to do and saves you a lot of cooking time.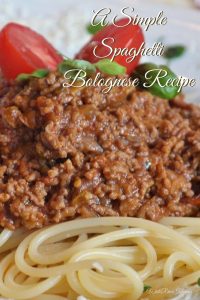 You can get ready-made sauces for spaghetti bolognese from about 49p for a super cheap one, 69p for a medium cost one so this needed add a large amount to your cost.
All you need to do is cook your spaghetti
Brown your mincemeat for a few minutes.
Simply add your sauce and mix in then cook for about 8 to 10 minutes more. (check your sauce instructions as they may be different. Make sure you stir occasionally to stop it sticking to the pan.
8 Quick Tips For Easy Changes
Make it in batches and freeze it for later
Go vegetarian if you swap the meat for Quorn mince.
Make it upmarket and add wine after browning.
Change the Veg.
Change the Sauce.
Make it less spicey if you have kids.
Go gluten-free by changing the spaghetti and stock cubes.
Make it low fat by buying lean 5% mince.