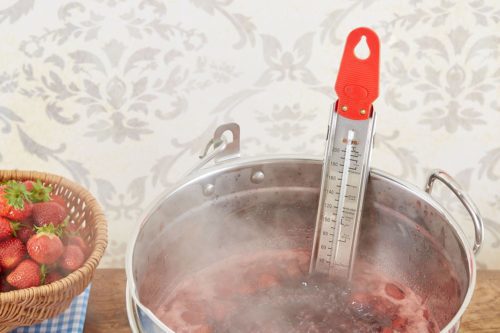 Our quick guide helps you to pick the right jam thermometer so that you can make better jams, easily see when your jam has reached it's setting temperature and prevent your jams from burning.
Below is a variety of different kinds of thermometers all with different advantages and disadvantages pointed out to make your choice easier.
These are the most popular and are quick and easy to read stainless steel thermometers that are also fairly accurate. Some are more jam specific while others can also be used for meat or confectionary as well.
A Digital Thermometer for Jams and Confectionary, Great for Fast Readings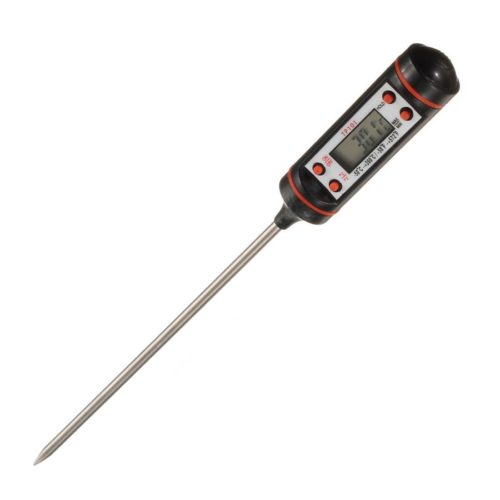 The great thing about the digital jam thermometer is the stainless steel probes is very versatile and can be used for all kinds of cooking from meat to jams.
This one has a temperature range from  -50 'C and 300 'C or (58 'F to 572 'F) and you can easily change from one reading to the other.
It is clear and easy to read as well.
Advantages of a Digital Thermometer
The Speed
Its Accuracy
Ease of use
Great value for money
It has a variety of uses, like sugar work, jams, confectionery and meats
Disadvantages of a Digital Thermometer
It needs a battery
The reading can be slower than you would expect sometimes
Check out this and other Digital jam thermometers here
The Traditional Kilner Jam Thermometer for Quality & Reliability
In the UK Kilner is the traditional jam makers choice.  With a history in preserving equipment that goes back 150 years when you buy Kilner, you expect tradition and quality.  They do not disappoint.  This thermometer is perfect for making great jams well.  As you would expect from this company it is a quality thermometer that is well designed and easy to read.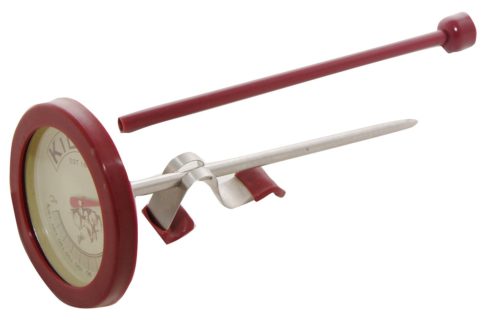 Advantages of the Kilner
Clips onto the side of your preserving pan
The thermometer is easy to read clear display
It is well made and reliable
It has a lid lifter
It can also be used for meat and other cooking needs
Disadvantages of the Kilner Thermometer
The probe is short  so you need either a proper maslin pan or a small saucepan to prevent burning hands
It has a slower reading than digital displays
Kilner Cooks Thermometer with Lid Lifter, Silver
The Thermospatula For Easy Stirring and Temperature Readings
This is a great idea, combining the probe and the spatula in one thing saves time and makes life easy, especially for jam making where you need to both stir and check on the heat at the same time sometimes.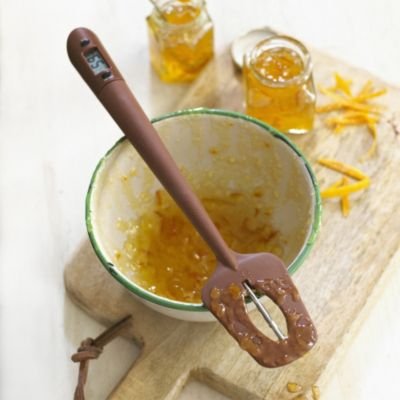 Advantages of the Thermospatula 2 in 1
Spatula included for easy stirring
Stops thermometer from hitting the bottom of the pan
Designed for recipes needed specific temperatures
The temperature is very precise
Can remove the thermometer and separate if from the spatula
Disadvantages of the Thermospatula
It requires batteries (included)
The temperature reader is slow to respond
Thermometer on its own is top heavy
Cannot leave in the bowl
Lakeland Thermospatula Thermometer & Stirrer -Perfect for Chocolate & Jam Making
The Tala Thermometer for Jam and Confectionary Making
A great little thermometer made of stainless steel and with a good temperature range of 40C to 200c so it is great for not only jams but other things as well.  What is great about the Tala is it has the marking on the thermometer which makes reading easy as you don't need to know the heat you need.
Advantages of the Tala
Good heat range
Markers on the thermometer
Ideal for other things besides jam making like confectionery
Ideal for smaller quantities of jam
The Disadvantages of the Tala
It is no good for chocolate tempering
It is no good for candy
See more on the Tala Jam Sugar Confectionery Thermometer
The Andrew James Premium Jam and Sugar Cooking Thermometer
With a temperature range of between 20ºC and  220ºC the Andrew James is ideal for jams but also other types of cooking as well.  It is simple to use.  Easy to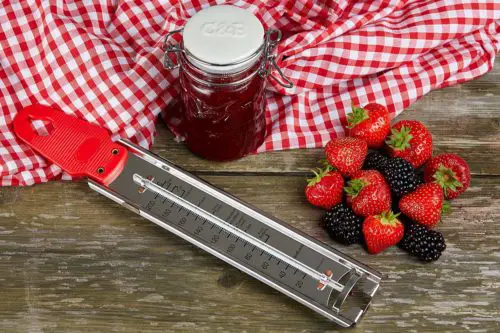 clean and does not need rubbing (which may be why some people have found the numbers rub off).
The Andre James Advantages
Good temperature range
ideal for other types fo cooking as well as jams
Includes a clip for those that like to clip to the edges of their saucepans or maslin pans
Markings for both jams and confectionery
And Disadvantages
Some people have found the markings come off after time
This is not as accurate as some makes
See the Andrew James Premium Jam or Sugar Cooking Thermometer
6 Quick Questions to Ask Before Deciding Which Is the Best Choice for You
What pans am I using and will this thermometer work with them?
Do I want it for other uses besides jam making?
Do I want some speed?
Do I want to clip the thermometer to the edge of the pan?
Do I prefer modern or traditional preserving equipment?
Which of these designs suit me the best and why?  If not what combination would work for me?
5 Tips on How to Use a Jam Thermometer and Get the Best From It
Make sure your probe is clean to maintain accurate readings
Give the reading chance to read correctly
 Make sure you do not touch the bottom of the pan with the probe as it gives false readings
To keep your numbers on some makes do not rub to clean
Know the setting point of your jam  usually 105c (220F)