Christmas just wouldn't be the same without the novelty sweets and chocolates.  These silicone Christmas chocolate moulds are great fun and easy to use.  You can make these chocolates for gifts, tree ornaments, liquors cake toppings and much more.  
There are so many different designs and sizes to choose from.  We have included a range below to show how many options you have.
Naturally, they include the favourite Christmas themes like Santa, snowmen, gifts, trees and candy.  However, there are also  Xmas puds, sleighs and much more.
There are also some mould buying tips to make sure your mould fits your specific needs.
Whether it be Santas or Christmas trees, these make a great addition to anyone's Christmas kitchen.
The silicone Christmas chocolate moulds below have been chosen for their popularity and/or variety to give you plenty of ideas for Christmas chocolates and gifts to make.
1. The 6 Shapes Christmas Chocolate Mould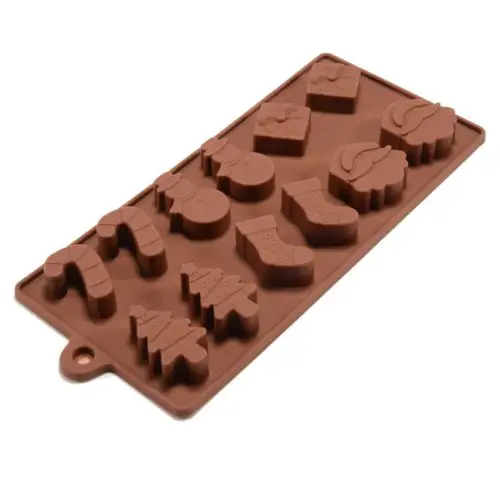 Refrigerator safe & microwavable, 6 shapes 12 moulds for chocolate, jelly ice and fondants. These make a great addition to any Xmas designs for chocolates, liquors and jellies.
These make a great addition to any Xmas designs for chocolates, liquors and jellies.
Design:   These cover most of the subjects you expect of Christmas, including trees, stockings, Santas, gifts snowmen and candy canes.
Colour: brown/random
Food safe:  Yes, food quality silicone
Wash: hand wash unless instructions say otherwise
Size:  Body size: 23 x 10.1 x 1.5cm The Inside mould is: 2.2 x 3.6 x 1.1cm
Pros: Non-stick, Microwave and refrigerator safe
Cons: This mould can take a while to arrive so order well in advance. The candy canes are too small for fillings.
6 Shapes Christmas Chocolate Mould
2.  Christmas Santa Sleigh Silicone Chocolate, Fondant, Cupcake Mould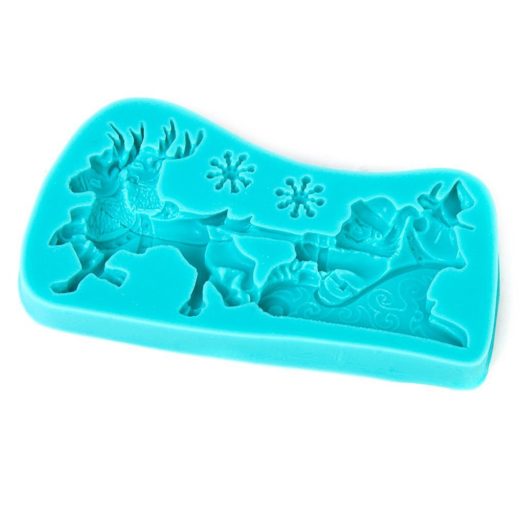 This Santas sleigh mould complete with snow and deer is great for Christmas designs on various things.
You can make chocolates, tops for cupcakes, ice cubes, soaps etc.
Design:  Santa sleigh .
Colour:  A random colour will be sent.
Food safe silicone:  Not mentioned by this seller.
Wash: easy to clean.
Size:  Approx. L12.7 x W7 x H1.3 cm/L5*W2.75*H0.51inch.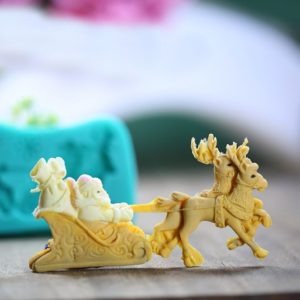 Pros: a good sized detailed design.
Cons: Doesn't mention if it is food safe silicone. (note other sellers have some and they say theirs are food grade silicone).
Christmas Santa Sleigh Fondant Silicone Chocolate Mould
3.  Christmas Bell, Snowman Bear and Tree Silicone Mold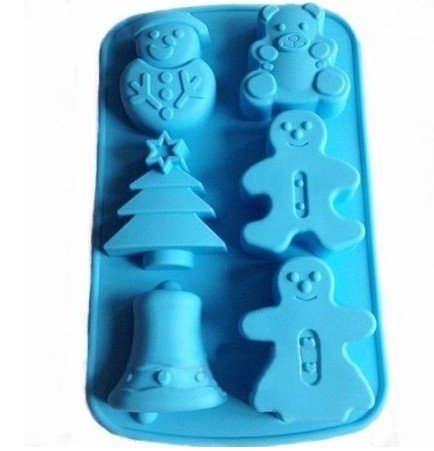 This is a bigger Christmas mould than some of the others with 6 lovely designs that are safe for the microwave, fridge and freezer.
So you can make a range of  items from these silicone Christmas chocolate moulds whether they be chocolates or soaps.
Design:  6 fund designs, including two different gingerbread men, a teddy, a snowman, a tree and a bell
Colour:  A random colour will be sent. Can state colour on ordering.
Food safe silicone: Yes
Wash: Dishwasher safe
Size: Dimensions: 30.5*19.0*3.0 cm(12.0*7.5*1.2 inches)
Pros: A large strong mould with lots of flexibility of use that enables you to make more things.
Cons: The gingerbread men are not that different.
6 Cavities Christmas Bell Sknowman Tree Silicone Mold
4.  Set Of Four Xmas Unique Designs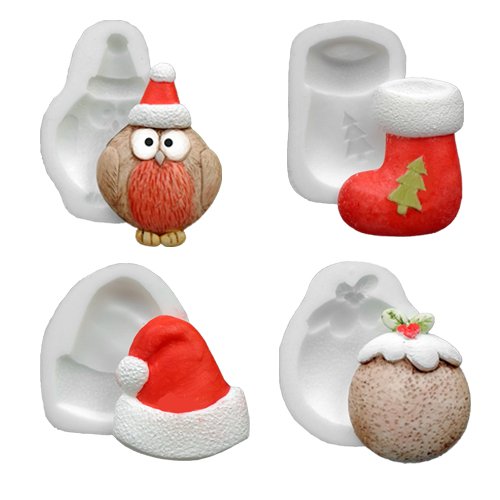 These are an adorable set of moulds and something a bit different from the others. These are fantastic unique designs that are ideal for chocolate, marzipan, sugar paste etc.
Design: Four individual unique moulds, and owl, a sock with a tree, a Xmas Santa hat and a Christmas pudding. (can also be bought separately or in twos)
colour: white
Food safe: Yes, food grade silicone rubber
wash
Size:  Each mould is slightly different in size due to design. However, they are all 8mm deep.

The Xmas Pudding is 4.5cms tall x 3.5cms wide
The Robin is  5.5cms tall x 4cms wide
The Sock is 4.5cms tall x 3.5cms wide
Bird 4.5cms tall x 4cms wide
Pros: These are something unique and a bit different which make them special
Cons: You have to paint the colours on the finished item yourself!
More on the Set Of Four Xmas Designs
5 Fairy Season Christmas Mould with 8 Designs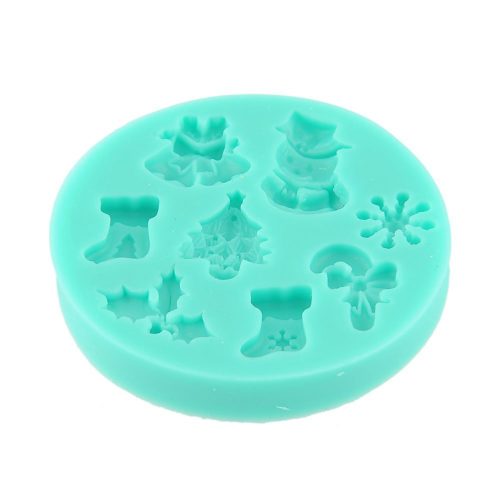 This miniature set is fun and has a lot of variety of designs in one mould.  The designs are ideal for smaller items as they are quite small.
Round silicone design with 8 chocolate moulds including a snowflake, Christmas tree snowman, bells, candy cane, Xmas stocking with snowflake and one with a tree and holly
Colours are random and may be different from example
Washing:  Handwash only
Size 60mm diameter
Pros:  There is a lot of variety of designs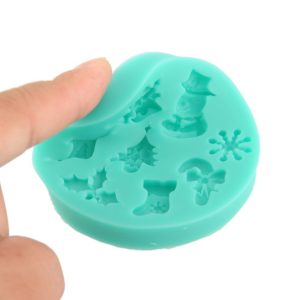 Cons: One of the complaints on the reviews is this mould is too small.  60mm (6cm) means that the individual designs are tiny.  This would perhaps be better suited for mini cake designs than larger sweets.
More on the Fairy Season Christmas Mould
9 Things to look out for when buying moulds
What can you make in them?
Is the mould you are buying food grade silicone?
Is the mould the right size for your Christmas project?
Can you use it in the microwave and cooker? Note:  If using a small Halogen oven please check your instructions as it may not be suitable and the silicone can smell badly and may be toxic).
How many chocolates do you need?  Would several moulds be easier?
Have you got a variety?
Are they non-stick?
What is the maximum temperature you can use your mould at?
Are they dishwasher safe? Or can you only wash by hand?
Are they refrigerator safe?
How long does delivery take?  Order well in advance if coming from abroad especially at Christmas.