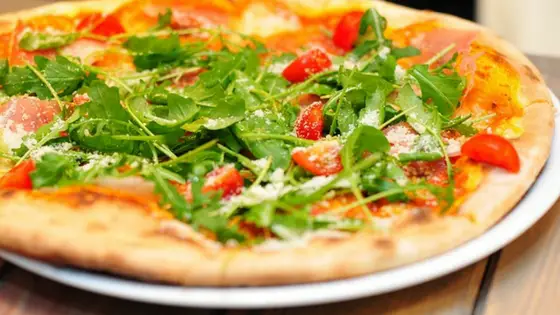 If want to cook a great pizza from frozen, fresh or you want to create your own homemade pizza from scratch the halogen oven works brilliantly.  There are also different ways to avoid a soggy or crispy pizza, no matter which type of pizza you are cooking, fresh, frozen or homemade.
A pizza was the first thing I cooked in my halogen, that's how easy it is to cook. When your halogen is new, and you tentatively place your first food offering into its shiny surface with a slight gulp and wide eyes and it still comes out perfectly, yay. I chose a small firm based frozen pizza.
However, not all pizzas are that easy, larger ones and softer base ones and cooking homemade ones all have their quirks that can affect your cooking success. There is a lot you can do to improve your chances of success and this is covered in this post.
Remember to Check Your Pizza Size
Pizza size – Remember to check the size of your pizza when you buy it as most 12 Litre Halogens will fit a 12″ pizza so a big pizza would need to be cut down to fit in which isn't ideal
How to Cook a Tasty Pizza in a Halogen Oven
Cook Your Frozen Pizza
Cooking from frozen couldn't be easier for your basic firm based pizza.  There are a few other things you need to do to make sure you get the perfect pizza if you are doing a deep pan or filled edge pizzas which are covered in the how to avoid a soggy or crispy pizza section.
Method for the Frozen Pizza
Remove all packaging including any base beneath your pizza
Place your pizza onto the rack, grid or tray
Set oven heat for 175C or use the fan oven temperature on the box instructions
Set the timer for about 14-17  minutes depending on the pizza thickness. Or to the length of time on the pack
Check your pizza during cooking
Once it is cooked and the toppings look cooked remove from your oven and serve with salad or chips
Note: The cooking times will vary depending on the pizza.
Cook Your Pizza From Fresh
Cooking a fresh pizza is very similar to cooking a frozen pizza. You may find the times vary and they can be a few minutes shorter.
Method for Cooking Fresh Pizzas
Remove any packaging including any base
Make sure you have your rack as a grid by placing one on top of the other one or use a tray
Preheat your oven to the highest temperature for a few minutes
Place your pizza onto the rack/grid
Reset the oven heat for 175C or use the fan oven temperature on wrapping instructions if you have any
Set timer for 10-12 minutes
Check the progress of your pizza before this time.
When the base has browned and the toppings look cooked it is ready
Note for Frozen & Fresh Cooking Times: The cooking times will vary depending on the pizza. Note, however, that things can cook faster in the halogen so be prepared to shorten your cooking time. Keeping the temperature to 175C gives you the best chance of the pizza being cooked right through and browned nicely on top. If near the end the base is cooked and the top not you can increase the temperature. 
Perfect Baking With Your Halogen Oven: How to Create Tasty Bread, Biscuits, Cupcakes, and Savouries on Amazon
How To Make Your Own Pizza Base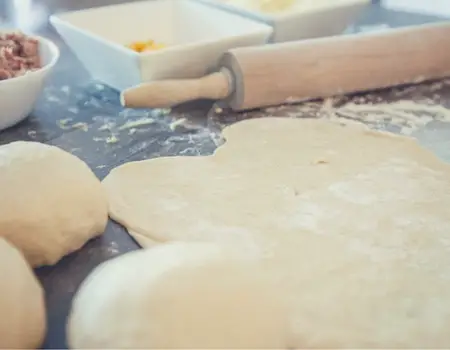 One of the advantages to making your own pizza base is you can control the thickness and size and also part cook it without any topping.  You can use whatever flour you want and avoid gluten, soya etc if you want to or just use cheaper flour if you are on a budget.
The halogen is perfect for creating pizza bases quickly.  Although the jury is out on Buckwheat flour bases.
One of the disadvantages to using a Halogen oven is large pizzas don't fit. Getting the right size to fit your trays may be difficult.  You should be OK with your standard 12″ pizza on your rack though.  Anything bigger and you will have problems. Even a standard 12″ blocks off the circulation of the oven which is why I have written all the alternative options to help counter this.
Below is a lovely 10-inch pizza base recipe. You can use this as your foundation to make lots of different pizzas with tasty toppings.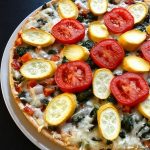 Basic 10 Inch Pizza Base Recipe
Ingredients
Equipment Used
Rolling pin

Large Mixing Bowl

Pizza rack

, grid or tray (if you haven't got any wrap silver foil around the  rack or just use the rack with silver foil in the bottom of the oven)

Clean flat surface to roll out on
Ingredients Used
120

g

bread flour

3

g

Easy Bake Yeast

88

ml

water

(lukewarm)

3.4

teaspoons

salt

Toppings of choice

(Note: make sure any toppings that need longer cooking are already cooked for safety)
Instructions
Thoroughly mix the dried ingredients together in your bowl, flour, salt and the yeast

Make a well in the centre of the mixture

Add your luke warm water and mix together to make your dough

Pull your dough into a rough ball and remove from the bowl

Lightly flour your flat surface and place the dough onto it and knead it

Keep kneading for about 5 minutes until your dough is firm and springy. If you put your fist into it, it should spring back out again

Next pop into a container and cover with a clean dry tea towel and place somewhere warm to settle for about 20-25 minutes

Now you are ready to roll our your pizza base. Re lightly flour your surface

Put your dough onto your floured surface and roll out into a circle about 10" (25.5cm)

Remember to roll out thin but not too thin as you have to have a base sturdy enough to support your chosen toppings

Preheat your halogen for a few minutes at the highest temperature setting

Place your dough onto the cooking tray and place into your preheated halogen

Reduce your oven temperature to 180C

Bake the base for 6-8 minutes

Now add your toppings of choice

Continue to cook for about another 8 minutes or until the toppings are ready
Recipe Notes
Note: For a firmer, more crispy thinner pizza use your dough straight away and for a lighter one allow to sit for longer
How to Avoid a Soggy Pizza Base
The problem you have with the deep pan pizzas, softer pizzas and the ones with the garlic filled edges is that they go soft and slip through the grill or slide down the edges of the rack. I had that happen the first time I did a garlic edged pizza.  I'd cooked thin ones so many times that it never occurred to me I'd have any trouble.  I popped the pizza into the oven and when I came back I had a sticky goo. My garlic edges had slid down the sides and the bottom was soft, grumble, grumble!
The problem as I saw it was you had a thick pizza that stopped the majority of the heat going under it. It was also a softer pizza so needed a firmer base than the grid created by the racks. This would prevent the sliding on the pizza down the sides.
So now there's the issue of the soggy bottom! There are several things you can do to avoid this or at least reduce it.
You can put silver foil in the bottom of the oven to reflect the heat back up
Preheat the oven for 5 minutes
Make sure you buy a smaller pizza so that the heat goes down the sides and circulates
Preheat your pizza tray so it is already hot when you put your pizza into the oven
Cook on a lower temperature to start with so that the pizza is cooked through then ramp up the heat to brown and cook the top better
Use a pizza mesh i
Avoid a Soggy Pizza If You Are Cooking Your Pizza From Scratch
In an effort to make better food choices I have been making my pizzas from scratch using alternative flours. It doesn't really matter which flour you use this method can work for you. Simply create your pizza base first. Preheat your oven to the required temperature and then part bake your base turning it half way through. Once your base is partly cooked you can then add your topping, this helps to prevent the soggy centers and bottoms.
Also, keep your toppings light and your tomato to a minimum.
How to Prevent a Crunchy Pizza Bottom?
This is an age old technique my mum used to use for pastry. Simply brush the edges of your pizza with milk. If you are anti-milk you can use oil instead. This should help prevent those over crispy edges. If in doubt you can add extra milk while it is cooking.
You can also spray oil on the tray if you are using one to keep the base moist.