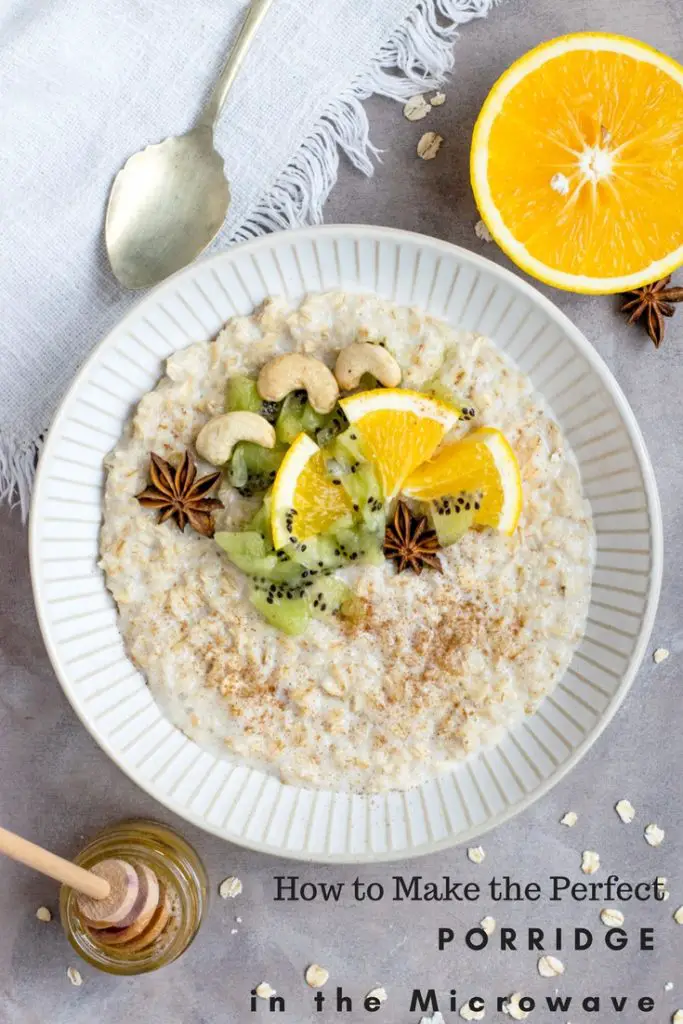 To cook your porridge in the microwave couldn't be easier. If you want to learn how to make porridge, microwave cooking is a fantastic way to cook it. It is quick, easy and clean and you can easily get consistent results with a bit of practice and good equipment.
There are a lot of differences in the quality of porridge and the choices of milk that can change your final results for better or worse. Not to mention the actual quantities of ingredients used and the different tastes of everyone.
Porridge, a breakfast favourite for many in the UK is surprisingly difficult to get right. When I think of porridge perfection I think of the three bears, it's too hot, it's too lumpy or it's just right. Unfortunately, with porridge as many things what is right for one person isn't for another.
How to Make Porridge in a Microwave
So what makes the perfect porridge?
Get a good foundation then build on it until your porridge and additions are perfect for you.
What Type of Porridge Should you use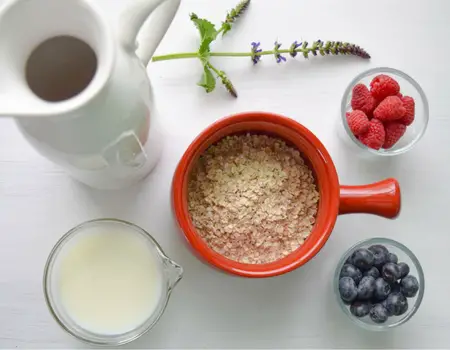 It depends on the type of porridge you are using.
If you are using the instant oats sachets simply follow the instructions on the packet.
If you are being, budget conscious or health conscious it is probably best to avoid them completely as they cost a lot more and have a lot of sugar in them.
If you are using the best oats possible, large flakes whole steel cut oats are recommended then it is probably best to cook on the hob.
It is best to check the packet when buying as some will allow microwave cooking while others will advise against it.
Most of us are somewhere in between we like our breakfast to be healthy (ideally not GM) but fast.  I like Mornflakes superfast oats but also use others and don't overlook the home brands. I like Mornflake because it is both economical and creamy even using water although of course, you can use milk or a combination as well if you like it extra creamy.
Superfast isn't always the best choice though as it is more processed than the others (except instant), for the next level up you can choose rolled oats. Although, it may mean abanding the microwave when using these.
Othe popular makes include Scotts, Quaker, Jordans and the home brands.
Just Add the Milk or Water
It also depends on the milk or water used. My sister always makes hers with semi-skimmed milk, my mum uses lactose-free milk. I used to use water simply due to not generally buying milk, or I'd use dried. My sister won't use sugar or sweeteners for dietary reasons while until recently I shamelessly swamped mine, tut, tut!
Not only are the actual quantities of liquid and porridge important the amount you use of one combined with the other is also important.
Each manufacturer has slightly different amounts of liquid. For example 40g – 250g milk Sainsbury's own, 40g 300 ml Quaker rolled, 40g 270ml milk Scotts. (information is correct at time of writing taken from Sainsbury's online).  It is best to stick to these amounts, to begin with until you know what their porridge will turn out like.
Where you can make changes is the type of liquid. Although the creaminess of the porridge may change depending on the make, once you know this you can adapt your choices to suit this.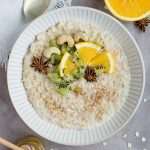 How to Make Porridge in Microwave Bowls
Ingredients
40

g

Porridge oats suitable for microwave

Water or milk or combination 20ml
Instructions
Measure out your porridge quantity 40g and put into a large microwaveable container

Add your water, milk or a 50/50 combination of the two.

Place into the microwave uncovered and set your timer for high for a couple of minutes.

Stir

Microwave for another 1 to 2 minutes, keep an eye on the porridge to make sure it isn't going to rise over the edge of the bowl

Remove from the microwave and leave it to settle for a couple of minutes
Tips for good results
Take your porridge out of the microwave just before you think it is ready because it continues to thicken up over the next few minutes so if you take it out when you think it is ready by the time you eat it, your porridge will be thicker than you planned.
Get the Right Bowl
Be really careful about your quantities so that it doesn't spill out over the sides. Oh my, I have had a few of these in the past. usually when I am being a bit impatient and go just whip a bit of oats in and so much water – hmm that will do. Then a few minutes later – oh nooo! A sticky mess all down the sides and in the microwave.
Whats that saying "more haste less speed". Sigh.
The annoying thing is that this can (and has) happened even when you measure the amounts correctly. In this case, I put it down to the container used as different bowls heat up at different speeds or the shapes alter the heat distribution, well that's my theory anyway and it's been backed up by much-improved porridge heating since I have changed to one of these:
Sistema Microwave Breakfast Bowl on Amazon 850 ml
There are lots of different bowls on the market designed for microwave use, but it definitely makes a difference using the proper equipment regardless of which one you choose. You can get them online or sometimes locally.
Although it is recommended that you do not use a lid when cooking porridge, it is clear that when using a bowl like this you should use one. Not everyone gets on with this and they have varying degrees of success, I admit I use a lid not fully fixed on and with the vent open for porridge oats. That works well for me, but without knowing what bowl you use I have run with the safer no lid instructions recommended by the porridge manufacturers. If you get a breakfast bowl try both and see what works for you. I'd love to hear of your results.
Adding Extras
Puritan porridge lovers will say only use salt in your porridge, but seriously if like me you eat it nearly every day then it gets a bit boring, sorry but there it is. So what can you add to make it tasty and have a change?
Salt
Sugar
Honey
Cinnamon
Yoghurt
Fruit and berries fresh or frozen
Nuts & seeds