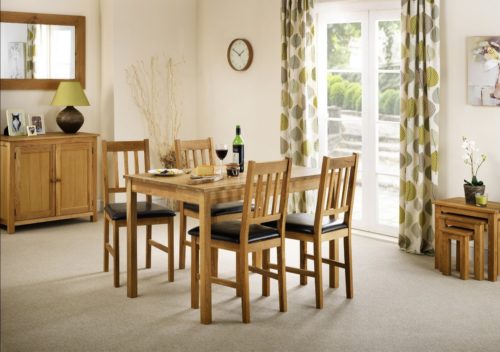 These are beautifully made quality rectangular kitchen tables for small spaces.  They work equally well in the kitchen or the dining room.  Some tables are in dining sets while others have optional chairs or benches in different colours or styles to suit your personal needs.
Most fit well into both modern and traditional settings while others lend themselves to one more than the other.  All the tables are quality tables that are strong and practical yet look stunning.
Solid Pine Dining Table & 4 Chairs in White and Natural Pine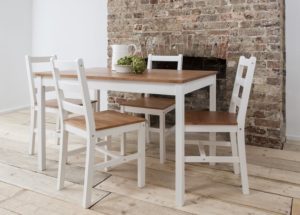 This beautifully built solid pine kitchen dining table set  by Annika will look lovely in any home.  Its simple design is both warm and homely and also modern.  It will fit a range of dining areas or kitchens.
This table is stunning value. It is a solidly built, high quality and sturdy table that makes a great family dining kitchen table.
It comes with 2 finishes pine and white and all white.
This table comes in  two sizes. You can either have a 2 or 4 seating arrangement
Table Size 118cm (Length) x 75cm(Width) x 78cm
Colours either all white or pine and white 
Easy to assemble
Natural Pine and White Dining Table & 4 Chairs by Annika
A Beautiful Pine Budget Mexican Dining Set 4 Chairs by Seconique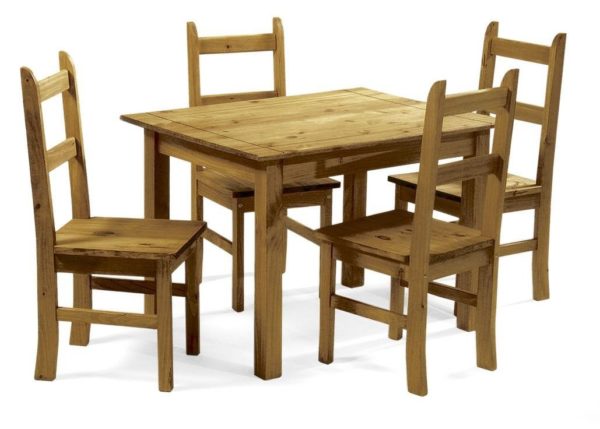 This is a good solid traditional style pine kitchen dining table and chairs set.  The table is well suited to a country kitchen yet will also look great in a more modern setting.
There is enough seating four people with ease.  The dining set is sturdy and well built which makes it ideal for family life. It would also work well in a small to medium sized dining room.
Due to the nature of some wood and finishes, the table will need some small care to keep it looking good as it is waxed.  Also, wood can mark.
Overall this is a great dining set that is value for money.
Seats 4 comfortably
Dimensions – Table : 1000 x 800 x 755 – Chairs : 405 x 470 x 990
Easy to assemble.  Good instructions.  Easier with two people.
Made from Solid, distressed waxed pine
Beutiful Budget Mexican Dining Set 4 Chairs. by Seconique
A Light and Modern 5 Piece Kitchen Table & Chair Set by Cecilia
This contemporary wood veneer table is great value for money.  It is an ideal Rectangular Kitchen Table for Small & Medium Dining rooms. It comes with a choice of black or silver metal on the chairs and table legs.
It is both lightweight, practical and easy to maintain. The table seats four people comfortably. However, it would not really seat more people than that.
This dining table is ideal for smaller dining areas and kitchens as it is slim and not bulky so takes up less space. Visually it lets the eye move more so opens up a room more than a more bulky table.
Seats 4 people
Table size: (H)76cm x (W)110cm x (D)70cm
Simple assembly
Wood effect veneer finish
Chairs and table legs come in either silver or black
Cecilia 5 Piece Dining Kitchen Table & Chair Set
An Elegant and Refined Glass Black Dining Table Set with 6 Faux Leather Chairs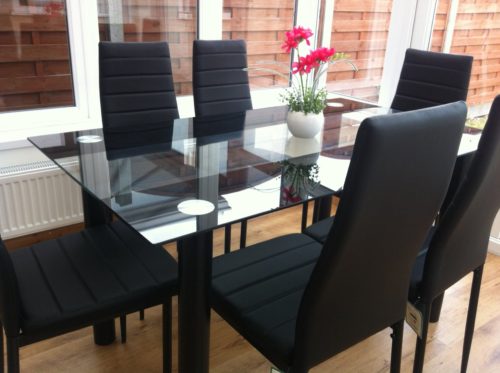 This glass modern table with six comfortable chairs will add a touch of elegance to any dining space.  The double striped glass top makes the tape look even more refined.
Made from toughened glass for safety and durability, this dining table will not only look good but be practical as well.
The glass helps the eye move around the room so the table looks like it takes up less space than a more solid design.  This makes the table ideal for small spaces.
The table seats 6 people easily
Table Size: L140cm x W80cm x H75cm, Chair: 42cm x 52cm x H96cm. Made with tempered toughened glass
Some home assembly is needed
Made from strong tempered and toughened glass for durability
Chairs come in Black, if you prefer white there is a very similar set without the stripe on the table
Stunning glass rectangular dining table with 6 faux leather chairs
An Elegant Coxmoor Oiled Oak Rectangular Dining Table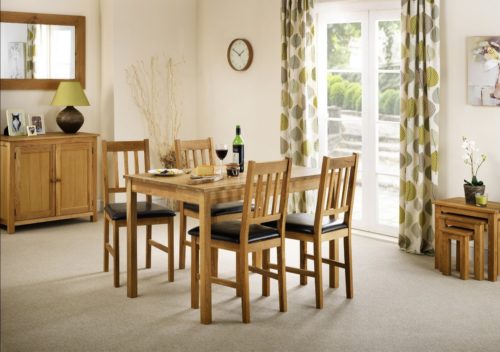 This tables simple practicality and rich warm colour will look stunning in any home kitchen or dining room. A table from wood is timeless, yet modern, simple yet elegant and practical yet also decorative.
Oak as a hardwood is strong and durable and suitable for the rigours of modern family life.  A good quality and solidly built oak table for four people.
It will look equally fine in either a modern or traditional kitchen setting. Oiled for protection, if looked after properly and oiled this table will give you many years of use.
Seats 4 people
Dimensions: 118cm X 75cm X 75cm
It is very easy to assemble this table
This is for the table only (you can also buy as a set with 4 chairs)
Or you can choose own chairs and/or a bench to match
Beautiful traditional Solid oak (oiled)
The Coxmoor Oak Rectangular Dining Table by Julian Bowen
Refined Oakden Dining Table Set With 4 Chairs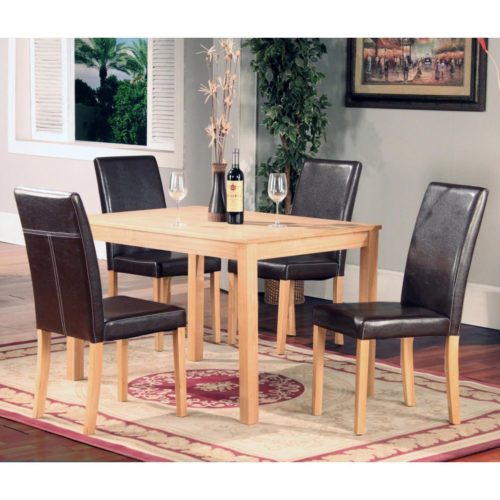 This is a refined oak dining set that combines the best of both modern and traditional styles in one design. It will look good in either the dining room or kitchen.  The table is made of premium oak and is very sturdy without looking bulky.
The assembly instructions while minimum are not very clear. Do not over tighten the screws during assembly so as not to crack the wood.
The assembly instructions while minimum are not very clear. Do not over tighten the screws during assembly so as not to crack the wood.
The table seats 4 people
Table dimensions: H: 74cm x L: 117 cm x W: 80 cm
There is minimum home assembly
The chairs to this dining set also come in beige or brown as well as black
Made from premium solid oak for a table that will last
5 piece solid oak rectangular dining table and 4 black faux leather chairs
Why These Are Great Tables
These rectangular kitchen tables all work well in small spaces and also slightly larger ones as well.  All the tables look like they are made to exceptional quality and yet would look equally good in a fine dining room or a simple kitchen area.
Perhaps a concern for those with younger children might be the faux leather which may not stand up to the rigours of young children's shoes if they have not yet learned to sit up at the table without their feet being on the chair.
Other than that these sets would work well for either families or couples.