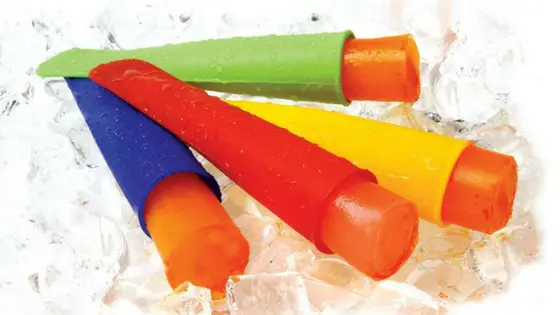 Silicone Ice Pop Moulds are a great way to make ice lollies that taste great are fun and great value for money too.
They are easy to use.
These are a really colourful fun way to make ice lollies for all the family.  They come in many different colours.  Although you do not seem to be able to choose which you get.
They come in sets of 4, 8 or 10 pop moulds all in different colours.
Silicone Ice Pop Moulds
I got silicone ice pop moulds for Christmas.  They were on my Christmas list as a priority.
There were several reasons I wanted these silicone moulds.  Firstly they are the same shape as a Calippo ice lolly.  And I love those.  Secondly, I was fed up with buying those cheap sugar filled long lollies. I wanted something I could control the sugar, preserves and use my own fruit from my garden.
Having these is fantastic as they slide up just like the Calippo ones.  They are better for the environment as there is less rubbish in boxes etc and I can make them whenever I want.  If you want you can check out the silicone ice pop mould
 range here.
Are They BPA Free?
I was a bit slow with this.  I forgot to look.  But silica is not plastic and it is a non-toxic polymer mostly made from sand (silica). It is plastic that can have BPAs.
Food grade Silicone
They are made from food Grade Silicone to make them safe to use in the kitchen.
Standing Them Up in the Freezer
They are an odd shape and so will not stand up on their own.  Yodon'tnt actually have to stand them up as they should not leak anyway.  but if you want to you can I believe get a stand or you can simply pop them between other items in the freezer to prop them up.
Reusable and dishwasher Safe/ microwave freezer
Are There Recipes?
You don't really need any recipes as you can just use pure orange juice, Ribena, Coke has been mentioned but I haven't tried that.  You can also use Yoghurts and homemade ice creams.
Was there a Smell?
I haven't had a smell yet.  Some people on their reviews on some of the types of ice pop makers have complained of smells after they have frozen things.  I recommend washing with soapy water, rinsing and drying thoroughly before use just to be sure.
100m 75ml full due to freezing expansion
Reasons to Use them
They are great if you have children as they will love them.  Also, they are geat if you are on a diet and want to control your sugar intake as you can freeze sugar-free juices, yoghurts etc in them. You can also control preserves and additives depending on what you use.
Are The Ice Pops Moulds Economical to Use?
Yes.  It works out much cheaper than buying the equivalent in the shops.  Of course, you can buy those really cheap plastic pops as well but I am going buy those that are the same shape as the moulds.
Are the Easy to Use?
They are.  In fact, you could easily get your children to help you fill them and pop them into the freezer with your help. They take a while to freeze as with anything liquid so allow plenty of time.
The main issue that I can see it their shape. They are thin and long so will not stand up on their own.  So if you want to stand them up you need enough height in your freezer.  My freezer just about allows them to stand up, but only just.  You can lay them down flat, check first that the ones you get do not leak.  Mine do not.  I filled them with water and left them on their side overnight just to make certain.  If you do lay them on their side the liquid will go into the lid.
Which Company to Get them From and Delivery Lengths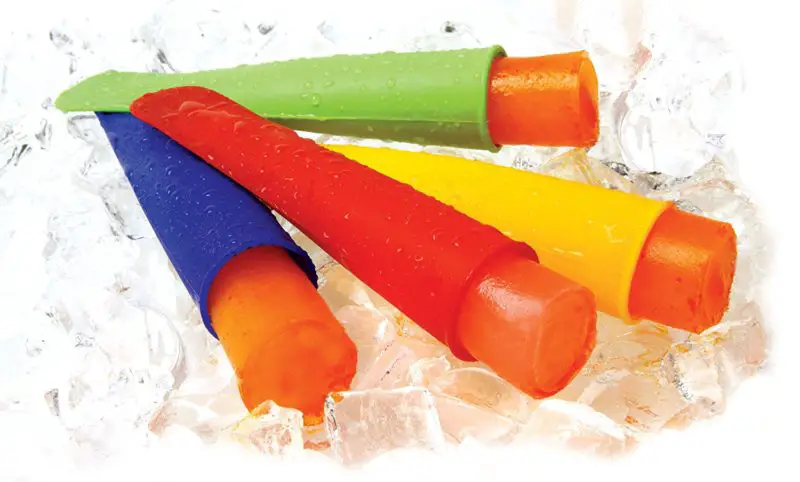 The ones shown on this page are the most popular ones on Amazon and they are a great price and they are the Norpro Silicone Ice Pop Makers

Alternatively check out all the options for.silicone ice pop moulds here
.

There are several companies selling these on Amazon for various prices.  The cheaper silicone lolly moulds tend to mostly come directly from China.  My sister made this mistake when she ordered mine for Christmas.  She hates ordering from China. The delivery date tends to be quite long.  In this case 30th December.  Hmm, slight problem there then!  And every time she has she hasn't received the item at all.  I have to admit I tend to be lucky with it except last time when I had the same trouble. Even if you do receive it, it tends to be a much later date than they state.
However, this time they arrived 24th December – phew cutting it fine.  But for a China order, that is really good.  She is now noting the company so she can use them again.
Ice Pop Making
This video gives a quick review and shows the use of these pop mould which I found quite helpful. This woman has plenty of height in her freezer.