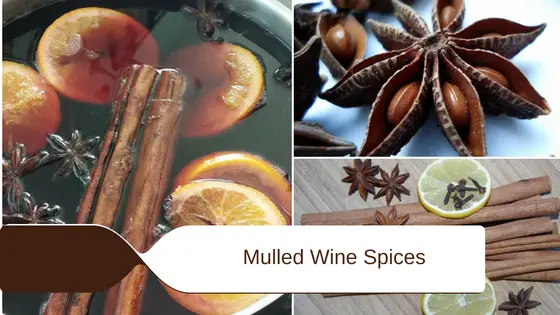 That aromatic smell of traditional mulled wine spices draws out the warmth of the heated wine and mingles creating that glowing warm feel that is great on winter days.
The spices for mulled wine back centuries and are a tradition used in mulled wines even today.  There are a few variations and different combinations, but there is little change on what seems to make for the perfect mulled wine spice mix.
The main spices used are either hot and spicy or zesty in flavour and combine well together.  The most popular mixes include spices like Cinnamon, Star Anise and cloves.  Also included are orange and lemon peel.
Of course, if you are making from fresh ingredients you can also add fresh lemons and oranges and full cinnamon sticks.  If however, you are making your mulled wine from a pre-mixed spice these will of course, all be dried.
Traditional Mulled Wine Spices & Mix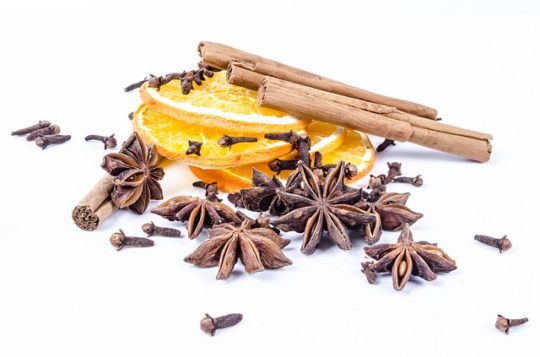 Cinnamon spicy yet sweet woody flavour due to the cinnamon being taken from the inner bark of  the  trees, genus Cinnamomum.
Star Anise is a fruit that comes from an oriental tree and has a strong anise flavour.
Cloves have a warm sweet flavour are antioxidant and are from a tree called  Myrtaceae, Syzygium aromaticum (ref Wikipedia).
Lemon Peel gives that bitter zesty taste.
Orange Peel for that tangy warmed orange taste.
Aniseed, my all time favourite and comes from a plant(Apiaceae from SW Asia and the Med.  It also tastes similar to anise and fennel.
Alternative Spices for Making Mulled Wine
Fennel seeds make a great alternative to Start Anise or Aniseed as they taste very similar to them.
Ginger is great because it's flavour is both spicy and sharp.
Whole green cardamom pods are citrusy ad spicy in flavour.
Vanilla pods, halved down the centre to expose the seeds have a lovely aroma and a woody taste
Ready Prepared Spices for Easy to Make Mulled Wine
If you don't want to make your mulled wine spices mix from scratch there are some very good ready made mixes on the market.
Country House Spice Mix Bringing the Richness of History to Life
Highly praised by the people who have bought it
A traditional country house mix
Easy to make
Makes between 5 to 10 bottles of Wine depending on how strong you want your spice mix.
The Ingredients and Spices in the Country house Mix are:
Lemon Peel, Cloves, Orange Peel, Aniseed, Fennel, Cinnamon
This is a traditional spice mix that they would have had in the large country homes at Christmas.  You can imagine standing around the tree or large open fire in fine evening wear drinking this warming wine.
Traditional Country House Mulled Wine Spice Mix - Box Of 10 Sachets
Enjoy this Aromatic Warming Spiced Mulled Wine on a Chilly Winters Day
Free from preserves
100% natural
Traditional flavours
The Ingredients and Spices Included in this 60g Spice Pack are:
Kibbled ginger, cloves, orange slices, lemon peel, juniper berries, Star anise, orange peel and cinnamon quills.
This mixture contains traditional flavours and spices and is fantastic for Christmas and for Christmas presents when combined in a small hamper or with other items.
It makes about 2 bottles of mulled wine.
Because it is 100% natural and preservative free it is a little more expensive than other brands.
Rich Flavoured Mulled Wine Spice Mix
For Something a Little Different Try Austrian Gluewein Mulled Wine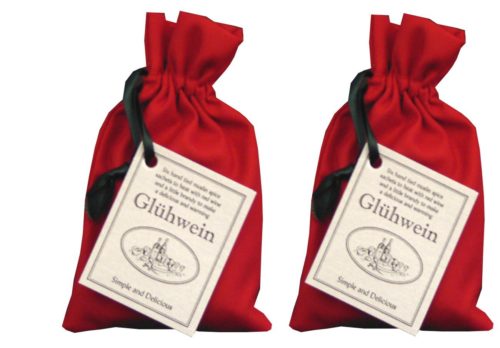 Traditional Mulled wine/Gluhwein flavours
Makes a lot of bottles of wine
Great flavours
Makes great gifts
Traditional ingredients, individual items not mentioned
Two traditional sacks both tied and each one containing 5 pouches of muslin spices ready to make your wine.
These make beautiful gifts and are really lovely to look at and taste great too.  A simple wicker basket two bottles of wine and these would look fantastic.