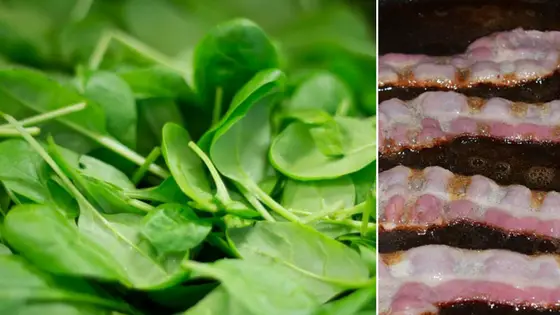 Why not make this easy sauteed spinach with bacon recipe?  It is great value for money and quick to do. It makes a great side dish or simply add potatoes for a main course.
And it is healthy into the bargain!
This recipe is also very flexible and you can easily change it to suit your needs.
This is also a great recipe for gardeners as it saves, even more, money if you only have to buy the bacon and the seasonings.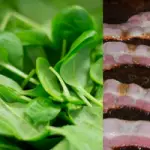 Sauteed Spinach and Bacon Recipe with Boiled Potatoes
This is a great little recipe as it is easy to make, doesn't cost a lot and is very flexible.  If you want to serve more people just increase the portions.

The cooking time for the spinach and bacon only is about 8/9 minutes. If you want to add boiled potatoes it brings the recipe up to 25 minutes cooking time.
Ingredients
65

g

Spinach, young or baby leaf

2

Smoked back bacon rashers

2/3

Potatoes

Salt and pepper to taste

1/2

tsp

Olive or coconut oil
Instructions
Peel and cut the potatoes and put into salted water heat on the hob. They should take about 20-25 minutes to cook depending on their size

Wash and shake dry/drain the spinach

Heat your olive oil in your frying pan

Wait until the potatoes are about half cooked now cook your bacon in a frying pan until it is just cooked this should take about 6/7 minutes

Now add all of your spinach and salt and pepper to taste and cook and allow the spinach to go limp, it should only take a couple of minutes

It's now ready to serve
This book is packed full of One Pound Meals (available on Amazon)
What is the Cost Of the Sauteed Spinach With Bacon Recipe?
Spinach young 47 pence a portion bag split into 3 (1.40 all bag)  split into 4 65g serving = 35p per person
Smoked back bacon 2 rashers 50 pence
Potatoes 2/3 approx 24 pence
Total cost per person = 1.21 per person or 1.09 using 1/4 bag spinach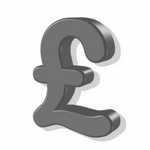 Use frozen or tinned spinach to save you the cost and likely waste. This reduces a 65g portion down from 35 pence to only 11.5 pence saving you 26 pence (23.5) per person and bringing your meal into the less than £ bracket. The total cost of the meal if using frozen spinach is only 86 pence per person if using 65g of spinach per persons.
Use the halogen to cook the bacon instead for the frying pan. This is really quick and reduces fat if yow want to and makes really great bacon.
Why not add an egg? Or if you like more flavour add some garlic.
Not a fan of potatoes? Swap out for some tagliatelli it's faster to cook anyway.
Note: Cost taken from Sainsbury's in my supermarket