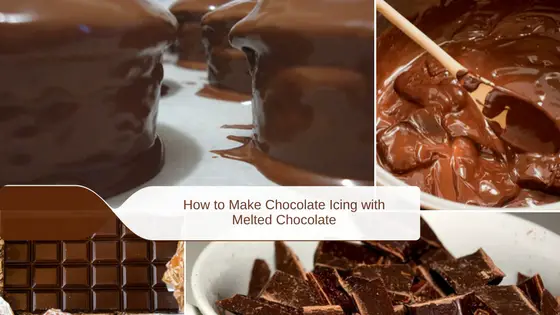 Discover how to make chocolate icing with melted chocolate recipe to decorate your cakes and buns.
This is a traditional recipe using melted chocolate and is really useful as it can be used for lots of special occasions from birthdays, Christmas to Valentines Day.
Chocolate is very popular with many people and especially children so it is well worth using on your cakes.
Making chocolate icing with melted chocolate is fairly straight forward and does not take much time. If you don't want to use your hob, you can always melt your chocolate in your microwave to make it easier.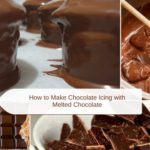 How to Make Chocolate Icing from Melted Chocolate
Makes a lovely chocolate icing to put onto your chocolate cakes and buns
Ingredients
1

egg white

125

g

icing sugar

(1 cup)

3

g

vanilla extract

(1/2 teaspoon)

30

ml

cold water

(2 tablespoon)

28

g

chocolate grated

(1 oz )

15

ml

hot water x 2

(1 tablespoon)

16

g

icing sugar

(2 tablespoons)
Instructions
Break your egg and separate the yolk from the egg white. Put the egg white into a bowl.

Add your 125g icing sugar of icing sugar gradually beat into the egg white.

Beat the mixture for about 3 minutes.

Add 3g of vanilla extract and stir in.

Beat for another 3 minutes.

Add 30ml tablespoonful of cold water to it.

Grate your 28g of chocolate and melt it either use a microwave or hob using the double pan method.

Melt in the remaining icing sugar and add 15ml of water.

Sirt until your chocolate is fully melted and smooth and shiny then add another 15 ml of hot water.

Now stir your completed chocolate mixture into your vanilla icing.

It is now ready to put onto your cakes or buns.
Recipe Notes
If you are concerned about using raw egg whites please use dried instead.