It is easy to make your own baked beans from scratch. They can be cooked and stored for later use, and the taste can be changed to suit your needs.
The advantage of making baked beans yourself over buying them in the supermarket is that you have much healthier and tastier beans.  You also have more flexibility to make them taste exactly like you want them to.
Why not spice them up with different spices and peppers or add other ingredients like onions or garlic.
Although beans cooked on the hob are not officially baked beans as they are not "baked", hob cooking is quicker and just as easy as baking so I use the hob but you can use other methods if you prefer.
Why make your own baked beans when it is so easy to buy them in the supermarkets?
Thre are many reasons why you might want to make your own baked beans. For me, it is the need to cut the sugar and control the GMOs and eat tasty healthy foods.
I recently bought reduced sugar and salt baked beans only to find they had artificial sweeteners in.  Really? I should have known better, I was either in a couldn't care less mood or I didn't notice and I should know better as am always careful when buying anything to avoid artificial sweeteners.
The organic beans aren't much better as they contain apple juice and soy, so a lot of sugar in a different form – Argh!
More and more I want to take back control from the manufacturers whose bottom line is often more important than their customer's health.
So a quick moan to my sister and she says, "why don't you make them yourself they are only haricot beans?"
I hadn't thought of that.
So a bit of research plus some tomato puree, haricot beans, and some spices (Smoked Paprika as suggested by my sister) and I am well away. Or I would be if I could get hold of Haricot beans locally, they do tins but not dried.  So back to the Cannellini beans until I do an Amazon shop as they do Haricot beans
.
Bean By Bean: A Cookbook: More than 175 Recipes for Fresh Beans, Dried Beans, Hot Beans, Cool Beans, Savory Beans &Even Sweet Beans!
Back to the haricot beans as I found some in my local health food shop. Yay!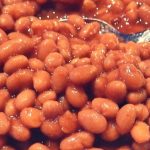 A Simple & Healthy Baked Bean Recipe
Although technically these beans are not baked as they are done on the hob I think this is the fastest way to cook them. You could alternatively use a slow cooker or oven. But you may find you still need to boil before cooking.
Total Time
1
hour
5
minutes
Ingredients
6/8

Tomatoes or 150g Passata

130

g

Dried Haricot or Dried Cannellini Beans

(May also be called, pearl haricots, Fagioli or navy beans)

1

tsp

Tomato puree

(add two if you like a richer sauce)

1

tsp

Smoked Paprika or Chipotle powder

Salt & pepper to taste

1

tsp

Onion powder

Water

Coconut or non-virgin olive oil
Instructions
How to make the sauce
Heat your hob to a medium heat.

Cut Your tomatoes into quarters if you are using fresh tomatoes.

(Alternatively) Put your passata into the pan.

Add your herbs and spices but not the salt and pepper.

Cook until your tomatoes have reduced down.

Add the salt and pepper near the end.

Money Saving Tip: Use passata instead of fresh tomatoes

Tip: Make your sauce smoother by blitzing with a hand blender.
How to Cook the Beans
If you are using dried beans soak them overnight in water.

Heat a hob to medium heat.

Drain the beans. Do not use the water they were soaked in, throw that away.

Boil you beans for a couple of minutes in boiling water then bring to a low simmer for 45-90 minutes or until soft. Squish them against the side of the saucepan to test. (Do not cook in salted water as this makes the beans stay hard)

Drain your beans and add them to your sauce.
Recipe Notes
Safety Tip: Make sure the beans are cooked through well as undercooked beans are dangerous. Time Saver: Cook a batch of beans and freeze for later use in various recipes saving you hours of cooking time.
Idea – Make your sauce smoother by blitzing with a hand blender.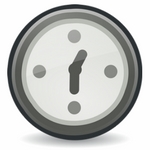 If you are in a hurry or find these times too long used tinned haricot beans instead. The cooking time is reduced to only 3-4 minutes for the beans.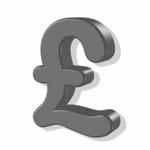 Save money on the sauce by using passata rather than fresh tomatoes.
Spice Up Your Beans for Added Heat
I think the herbs and spices are quite flexible. The first time I made these beans my cat was being a pain.  He could smell the pork cooking and kept crying and I wasn't paying full attention so instead of the onion salt I intended to use I accidentally put on ginger instead! Oh, my. Never mind, they the sauce tasted lovely.  I like a bit of kick to my food.
Why Not Make Chilli Beans?
I like things spicy so decided to spice them up and make chilli beans for a change for chilli beans make your beans like the baked bean recipe above and simply removed the Paprika and add the following
1 Garlic clove
1 tsp chilli powder
1tsp cinnamon
1tsp cumin
How to Make Hot Baked Beans that Make Your Toes Curl
My nephew likes his food toe curling hot. Now he won't eat baked beans no matter what but it made me think of all those people like him that love spicy food. And why not, you are not limited to any manufacturers guidelines, in fact, there is no reason why you can't spice up ready-made baked beans if you are in a hurry.
If you are using the spice mixes here in the recipe above remove the Smoked Paprika and simply add a PINCH of cayenne pepper, 1 tsp dried cumin, 1 tsp dried oregano and 1 tsp dried thyme.  On the Scoville Heat Units scale, Cayenne pepper is 30,000 – 50,000 heat units so use it sparingly, taste it if you dare and add accordingly but start off small. This is noticeably hot if you prefer hotter you can use the Scoville Heat Units Scale to pick something even hotter if you dare! I'm a wimp so will say with the milder spices.
Note: Please note the picture is for display only as my camera is out of commission at the moment. The beans sauces may not be as orange as in the shops.