The Salter Disc Electronic Digital Kitchen Scale Review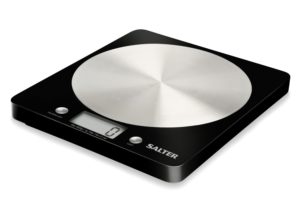 "The ever popular Salter Disk Digital kitchen scales are slim, elegant and accurate with an aquatronic feature."
Accuracy ♣♣♣♣♣  Display ♣♣♣♣
Consistency ♣♣♣♣♣
Ease ♣♣♣♣♣
Speed ♣♣♣♣♣ 
Value for Money: ♣♣♣♣♣
Quick Overview
Weight – up to 5kg
Display –  LCD easy to read
Backlit – No
Auto Shut-off – Yes
Tare Function – Yes, just zero the scales
Measurements – g, fl.oz, lb and oz, ml
Colour – The scales come in white, black, and silver
Scales Pros: The scales are fast and accurate and have a clear display.  They are easy to use and great value for money.
Cons: They are not back-lit. You need a medium bowl size or less to view the readout clearly.
The Salter Disc Electronic Digital Kitchen Scale Review
The Salter Disc digital kitchen scales are a very popular kitchen scales design.  They come in three colours to suit your preferences.  They have a clear and easy to read display and are very fast and accurate.
They also have a special aquatronic feature to weigh liquids. Although they do not come with a bowl you can use bowls that you already have in the house or buy a light weight aluminium one to go with them.
What is their Capacity?
The scales weigh both liquid and dry ingredients with ease.  They weigh up to 5kg (11lb) in 1 gram increments.  You can switch between metric and imperial if you need to and they can also weigh negatively. They also weigh in fluid ounces.
Are They Accurate?
Fast accurate readings.
What is the Total Weighing Area?
The metal disc itself is 14.5 cm in diameter. (approx 5.7 inches), However, the whole scales can be used as the weighing area so that is a total of  210 by 233mm.
Is there a Tare Function?
These scales have an add and weigh tare function so that you can add more ingredients to what you already have.
Do They Weigh Consistently?
They are very consistent in their weighing.
Cleaning the Scales
They are really easy to clean.
How Good is the Display?
The display area is normal sized  4.2 by 1.7 cm and is easy to read.  It is not backlit. However, the display is the only downside to these scales, while not bad overall they do cause a few issues if you want to use a larger bowl.  Larger bowls can obscure the display area making it impossible to read.  If you stick to a mid-sized bowl you should be fine.
Ease of Use
They are easy to use.  You simply pop either your ingredients or a bowl on the metal disc to weigh.  If you are using a bowl you will need to zero the scales before adding anything to them for an accurate reading of what you have added.
Is There an Automatic Shut-off Facility?
There is, and it is very good.  These scales give you plenty of time to add ingredients before they shut down. At about just under 3 minutes before they shut down, this is very good.
Battery Type
They come with the disc batteries.
Stability of the scales
They are very stable on a flat surface.
How Heavy are the Scales?
The scales themselves weigh 500g so thy are quite light.
In Conclusion
These hugely popular scales have everything you need for fast and accurate measuring of your recipes.  They are great value for money and have an added advantage of coming in three different colours.
The Salter Disc Electronic Digital Kitchen Scale