The Professional Smart Weigh PL11B Digital Kitchen/Postal Scale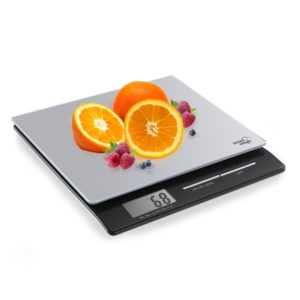 "The professional Smart Weigh digital kitchen scales are easy to use and multifunctional. They are super accurate, very durable and easy to use."
"They can be used in the kitchen or even to weigh your post"
Consistency ♣♣♣♣♣
Speed ♣♣♣♣♣
Display ♣♣♣♣
Ease of Use  ♣♣♣♣♣
Accuracy ♣♣♣♣♣
Quick Overview
Weight – Up to 5kg
Display – Clear strong LCD digital display
Backlit – No
Auto Shut-off – Yes
Tare Function – Yes
Measurements – 0.1 fl.oz/o.1 oz and 1g/1 ml
Pros: These scales have outstanding accuracy and consistency.  They have an easy to read, clear LCD display.
Cons These scales have no backlight and turn themselves off too quickly.
The Smart Weigh Professional Digital Kitchen and Postal Scale Review
These scales get a good five stars on all but the display.  They are easy to use and to store.  They give you plenty of room to weigh your items. They also have a tare function for easy adding of ingredients.  Overall a very good and fairly popular scale.  These scales can also be used as a postal scale as well as for kitchen use.
What is the Capacity of the Scales?
These professional digital kitchen scales have a capacity of 5kg.
Scales Accuracy
The scales are very accurate to the nearest gram with consistent reading in graduation increments are in 1g/1 ml/0.1 fl.oz/o.1 oz.  They weigh both liquid and dry ingredients and the units of measurement come in lb, oz, ml and g.
What is the Total Weighing Area?
The total weighing area is 7″ by 6″
Are they Easy to Clean?
Simply wipe over the scales with a damp cloth.
Display & Automatic Shutoff
The display is normal sized clear black numbers on the usual gray background.  A few people find the automatic  shut off closes the display down a bit too fast once they have finished weighing or between their weighing of ingredients. Ways around this if you have any issues is to make sure you are using lightweight bowls rather than metal.
Are They Easy to Use?
They are really easy to use.  You simply pop what you want to weigh on the scale. (if using the tare put the empty bowl on first to zero the scales).  Then add your ingredients. You can also lock your ingredients amounts in if you want to. This way you know exactly how much of each ingredient you used and it is locked until you don't need it.
Is there a Tare Function on These Scales?
Yes, there is a tare function so that you can add ingredients as you go.  It is better to use lightweight or plastic bowls for this to be sure of accuracy.
What is the power source?
These scales use a cr2032 lithium round flat battery.  The batteries are easy to replace and are supplied. They are approximately £0.71 to £1.99 for new batteries (1 battery or a set of 4).
Overall Weight of Scales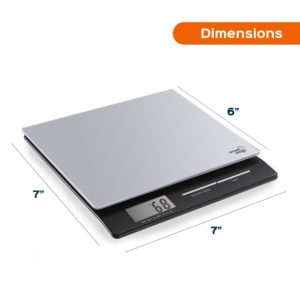 They weigh 630g.
In Conclusion
These scales deliver all you would expect from quality digital kitchen scales.  Fast and accurate they deliver every time.  They  are also very well made and made to be strong and durable and withstand the rigours of everyday use in a modern kitchen.
Smart Weigh PL11B Silver Professional Digital Kitchen Scale with Tempered Glass